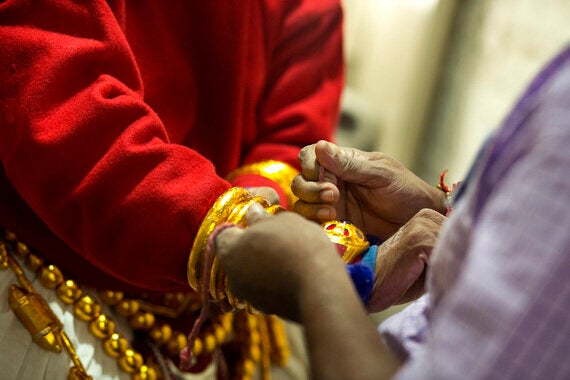 The recognition of British Asian arts couldn't have been more high profile or significant when Jude Kelly and the team at Southbank Centre decided to create an entire festival around it. Dubbed 'Alchemy', this festival reflected the celebration of British Asians' cultural contribution and moved the game on.
Let's be clear: a club night in Hoxton Square, a Mercury award winning album, even a popular BBC sketch show don't have the cultural swagger, the profound perspective or the cultural kudos of an entire season of work held at one of the biggest arts spaces in the world. The very idea that there was a critical mass of work to create was, in itself, significant. That the festival started a dialogue between British Asian and Asian Asian was the game changer.
This dialogue recognised the permanence of the contribution of British Asian artists, setting it apart and distinguishing it from its Asian heritage. It is this dichotomy that makes Alchemy so unique and six years on it continues to embrace that spirit.
The breadth and nature of the projects in this year's Alchemy has been further enhanced by Southbank Centre's desire to not only deliver innovation but to actually 'deliver' innovation. Alchemy touring emphasises Southbank Centre's commitment to connecting with the people, taking the ethos of the arts from London to meld and merge, to inspire and be inspired, by the regions of the UK. This inaugural tour focuses on Oldham, the Black Country and Doncaster as key partners and Scotland gets its first flavour of Alchemy in participation with Celtic Connections. This participation project is all about the voices and the communities feeding into the mothership, and being fed by the mothership.
The range of events is mind-blowing; there is genuinely something for everyone. From the ridiculously popular Shreya Ghoshal, Bollywood playback singer, tabla virtuoso Zakir Hussain, the brutal Nirbhaya, a play based on the infamous Delhi bus rape to the intriguing 'Synchronised' a pool-based sensation combining the aforementioned synchronised swimming, kathak dance and live music. There's also comedy, literature and the brilliant Nihal Arthanayake, BBC standard bearer, taking a look at fifty years of British Asian broadcasting. And that's not even half of it!
The fact that Southbank Centre is able to programme ten days of events and activities shows not only the appetite and demand for British Asian arts but also the availability. Whilst a different venue could potentially pick from the expansive pool of interesting Asian acts and create an 'Asian Festival', Alchemy stands alone in the quality of its offering - and its ability to intrigue and inspire the future of British Asian culture.
Hardeep will perform with the best of British Asian comedy at ALCHEMEDIANS LIVE part of ALCHEMY, Southbank Centre's festival celebrating cultural connections between the UK and the South Asia. The festival takes place between 15-25 May