Two kids walked by, a good ten paces behind them, their father. "They're English, " my husband turned to me to state. The mother followed, her eyes met mine, there was a shy, friendly sparkle in her face and I knew hubby was right.
I met my husband in Mexico, just two weeks into a five-month winter jaunt there. We got talking, in Spanish, on a bench in Plaza Principal right in front of San Miguel de Allende's main church, a very romantic setting. It did not take long for him to realise I was not the girl he thought I was. (He thought I was Mexican.) And I certainly did not want to be talking to anyone from Bath. (I had just arrived in Mexico for goodness sake... Plus, the first guy I lived with was from Bath. Not a time I wanted to be reminded of.) My future husband and I, two Brits abroad, went our separate ways until months later when... we didn't. Sometimes, you just don't want to talk to fellow Brits abroad. Other times you do!
This English family that we had just crossed paths with, in the mossy forest corridors of Hacienda Uayamon, in our minds, they were exotic. My husband and I have been Brits in Mexico for the past twelve-plus years, Brits in Britain are therefore automatically very interesting beings, especially families. Families from the homeland give us a glimpse into what life might have been like for us had we chosen to raise our three children in the country of our birth. They offer us a brief portal to an alternative 'us'. On top of that, here they were visiting a hacienda in the Mexican state of Campeche. If there are statistics on British families holidaying in haciendas, I would surely like to see them! This family were clearly the more adventurous sort and therefore they were probably the kind of people I would like to meet.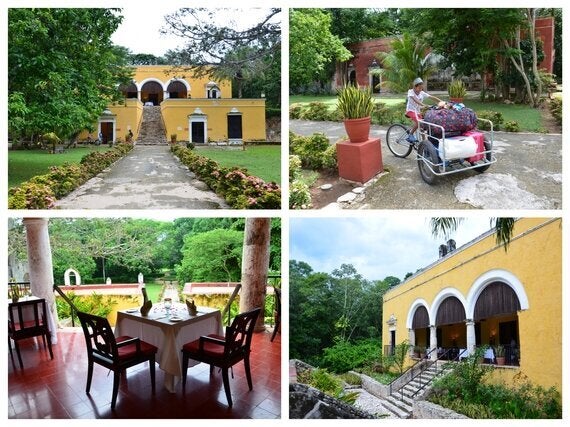 The next morning, my husband and I pulled up a couple of chairs beside the breakfast table of the exotic English family. We were able to peer down the cascading steps of Hacienda Uayamon's Casa Principal, observing how easy it was for our young trio to form a friendship with two children quite a bit older than they were. In no time at all, rides on the luggage tricycle turned into a hand-in-hand stroll across the garden, and their squeals of laughter did not scare off the stunning toucans who may also have been examining this dance of young humans reaching out to make connections.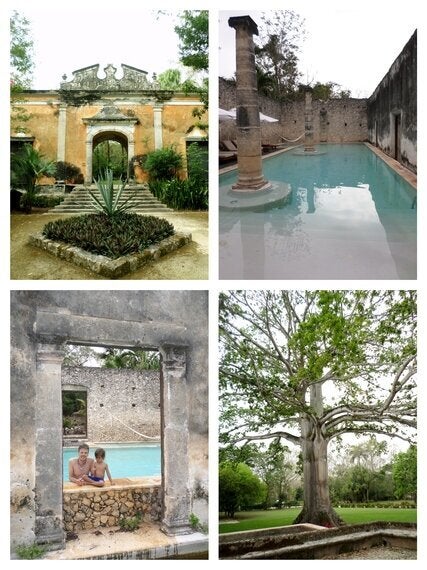 The adult conversation moved on from admiring everything about our surroundings; the rainy-season greenness, the 19th century restored buildings, the 19th century buildings that still lay in ruins, and the sacred ceiba tree that branched out in an embrace with itself; to revealing more about ourselves, of how we lived, of evolving with this digital world, our children's world. I couldn't help but think of the evolution of Hacienda Uayamon; from great riches and pirate raiders, to revolution and ruin, then on to renovation and receiving guests who wish to relish in the plethora of splendid resources that this remarkable luxury hacienda retreat had to lay at one's feet.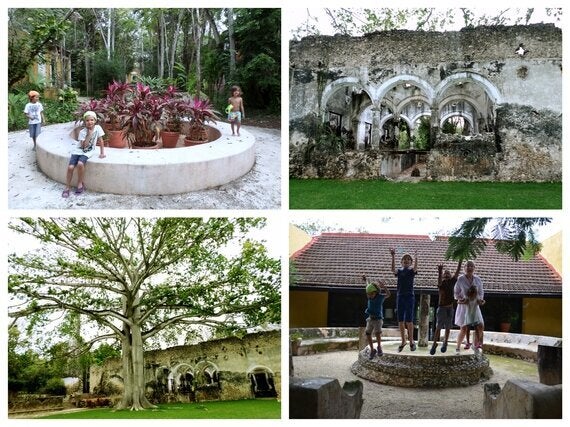 We were in the right place at the right time to reach out to start a friendship; in location, mind and heart. It was a real pleasure to meet these Brits abroad, the children and the adults. Buenos Aires!
Do you always enjoy meeting Brits Abroad? Let me know in the comments below!