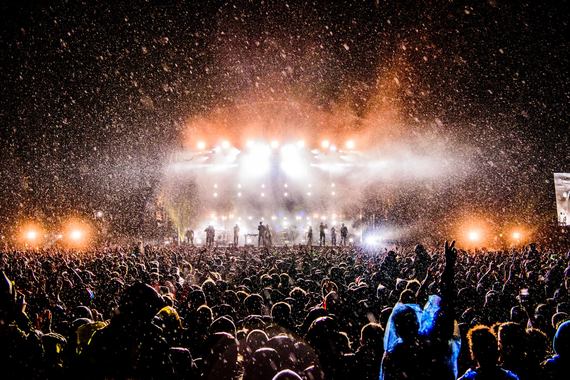 Promoters, music venues and record labels are taking aim at the polls with a campaign to saturate social media this Sunday. The message is clear - you have less than 24 hours to register to vote.
Our campaign started in Bristol, just 24 hours ago. A call-to-arms amongst the region's independent promoters, immediately caught the imagination of the industry. Within half an hour we had promoters from London, Leeds, Manchester and Brighton pledging their support to spread the message. Two hours and endless Facebook shares later, Boomtown Fair and Fabric came on side and paved the way for larger venues, festivals and record labels to also share the registration link. This morning we woke to pledges from outside the music industry - the administrators of Facebook pages from far and wide will all join us in posting. Galleries, coffee shops, museums and even Peep Show fan pages have all pledged to post.
Contrary to traditional strategies, we're certain the youth vote is won on the iPhone not the doorstep. United, our brands are penetrating the echo-chamber and introducing the next generation to the policies affecting their future. Electoral registration creates a mental foothold, a subconscious investment which will lead to candidate selection and ultimately voting on June 8th.
Never before has British politics seen a digital co-ordination of youth-facing brands utilise their influence in this way. Brexit came as a shock blow to music industry insiders - a castration on the import and export of ideas, sounds and ultimately musicians themselves, was both unexpected and something none of us fought hard enough. Now, armed with a newly found awareness of our reach and influence, brand owners inspire more people to register to vote in five words than one hundred door-knocks.
Following a year of high-profile venue closures, the intrinsic connection between music and politics has never been more obvious. While hundreds of thousands petitioned and donated to the #SaveFabric campaign, Labour's Emily Thornberry was the first British politician to make a Boiler Room debut. Mayor of London, Sadiq Khan even chimed in. Elsewhere in the country, property developers triggered licensing disputes with thriving independent venues, neglecting the fact that these were the very same venues that had led to their prosperity. DIY promoters and musicians had the rug pulled from beneath their feet while councils and politicians looked on with a knowing nod of approval. The music industry, with a sour taste of disappointment and distrust pins all hopes on the 8th June election as tipping point for our future.
While a connection between politics and music is nothing new, historically only the voices of the largest stars could traverse the restricted media. In the Facebook-connected era, the entire industry has voice - every artist, record label, venue and promoter now has a platform to speak their mind. This Sunday, together, we are telling young people that they have 24 hours left to change the course of history.
How to get involved this Sunday
Facebook tries to combine similar stories in the news feed. To ensure each post is treated as unique and receives maximum exposure, please follow these instructions:
Share one of these images [http://bit.ly/2qESHRc] (they are designed to maximise reach)
Include the link: https://www.gov.uk/register-to-vote
Schedule your post between 9am and 9pm on Sunday
Ensure Facebook's default link preview has been included in your post
Photo by shotaway.com