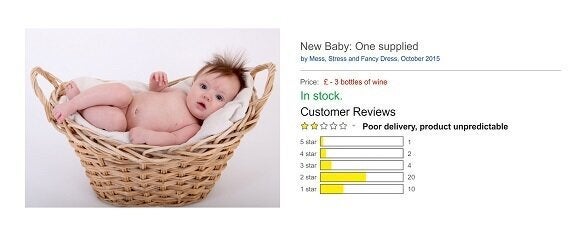 Two Stars - "Unpredictable" - Review 27/10/15
Firstly, the delivery. Not only was the item two weeks overdue, but the supplier was unable to specify an accurate delivery date despite it being ordered well in advance. When the courier then attempted to deliver the parcel, he rammed it through the postbox repeatedly for about 12 hours, damaging both the post-box and the item. Sadly the postbox has now been rendered unusable for the foreseeable future and this has also affected the waterproofing of the door. It now appears to leak under pressure. I would like to lodge a formal complaint, but I'm not entirely sure who to blame.
On to the item itself. We had ordered a baby. This was an impulse purchase and we had not taken the time to properly research and read the online reviews. We had made the mistake of online shopping after a couple of bottles of wine, and we highly recommend that other people read up before placing their order as the supplier has a no returns policy. The item description was vague and we were unable to specify, really anything about our order. When we unpacked our item, we were disappointed to discover that it had been shipped without any operating instructions. We appear totally unable to find an off button for the baby, or at least a volume control. It does switch itself off for short periods, but we seem to have little control over the timings of the different functions and settings. That said, when the item is working correctly, it has been providing us with untold pleasure and is one of the best items we have ever purchased. On a good day I would be giving the item five stars, on a bad day, only one star.
We are shortly planning on upgrading from baby to toddler package and we do hope that some of the nocturnal settings can be deactivated. I've seen online reviewers talking about a grandparent setting which you can download which ensures impeccable behaviour for short periods of time. We're just looking into the cost of this to see if it would be viable. On the subject of cost, the item does seem to require a number of additional purchases to ensure full functionality which is making it a little more expensive than we had anticipated.
Overall we give the item a grading of only two stars and would like the supplier to consider compensation for damage caused to our sleep pattern.
We are sorry to hear that you are disappointed with your "baby". We would like to remind you that the item description clearly stated that "contents may vary" and that the we were always unable to guarantee the nine month delivery time. As it sounds like a lot of the problems you are describing are intermittent, we suggest you take your baby to one of our nationwide maintenance centres when the problem next arises so that they can suggest an appropriate solution. Please click here to search for your nearest centre.
We use a third party provider for our delivery service. We can only apologise for any damage which has occurred during this process. If you are considering ordering another item, we recommend using the special delivery service which allows you to guarantee delivery date. Now that the courier has "adapted" your postbox, you will probably find the second delivery process will be more satisfactory.
Unfortunately all babies are sold as seen, we do not accept returns. We also recommend that you avoid exposing your child to too much Nickelodeon and the Argos catalogue, if you are keen to reduce your additional purchase costs. We certainly do not offer compensation for loss of earnings, sleep or sanity. If you are looking to attribute responsibility for this loss, I think you can be fairly confident as a new mother that the blame lies firmly at your own, slightly smashed in, door. (As soon as you open your new item, you will be entirely convinced that this is the truth anyway.) Despite your concerns we're fairly confident you'll forget all about it, and will be shopping again with us soon. Good luck!