Fathers are a source of so many great things in the world. Whether it's their care, guidance, sense of humour or unconditional love, a good dad can transform a child's life.
As we prepare to celebrate all things fatherly this Sunday, here's a look at three dads in rural Kenya who are standing up and speaking out to stop FGM and early marriage. Not only are they keeping their own daughters safe, they are setting an example to help protect future generations of young girls.
FGM is a dangerous procedure that entails cutting a girl's clitoris and labia, often using unsterilised blades and knives. It can cause severe bleeding, infections, infertility and even death.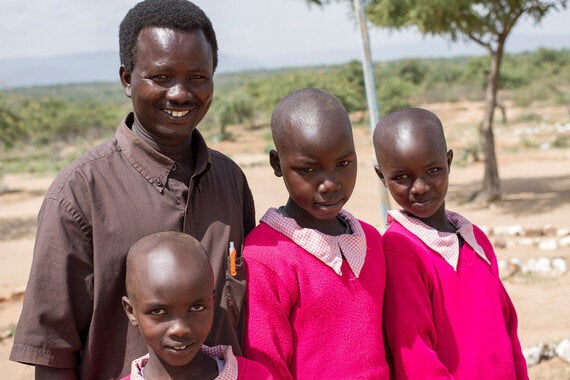 Pastor Emmanuel beams as he stands with his three daughters, who are immaculately dressed and ready for school.
The family live in Kongelai, western Kenya, where poverty is high, and many families rely on cattle grazing and subsistence farming.
Around 75 per cent of girls endure female genital mutilation, which is seen as a prerequisite for marriage. Often, a girl who has been cut can claim more cows as her bride price.
Pastor Emmanuel, is campaigning to stop FGM in his community, because he has seen how it can lead to a girl dropping out of school, marrying too young and facing problems during childbirth.
"My girls will never, ever, undergo FGM," he said. "My daughters are my life. I cannot do that. FGM will rob them of their rights. FGM will cut their education short."
Instead, he hopes that his daughters Shamma, seven, Rebecca, 12, and Sharon, 10, will go on to become more successful than him.
"I've told them...I want you, in the next 20 years, to drive your own car," he said. "You will live in a very good house; better than mine."
As a Christian pastor, Emmanuel preaches about the dangers of FGM to 100-strong congregation.
He has also teamed up with the Kongelai Women's Network, a group of more than 100 local women supported by funding from ActionAid and the players of the People's Postcode Lottery.
Most of the women have endured FGM and understand the local sensitivities. Yet they are unwavering in their determination to stop other girls from suffering.
They go from village to village and talk about the health problems caused by the practice, which was outlawed in 2011 but has simply been driven underground.
Emmanuel joins them at the talks and tries to lobby fathers, brothers and sons. It can be difficult work because of the preconceptions surrounding masculinity.
"If a man tries to talk about FGM people will say you are a man, you are not allowed to talk about it," he said. "These are women's matters."
Despite the resistance Emmanuel has seen progress over the years. One success story is a local girl who has avoided having FGM and is currently in university.
"That is my greatest joy," he said. "I know when she comes back next year she will speak to the young girls about the negative effects of FGM. So there is a big change."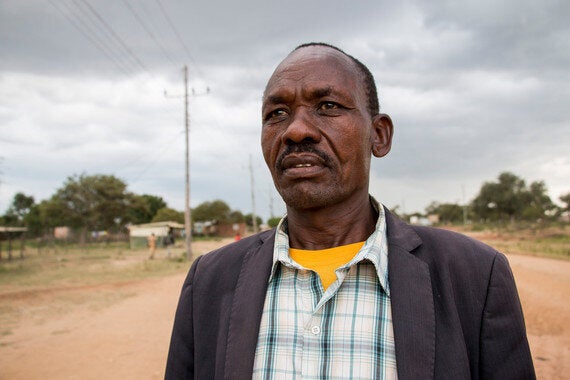 Keke, is a father of two daughters and an assistant village chief in his part of Kongelai. Part of his job, is to uphold the Kenyan law banning FGM. He believes poverty is a big driver behind the practice.
"If your family is poor, that poverty ends the day your daughter gets married," he said.
But Keke's story shows that there is an alternative. His daughters are in their 30s and married. Neither of them had FGM.
"My daughters have served as good examples in the villages," he said.
He added that girls who complete their education can also support their parents financially.
"When a girl studies and gets a job and gets married, she will be of great importance to the family as she brings in more wealth," he said.
Keke takes his message to surrounding villages and is also a partner of the Kongelai Women's Network. He believes their wide reach in the region is making a difference.
"Every village has a women's network representative so they've really helped in spreading the message against FGM," he said.
Many girls who are at risk of FGM can also flee their homes and seek shelter at a boarding school run by the network and supported by funding from the players of the People's Postcode Lottery.
"It is important to have a place for them," Keke added.
Joel is a cattle herder in Kongelai who has undergone a remarkable transformation.
He never went to school but is determined that his daughter, 12-year-old Veronica, completes her education.
The father of six did not always think that way. Until very recently he was considering arranging her marriage in the hope of boosting the family income.
Luckily Veronica, who wants to be a teacher, had heard of the Kongelai Women's Network. When she got wind of her father's plans, she ran to get help from members of the network.
The women spent time doing outreach work with Joel and other men in his community. They held awareness-raising sessions about the importance of girls' education and did-door-to-door counselling, which included targeting Veronica's mum.
Their efforts bore fruit and Joel agreed to allow Veronica to continue with her education. To Veronica's delight, he also abandoned plans to marry her off.
She said some girls she knows have not been as fortunate. They have had to flee their homes to avoid being married off early and are now seeking shelter in the safe houses built by the women's network.
"I love my father," Veronica added. "I know he loves me too because he protects me from early marriage and he has refused to accept requests for my hand in marriage."