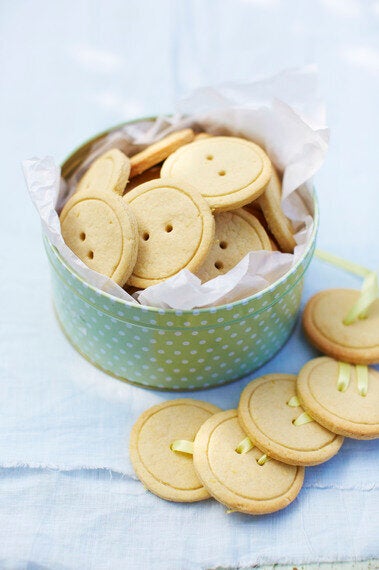 My Nanna was a bespoke tailoress. She has tried to teach me to sew and knit over the years but I seem to have haberdasher's dyslexia. I miss stitches, misunderstand patterns, forget crucial knots and stages. Nanna was always patient minded, as Nannas should be. These days, this is as close to sewing as I get and my are they things of beauty. Dainty button-shaped biscuits, zesty, pretty, rich and beautiful. Perfect little gifts.
(This is a sneak preview of a recipe from my book which is out just next week. I'll be on Loose Women on Wednesday 9th talking about it.)
• 225g salted butter, softened
• 450g plain flour, plus extra for dusting
Line 3 baking sheets with non-stick greaseproof paper. Cream together the butter, sugar and lemon zest until light and creamy using an electric mixer or wooden spoon. Adding a little at a time, gently beat in the flour until well combined. Mix in the egg to bind the mixture. Wrap in cling film and chill for 1½ hours.
Roll the shortbread out on a lightly floured surface until about 3/4cm thick using a floured rolling pin. Using a 7cm-wide circular cookie cutter, cut circles from the dough. Place the circles on the lined baking sheets about 2cm apart.
Then find something that is just smaller than the cutter that you used - either a smaller cutter or a glass that is at least 6cm-wide - and lightly press down on the centre of each button to make an indent, to represent the inner circle of the button. Do not press hard enough to cut through the dough. Use a skewer or the end of a straw to make 4 little holes in the middle of each biscuit in a grid fashion and then chill on the baking sheets for 30 minutes.
Preheat the oven to 180°C/gas mark 6. Bake the biscuits for 10-12 minutes in the middle of the oven until just starting to brown at the edges. Remove the buttons from the trays and leave to cool on a wire rack. Place a few in a gift bag and tie with a pretty ribbon, or thread some thin ribbon through the holes if you're feeling extra genteel.