This cheesecake is very quick & easy to make and makes the perfect after dinner treat. You can enjoy it anytime with one of your favourite drinks, exactly what i'll be doing :)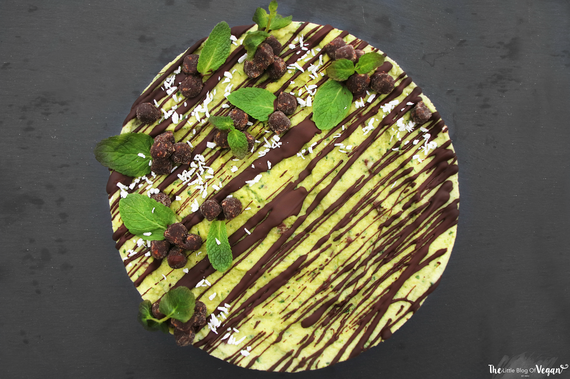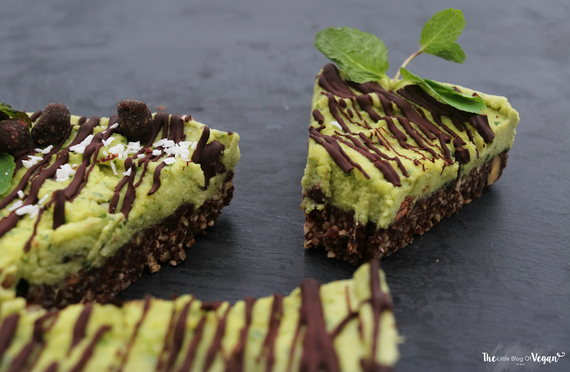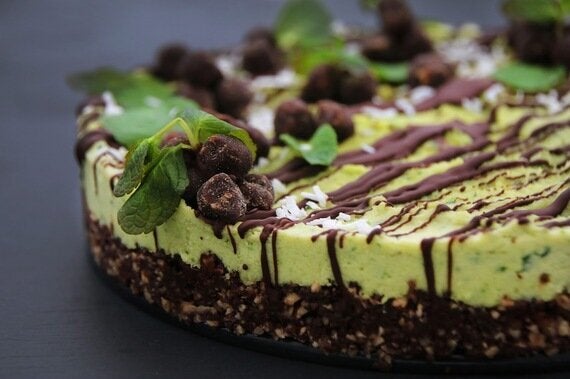 -100g of dates (pitted & de-stoned)
-2 tablespoons of cacao powder (you can use cocoa)
-40g of melted raw dark chocolate (recipe on The Little Blog of Vegan)
-1 tablespoon of coconut oil (melted)
Ingredients for the mint layer
-200g of cashew nuts (soaked)
-1 teaspoon of vanilla extract
-3 teaspoons of mint flavouring
-1/3 cup of coconut oil (melted)
-20g of spinach leaves (handful)
-1 Moo free mint chocolate bar (optional)
-Homemade chocolate (Recipe here)
TIP- The Cashew Nuts need to be soaked overnight in water. Just make sure the water is covering the Nuts!
Step 1- Line a cake tin with grease proof paper.
I prefer to use a push up cake tin.
Step 2- In a food processor/blender, add in the hazelnuts, de-stoned/pitted dates, cacao powder, melted dark chocolate, coconut oil and salt.
Whizz up on high until like breadcrumbs.
Step 3- Firmly press the mixture into your lined cake tin and place into the freezer.
To make the cheesecake layer
Step 1- Drain the water from the soaked cashew nuts, and place them into a food processor/blender, along with the vanilla extract, mint flavouring, melted coconut oil, fresh spinach and maple syrup.
Whizz up on high for around 5-8 minutes until smooth.
Step 2- Once smooth, fold in the mint chocolate (optional)
Step 3- Pour the creamy mint layer onto the base, level then pop back into the freezer to set.
This will take around 2-4 hours. You can leave it overnight.
Step 4- Once fully set, decorate with melted chocolate.
Get my homemade & delicious raw chocolate recipe here.
I garnished my cheesecake with some fresh mint leaves, unsweetened desiccated coconut and some yummy Nakd mint nibbles.
To serve, defrost the cheesecake for around an hour until thoroughly defrosted.