This cheesecake is very quick & easy to make and makes the perfect after dinner treat. You can enjoy it anytime with one of your favourite drinks, exactly what i'll be doing :)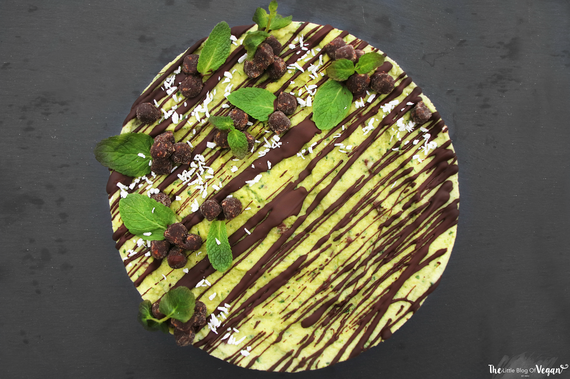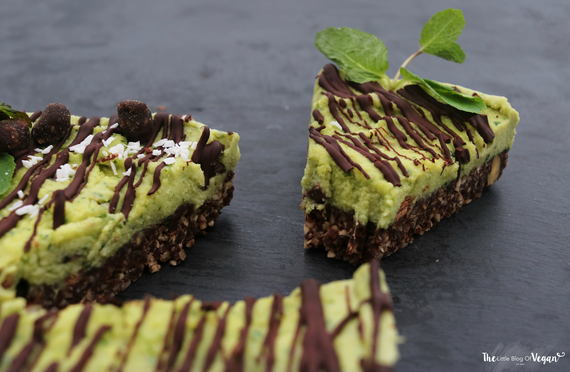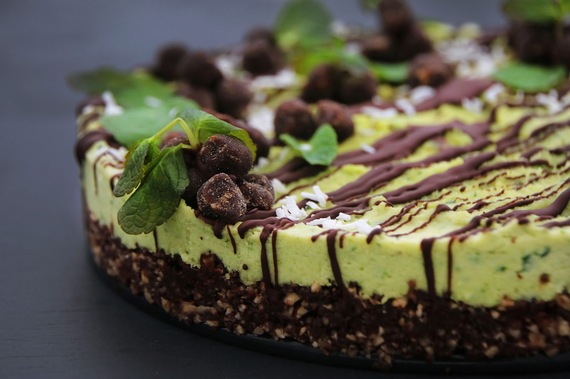 Preparation- Overnight
Serves- 10-12
Level- Easy
...
Ingredients for the base
-210g of hazelnuts
-100g of dates (pitted & de-stoned)
-2 tablespoons of cacao powder (you can use cocoa)
-40g of melted raw dark chocolate (recipe on The Little Blog of Vegan)
-1 tablespoon of coconut oil (melted)
-Pinch of salt
Ingredients for the mint layer
-200g of cashew nuts (soaked)
-1 teaspoon of vanilla extract
-3 teaspoons of mint flavouring
-1/3 cup of coconut oil (melted)
-20g of spinach leaves (handful)
-1/4 cup of maple syrup
-1 Moo free mint chocolate bar (optional)
Decorate (optimal)
-Nakd mint nibbles
-Fresh mint leaves
-Desiccated coconut
-Homemade chocolate (Recipe here)
TIP- The Cashew Nuts need to be soaked overnight in water. Just make sure the water is covering the Nuts!
...
To make the base
Step 1- Line a cake tin with grease proof paper.
I prefer to use a push up cake tin.
Step 2- In a food processor/blender, add in the hazelnuts, de-stoned/pitted dates, cacao powder, melted dark chocolate, coconut oil and salt.
Whizz up on high until like breadcrumbs.
Step 3- Firmly press the mixture into your lined cake tin and place into the freezer.
To make the cheesecake layer
Step 1- Drain the water from the soaked cashew nuts, and place them into a food processor/blender, along with the vanilla extract, mint flavouring, melted coconut oil, fresh spinach and maple syrup.
Whizz up on high for around 5-8 minutes until smooth.
Step 2- Once smooth, fold in the mint chocolate (optional)
Step 3- Pour the creamy mint layer onto the base, level then pop back into the freezer to set.
This will take around 2-4 hours. You can leave it overnight.
Step 4- Once fully set, decorate with melted chocolate.
Get my homemade & delicious raw chocolate recipe here.
I garnished my cheesecake with some fresh mint leaves, unsweetened desiccated coconut and some yummy Nakd mint nibbles.
To serve, defrost the cheesecake for around an hour until thoroughly defrosted.
Slice and enjoy!