With only a few weeks until Spring and a month until Easter, I wanted to make some adorable and Instagram worthy pastel pink easter cookies using some of my favourite ingredients, raspberry, coconut and hazelnut.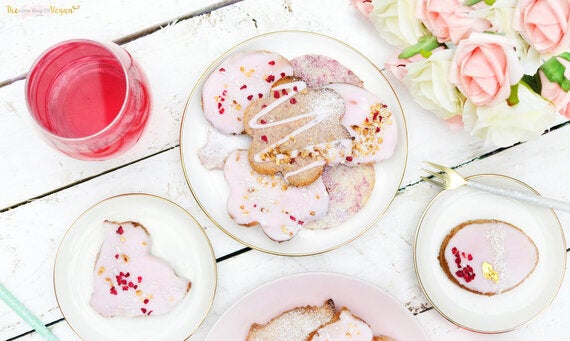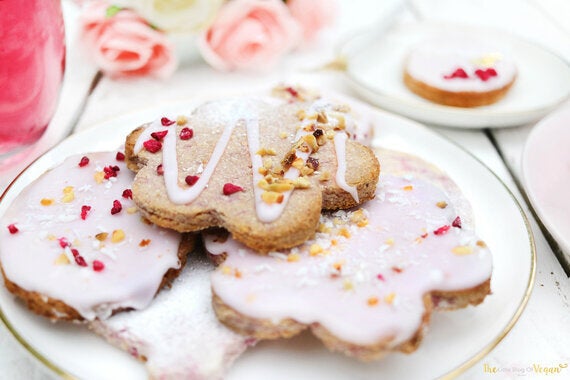 They are 100% vegan & gluten-free/wheat-free, perfect for those who suffer with coeliacs!
These cookies are quick & easy to make and taste delicious with a drizzle of almond icing, topped off with freeze dried raspberry for a tangy kick, desiccated coconut & hazelnuts.
Baking time- 9-10 minutes
-200g of gluten-free flour
-1/2 a teaspoon of baking powder
-1 teaspoon of vanilla extract
-170ml of light olive oil
-4 tablespoons of crushed hazelnuts
-5 tablespoons of desiccated coconut
-Handful of raspberries (mashed)
-1 tablespoon of almond extract
-Food colouring ( i used pink)
Step 1- Preheat your oven to 180 degrees celsius and line a baking tray with grease proof paper.
Step 2- In a large mixing bowl, combine the flours, baking powder and salt.
Step 3- In a separate mixing bowl, combine the oil, vanilla and maple syrup until smooth.
Step 4- Pour the wet mixture into the dry and mix until fully combined.
Step 5- When mixture is smooth, fold in the hazelnuts, desiccated coconut, mashed raspberries.
Your mixture will turn a beautiful pink colour!
Step 6- On a lightly floured surface, roll out the mixture and cut out shapes using easter cookie cutters (optional)
Step 7- Put the tray of yummy cookies in the oven at 180 degrees, gas Mark 4 and bake for 6 minutes.
Step 8- After 6 minutes, check the cookies, and bake for an extra 3-4 minutes, until your kitchen smells like a bakery & cookies are a light, golden colour.
Step 9- Remove the tray out of the oven and place the cookies onto a cooling rack to cool before icing.
Step 1- In a small bowl, combine the powdered sugar, almond extract, water and food colouring, mix and pop in the fridge to set :)
Decorate the cookies with some delicious almond icing, freeze dried raspberries, desiccated coconut and chopped hazelnuts (optional)
Store in a sealed container. Best enjoyed fresh.