This burrito is utterly delicious and you can taste every single flavour with each bite. All of of ingredients blend beautifully together to create a lovely lunch or dinner option which is fresh, healthy & filling.
If you love Mexican food, especially avocado or re-fried beans...this is a must make! YUM!!!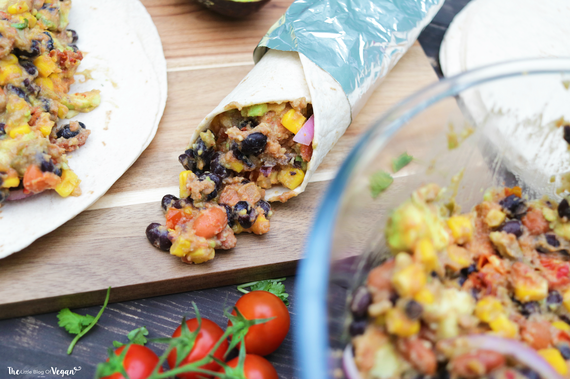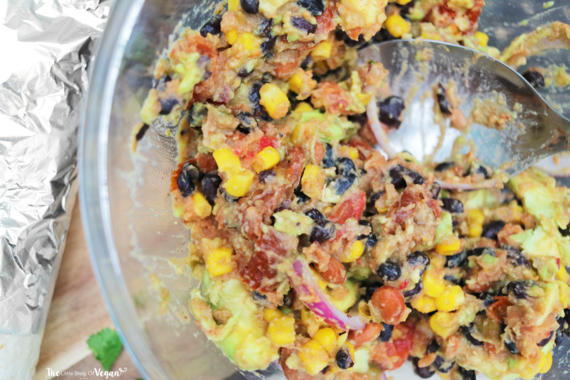 -1 punnet of cherry tomatoes (sliced)
-2 avocados (slightly mashed)
-1 large garlic clove (crushed)
-210g of re-fried beans (1 can)
- 230g of drained cooked black beans (1 box or can)
-50g of sun-dried tomatoes (drained)
-10g of jalapeños (sliced)
-1/4 teaspoon of fajita seasoning (optional)
-130g of tinned sweetcorn
-Gluten-free tortilla wraps
Step 1- In a wok or pan, add in the cherry tomatoes and allow to cook on low for around 10 minutes until the tomatoes have softened.
Step 2- Place the avocados into a bowl and mash.
Mix in the crushed garlic cloves, lime juice, re-fried beans, black beans, sun-dried tomatoes, jalapeños, fajita seasoning, and tinned sweetcorn until combined, then add in the cooked tomatoes.
Step 3- Lay the tortilla wraps flat and fill each wrap with some of the delicious Mexican filling, roll the burrito and wrap the bottom in foil (this helps the yummy mixture to stay in the wrap)
Enjoy with some homemade guacamole or salsa! YUM