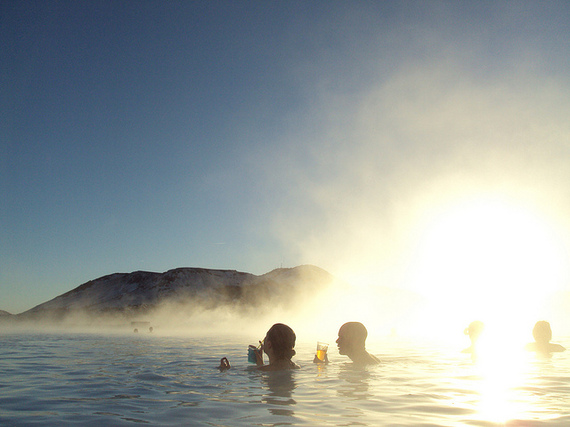 Having a hot soak in a thermal bath is a great way to spend your holiday © Melanie Augustinus
There is nothing quite as relaxing as having a hot soak after a long day, and where better to do it than a thermal bath? For centuries thermal baths in Europe have attracted the rich and the royal, who believed in the healing properties of the hot water and mud. Today, spa towns built around natural hot springs welcome guests from around the world who come to enjoy the hot springs therapeutic qualities.  From beautiful Marienbad to Iceland's famous Blue Lagoon, here are six noteworthy hot springs in Europe for those looking for a hot water adventure.
Marienbad (Mariánské Lázně)
Czech Republic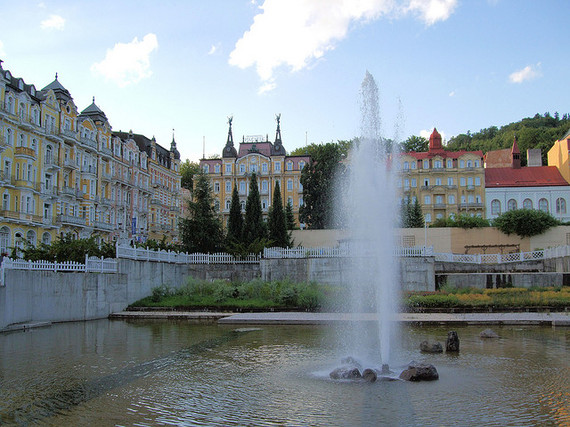 The picturesque town of Marienbad has 100 thermal springs © Jim Linwood
The spa town of Marienbad (Mariánské Lázně) is nestled between forest covered mountains in the western part of the Czech Republic. The picturesque town has 100 mineral springs, which have attracted people like Mark Twain, Thomas Edison, Frédéric Chopin, Russian Czar Nicholas II and Emporer Franz Joseph I. Fifty three of the springs are tapped, which means that visitors to Marienbad can drink plenty of magnesium and iron-rich water during their stay. The most well-known springs are Křížový pramen (Cross Spring) - which has a laxative effect, Rudolfův pramen (Rudolph's Spring) - which has a high calcium content, and Karolinin pramen (Caroline's Spring) - which has a high magnesium content that is believed to help with urological problems.
When you're not having a soak: Visit some of the town's beautiful churches like Church of Assumption of Mary, or visit Boheminium Park, where you'll find 1:25 scale miniature replicas of the town's oldest buildings. If you have an interest in music you may want to visit Chopin House, which is a museum dedicated to the life of the Polish composer who used to visit Mariánské Lázně.
Széchenyi Baths
Hungary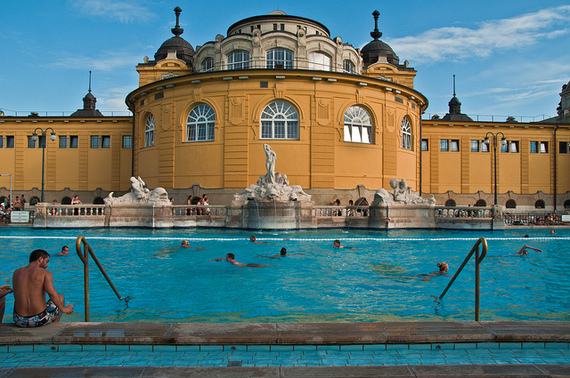 Széchenyi Baths in Budapest is one of the world's largest thermal bath complexes © Graeme Churchard
You can visit the beautiful city of Budapest without taking a dip in one of its many thermal baths. You'll have your pick of. Known as "the city of spas", Budapest has 118 thermal and medicinal water springs, so you'll have your pick of Turkish and Roman Baths. During the Turkish occupation of Hungary during the 16th century the spa culture of Budapest flourished. Today, along with private spas, there are 15 public thermal baths, including Széchenyi Thermal Bath. It's one of the largest thermal bath complexes in the world with 18 pools, and includes a special section for physiotherapy. The healing waters contain calcium, magnesium, hydro-carbonate, chloride, sulphate, alcalics and fluoride. The water temperature of the pools varies between 27 and 38°C.
When you're not having a soak: Take a stroll across Széchenyi lánchíd (Chain Bridge), which connects Buda and Pest. Visit the historic Buda Castle, or enjoy a performance at the Hungarian State Opera House.
Leukerbad
Switzerland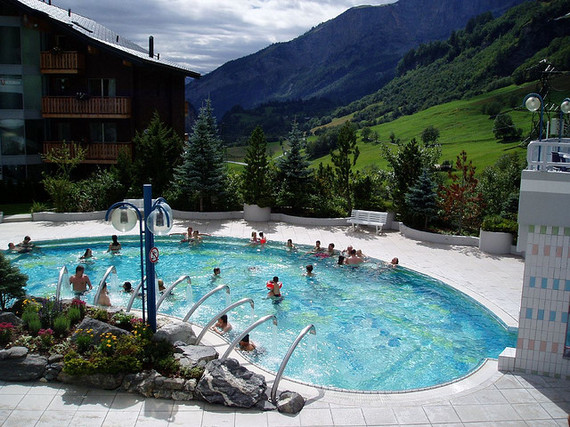 It doesn't get much more relaxing than soaking in a thermal pool in Leukerbad, surrounded by the majestic Alps © Jessica Gardner
Leukerbad is located in the Swiss Canton of Valais and, with 30 thermal baths, is the largest thermal bath resort in the Alps. Thermal tourism developed in the 1500s and is now the main attraction of the Swiss town. Visitors to Leukerbad get to enjoy a soak in a thermal bath, surrounded by and incredible backdrop of rugged Alpine peaks. Most of the thermal baths are private, although there are four public baths.
When you're not having a soak: Take a guided Thermal Canyon Walk with Leukerbad Tourismus, or take a walk along HelsanaWalking Trail. For some breathtaking views you can head up to the Gemmi ropeway.
Blue Lagoon
Iceland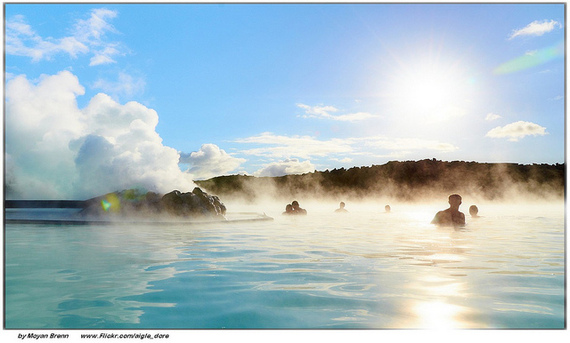 Blue Lagoon is located in a lava field in Grindavík, Iceland © Moyan Brenn
Iceland is renowned for its geothermal pools, including the famous Blue Lagoon. Although it could easily be mistaken for a natural geothermal spring, the pool was actually created by water output from the Svartsengi geothermal power plant. The turquoise water has an average temperature of 37-39°C, and along with the silica-rich white mud, is reported to benefit those suffering from skin conditions like psoriasis. The man-made thermal pool is nestled in a lava field just 30 minutes from the Iclandic capital, Raykjavik.
When you're not having a soak: You can visit Reykjavik's popular attractions like Hallgrimskirkja Church, The National Museum or the Perlan. Outdoor enthusiasts can also go whale watching or go bird watching on Videy Island.
Bath
England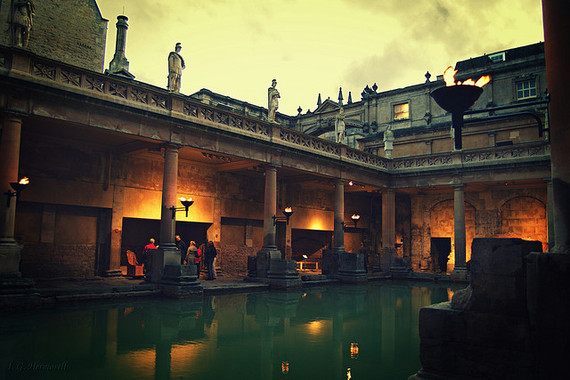 The Roman Baths in the beautiful English city of Bath © Ignacio García
Bath may not be as impressive as the Alpine thermal baths of Switzerland, but it has a charm of its own. The city of Bath is located in Somerset, in South West England, and is the site of England's warmest hot spring. The city was the home of Jane Austen and is famous for the healing properties of the water which was enjoyed by everybody from the Celts to the Saxons. The water at Thermae Bath Spa, one of the city's top attractions, is 33.5°C, and contains over 42 minerals.
When you're not having a soak: There are plenty of other things to keep you busy in Bath. Thanks to the amazing variety of theatres, museums, and other cultural attractions, Bath was inscribed as a World Heritage Site in 1987. Visit Bath Abbey, Royal Victoria Park and the Roman Baths museum and enjoy the beautiful architecture of The Circus.
Wiesbaden
Germany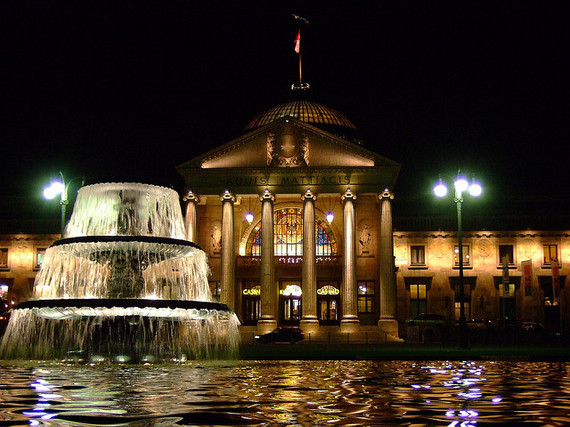 When you're not soaking in a thermal bath, visit Wiesbaden attractions like the impressive Kurhaus © Martin Fisch
The German town of Wiesbaden, in Hesse, may not be as famous as the spa town of Baden-Baden, but with 14 active hot springs it's certainly worth visiting. Wiesbaden has various spas and baths, the most well-known of which is Kaiser-Friedrich-Therme. Although the art nouveau-style indoor bath celebrated its 100th anniversary in 2013, the complex was built on the site of a Roman sauna, which was recognised for its healing properties for rheumatic and orthopaedic diseases even by the Romans. In addition to the thermal pools, the spa has a Russian steam bath and a Finnish sauna. The complex also offers a sand bath, massages, and various cosmetic treatments.
When you're not having a soak: Wiesbaden has a wonderful collection of historic attractions. Tourists can visit attractions like Schloss Biebrich and the Russian Orthodox Church of Saint Elizabeth, or take a Wiesbaden Magic History Tour. Frankfurt is also easily accessible for those staying in Wiesbaden.
Written by Kerryn du Plessis, a travel writer for HomeAway.co.uk.