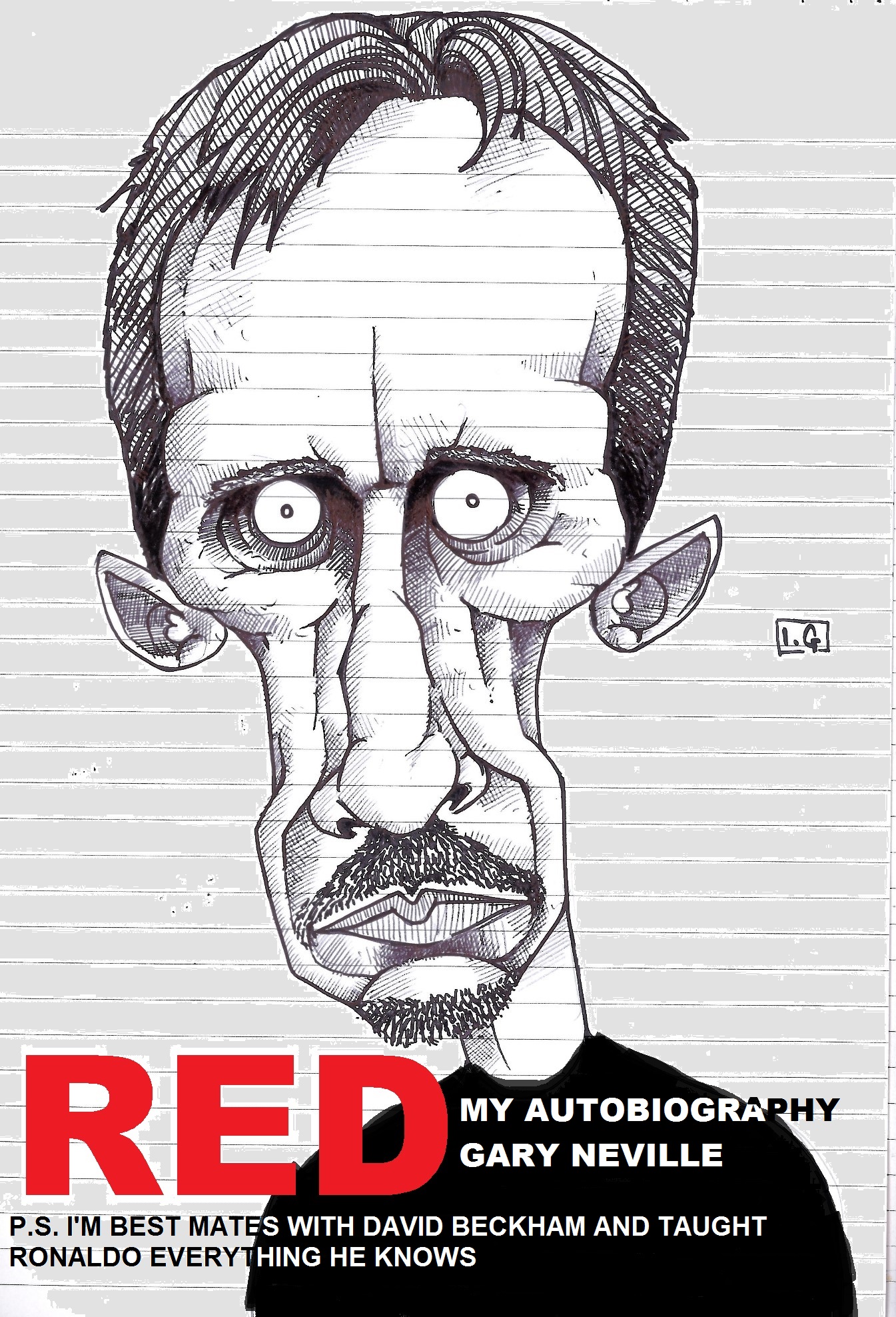 So Gary Neville goes to the doctor and says:
"Doctor, I've got a problem: every time I look in the mirror I get aroused. "
"Of course you do," says the doctor, "you're a c*nt."
If, like me, jokes of this sort almost comprised a school yard soundtrack growing up, you'll have been just as surprised as I was to hear, a couple of years back, that Gary Neville was to become a pundit and commentator on Sky Sports. In a long and distinguished career for club and country, the United Defender who the Daily Mash dubbed "Mancunianest man alive", divided opinion. This is always an occupational hazard when you essentially use football as a way to "hate Scousers" professionally. He was loved by United fans in a manner which flirted with irony at times and almost universally loathed by everyone else. Well I say "loved" I really mean he was looked upon as a sort of illegitimate backstairs sprog for whom we felt responsible but who, bless him, was always just a bit of a simpleton. A bit like Rodney from Only Fools and Horses. He was our Rodney.
Now, as I say, those of you who are not United fans will probably have been deaf to our entreaties that over the years GNev just pretended to be bluff and crass and unbelievably thick and gittish whilst deep down he was a soft little marshmallowy, pigletty type of creature. So basically you'll have thought he was a bit of a twat and here are a few possible reasons why:-
GNev was a nauseating little jobsworth - the sort of bloke who, as an oily youth, would think being appointed class milk monitor constituted genuine recognition of his budding leadership credentials and evidence of the high esteem in which he was held by his school chums.
When GNev was handed the captaincy of Manchester United (probably in recognition of his not having missed a single training session since 1988), he celebrated by adorning his already exceptionally punchable face with a very, very dubious moustache. Honestly, this thing looked like some bowel-diseased rodent had just wiped it's arse along his upper lip.
By his own admission, as a trainee, GNev completely swore off having any sort of social life between the ages of 16 and 19 in order to maximise his chances of paying for United. By spurning what should have been the most influential years of his social development, it is possible that GNev became standoffish and laissez-faire in respect of his personal hygiene.
In the autumn of his career, and perhaps unwisely encouraged by the aforementioned acquisition of a moustache, GNev began to see himself as something in the way of an elder statesman within the squads of Manchester United and England. He felt an almost paternal obligation to the younger players so in his last few years it was not uncommon to see him with his arm around the shoulders of a completely mystified Wayne Rooney or Cristiano Ronaldo, teaching them the facts of life. That was really annoying.

That celebration against Liverpool. In January 2006 Rio Ferdinand scores a last minute header to defeat the old enemy in what, until that moment, had been a dour stalemate at Old Trafford. Naturally everyone goes completely ballistic and the boys mob Rio. Then as the camera pans out, we see this red blur thundering across the foreground in the opposite direction to the rest of his team mates. The red blur is our Gary and he is making and incredibly enthusiastic beeline for the away stand. For what must have seemed an eternity to these heartbroken Scousers, Gary stands there roaring and snorting like crack-addled baboon, pawing at the badge on his shirt and generally justifying his reputation as a consummate sportsman. If Scousers believed in the concept of holy war, Gary would have ignited an intifada that night. As it turned out, he was charged with improper conduct by the FA, fined £5,000 and "warned about his future conduct."
This explains why I awaiting GNev's television bow with such dread-pleasure. But after nigh on a couple of years with him in the commentatorial saddle, I haven't admit to really being rather pleasantly surprised. GNev is charming. Who knew? He's witty and urbane and more than willing to take the piss out of himself. His insights are relevant and lucid and he the scoring of a goal sometimes brings him to a very loud sexual climax which is nice. I mean, don't get me wrong: he's no Peter Ustinov. But the least that can be said of him is that he's leagues ahead of Gazza.
Admittedly, he didn't make the most promising début when he was unleashed onto Monday Night Football. His hair looked like it had been cut by his mother (Nevilletta or perhaps Nevillina... Nevillora?) in preparation for school photo day. The suit was a boxy polyester abortion so ill-tailored to the contours of a human body that it looked as though it had been fitted with a crumple-zone. Perhaps to absorb the force of Ed Chamberlain's simpering inanity. It was the Volvo of suits. He perspired, he fidgeted and he stuttered. The technology was another issue. Gary handled the cutting edge kit with all the ham-fisted expertise of a Lancashire farmer operating a touch-screen iTractor.
But things improved markedly. Our Gary grew better and bolder. After rather cruelly remarking during a Chelsea match that some of defender David Luiz's movement suggested he was being controlled by a 10-year-old in the crowd with an X-box controller, wizard-tongued veteran Martin Tyler welcomed him into the fraternity of footballing commentators and he never looked back.
One thing that I had wondered about was whether GNev would be able to slide the Mancunian mania on ice and remain impartial. Given the on-field success of Liverpool in the 70s and 80s, we've had to endure a 'golden generation' of Scouse pundits over the last couple of decades but one say to say that they have mostly (with the notable exception of barking lunatic and Steven Gerrard fanatic Phil Thompson) managed to maintain a certain level of dispassion in their pronouncements. Now, nothing I'd seen in his playing career convinced me that his punditry would be anything other than, as it were, partisan.
But again, my doubts were proved unfounded. When United got spanked 6-1 by City at Old Trafford (no link for that one, sorry), GNev bore this humiliation with a disarming grace. He was humble and sporting, gave measured praise when required took it up the tailpipe with grim dignity.
Here's a little poem for Gary by Iddo Goldfarb and Rudyard Kipling:
Gary kept his head when all abut him
Were losing theirs and blaming it on him,
He trusted himself when all men doubted him,
But made allowance for their doubting too;
Gary could wait and not be tired by waiting,
Or being lied about, didn't deal in lies,
Or being hated, didn't give way to hating,
And yet he didn't look too good, nor talk too wise:
Gary's is the Earth and everything that's in it,
And - which is more - Gary became a man. Gary the man.
So in conclusion, nice one GNev. You're not a twat. I'll follow you on Twitter @Gnev2.
This post also appears at jowlsofderision.com