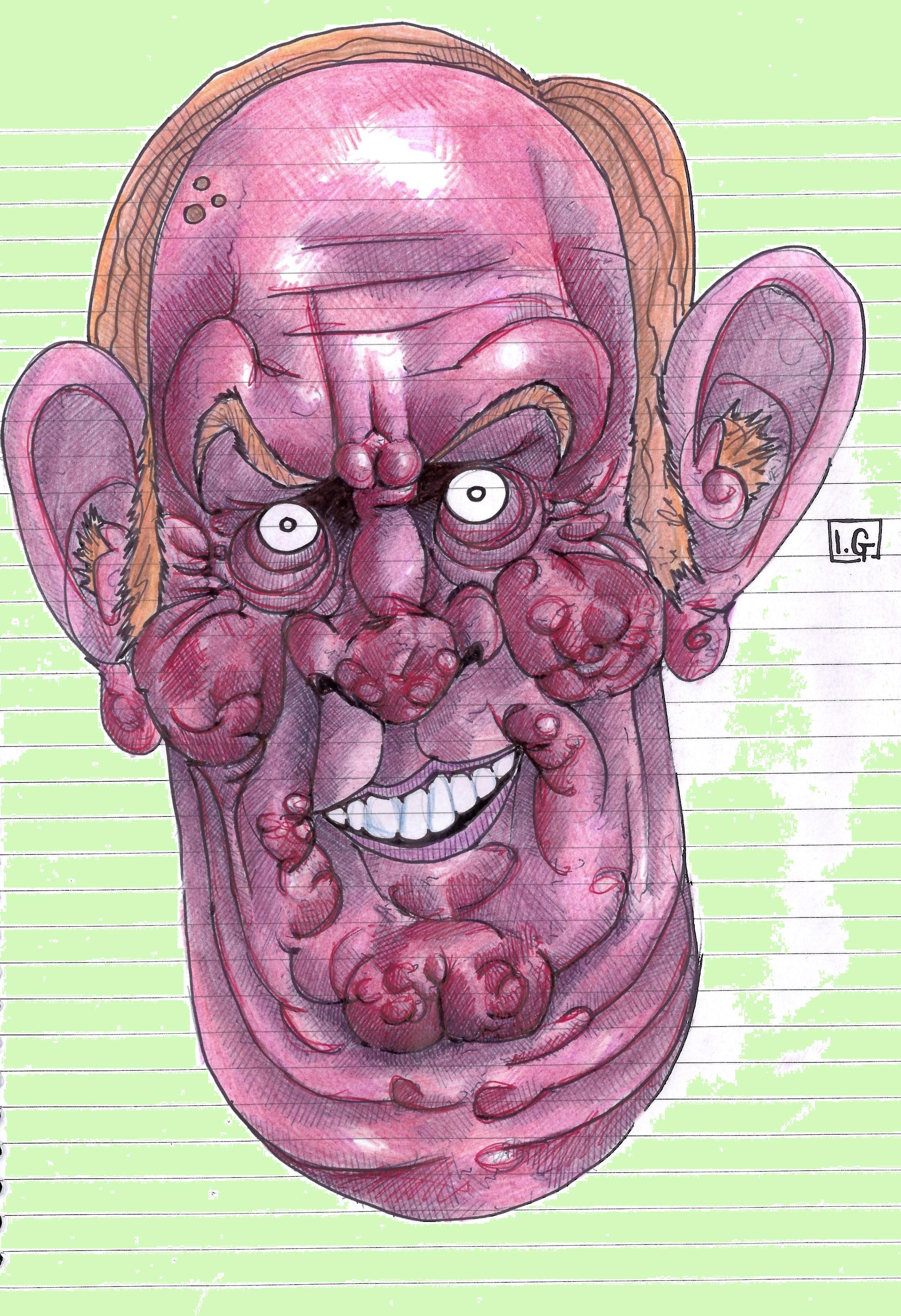 With the summer recess looming, Westminster village will soon empty and the current affairs agenda will be shorn of the most voyeuristically compelling soap opera known to man (Geordie Shore just isn't quite debauched enough for my tastes). If this wasn't bad enough, we will, until party conference season ambles around again, be deprived of the most legendary jowls on television. These jowls have for years undulated on our screens like vast, ruddy hams in a butcher-shop window, making the likes of John Prescott and Ken Clarke look positively lissom by comparison. The crevasses between them are so fathomlessly deep, the are rumoured to shelter tribes of Scottish pygmies as yet untouched by Western civilisation. These jowls belong to one Mr Andrew Neil.
He may look like a plate of overcooked gammon but Big Andy bestrides the current affairs scene like a colossus. In 1983, he was appointed Editor of The Times when he was only 34. During his tenure, he received a letter from then Prime Minister Margaret Thatcher informing him that his publication of a story about a rift with the Queen had single-handedly cost her nine points in the opinion polls. In the aftermath of this, the Palace allegedly tried to have Neil removed and he won the award which reportedly gives him the most pride: Editor least likely to get a knighthood. In 1988 he became the founding chairman of Sky and would later bring The Simpsons to British TV. Nowadays, when not on the air presenting The Daily Politics, The Sunday Politics or This Week on the BBC, Neil sits as Chairman of the Spectator Group of magazines. Lad.
His easy conversational style masks a razor sharp wit which homes in and pares down the pomp of the powerful and privileged. He lulls his prey into fancies of false security with waves of soporific bonhomie and then smashes them to smithereens. In some ways, his method of interrogation is even more effective than that of Paxman or Humphrys who's legendary ferocity places their opponents on the defensive before they've even dispensed their first derisive sneer. To quote Al Pacino in The Devil's Advocate,he is the hand up Mona Lisa's skirt; they don't see him coming. Except, that is, in this hilarious exchange with shrinking violet George Galloway on The Daily Politics. "Playing the man rather than the ball," indeed.
Neil's late night current affairs show This Week, in many ways embodies his unique brand of reportage. Neil takes the piss out of the crummy, matchbox-sized studio. He tells his guests to dumb down for an audience which he regularly describes as comprising an army of Blue Nun-swilling, porn-ogling alcoholics. He constantly berates his co-presenters, laying into "sad man on a train" Michael "choo choo" Portillo's quiff, sartorial stylings and possible sexual predilections. When once, he went so far as to call Diane Abbott and Portillo the "chocolate hobnob and custard cream of late night telly," I nearly wet myself. You can bet the BBC's legal team winced as that went out.
Yet in spite of this irreverent levity (or, more likely, because of it), the shows writing is among the funniest on TV and its roster of guests routinely features some of the ablest minds and sharpest wits in the business - often far more nourishing than the thin, tasteless goulash of spineless Whip-fodder which gets served up to us on Question Time. The guests which are invited (and invariably accept) to come on This Week often include (as well as eminent journalists, scientists and stars of stage and screen) contrarian backbenchers and senior MPs who, because they have outgrown the personal ambition which compels most career politicians to varnish their opinions to the point of shimmering inanity, can actually offer genuine insight into the issues of the day.
Dimbleby, Paxman, Marr, Snow, you're all total players but nobody else can hold a candle to Andrew Neil when it comes to force-feeding the establishment the medicine it most detests: ridicule. And what majestic jowls.
Cross-posted with extra sketches on www.jowlsofderision.wordpress.com.