Photo: Malaria Consortium/Tine Frank
Malaria has been a persistent blight for thousands of years. Spread by mosquitos, the oldest surviving records of the disease appear in ancient Chinese medical texts dating back to 2,700 BC. Since that time, efforts to tame it have been equally tireless.
The fight against malaria has required constant reinvention. Over the last 15 years, we have made huge inroads to combat the disease using tried and tested tools such as mosquito nets and artemisinin-based combination therapies, but also by testing out new approaches to strengthening healthcare.
At Malaria Consortium, we test out novel approaches to malaria control and bring innovation to all our projects. Here are five promising approaches we are currently working on:
1.Insecticide treated clothing. This method involves the application of insecticides and repellents on locally-made clothing for protection against mosquito bites. The insecticide - typically permethrin - has little to no odour, colour or greasiness and acts quickly in repelling and killing mosquitoes. There are a number of ways to treat clothing, like using affordable home spraying or dipping kits. Factory-treated clothing is an alternative that provides longer-lasting protection but is more costly.
Our recent UK aid-funded study in Myanmar focused on rubber tappers, who work at night when malaria carrying mosquitoes are most active. This is the first time that key risk groups were involved in a social acceptance study of treated clothing in a rural area with malaria transmission. Previously, treated clothing had been mainly used by military, wildlife, wetland and park workers and outdoor recreational markets. We asked the rubber tappers to try out the treated clothing and they scored it highly for effectiveness, appearance, ease of use, durability, texture, colour and ease of cleaning.
2.Mobile phone applications. Much of our work revolves around training and supporting community health workers (CHWs) providing health services in hard-to-reach areas of Africa. Despite the success of these programmes, it is their very remoteness that leads to additional challenges such as drug stock-outs, lack of support and supervision, and challenges in diagnosing symptoms which can get in the way of CHWs' abilities to provide effective services. Our inSCALE project, funded by the Bill & Melinda Gates Foundation, has helped to address these challenges by providing CHWs in parts of Mozambique with smartphones that come pre-installed with an application called CommCare. This app guides CHWs through the diagnosis process and enables rapid data submission on patients seen as well as drug stock levels to district and national health officials. It also provides performance-related feedback and a closed user group that allows free calls among CHWs and their supervisors.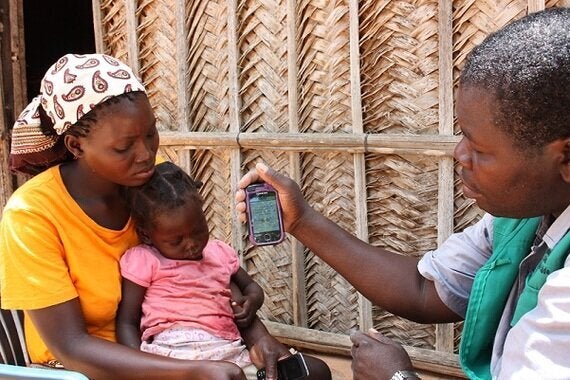 Photo: Malaria Consortium/Ruth Ayisi
3.Community dialogues. Providing healthcare services to remote communities is only half the battle. Residents must also be aware of these services, be willing to use them and to understand the value in adopting healthy practices. That's why we have helped to set up 'community dialogues' in Mozambique, Uganda and Zambia with funding from the World Health Organization - to provide a platform for communities to discuss health issues, identify solutions and plan communal action. These dialogues are led by volunteers selected by the communities themselves and they have proven to be very successful in creating demand for community health services, getting those who participate to adopt healthy initiatives.
4.Cross-border surveillance. The movement of workers across borders is believed to be a big contributor to the spread of the drug-resistant strain of malaria that has emerged in Southeast Asia. As a result, we are working in the region to help limit its spread by setting up border checkpoints to screen migrant workers for malaria. If tests come back positive for traces of the malaria parasite, the patient is treated on the spot. These initiatives, supported by the Global Fund and UK aid, are not only important for identifying and mapping cases of drug resistant malaria, but also in providing treatment and information for groups who are often beyond the reach of health services.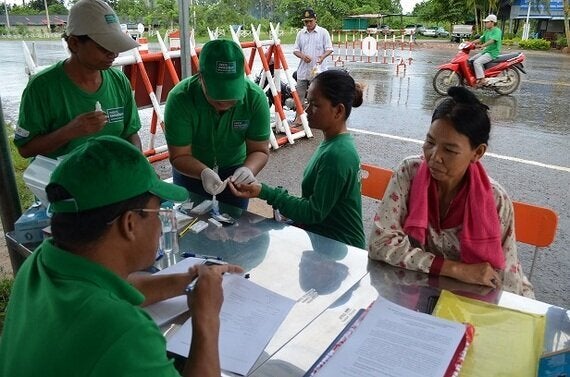 Photo: Malaria Consortium
5.Seasonal malaria chemoprevention. Seasonal malaria chemoprevention (SMC) is a relatively new and highly effective method of preventing malaria in children under five. It involves administering up to four monthly doses of antimalarial drugs during the rainy season when transmission is the most intense. With funding from UNITAID, we are now carrying out the biggest distribution of SMC to date in seven West African countries. Together with our partners, we will have provided 45 million treatments to more than six million vulnerable children by 2017. If all eligible children received SMC, some 175,000 lives could be saved each year, and 18 million malaria cases prevented.
Related