On Oct 24th I boarded an early-morning BA flight, bleary-eyed, and fixed my gaze through the window as we waited for countdown to take off to leave Queen ALIA International Airport in Amman, Jordan.
And that's when the floodgates of uncontrollable tears opened - not because of the 3am wake-up call but the desperate attempt to struggle with my emotions after what I had witnessed a few hours beforehand and which I could now release alone: one of, if not THE most sobering and humbling moment in my life and one I felt compelled to express during my six-hour flight to the UK.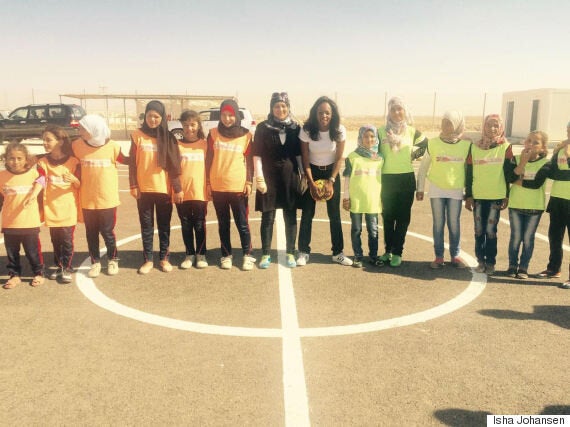 For my Jordan experience (as I fondly now refer to it as) reaffirmed what I have always felt. That there are two types of people in this world: those who make history, and those who are part of making history. Similarly in the world of football, there are two types of people: Those who love the game, and those who use it to change lives.
As I flew to London, I reflected on my visit to Jordan having been invited by HRH Prince Ali bin Al-Hussein. How rewarding it was to have witnessed the Fifa Women's U-17 World Cup finals which saw Korea emerge 2016 champions as they defeated Japan, a stronger side cruelly losing out on penalties.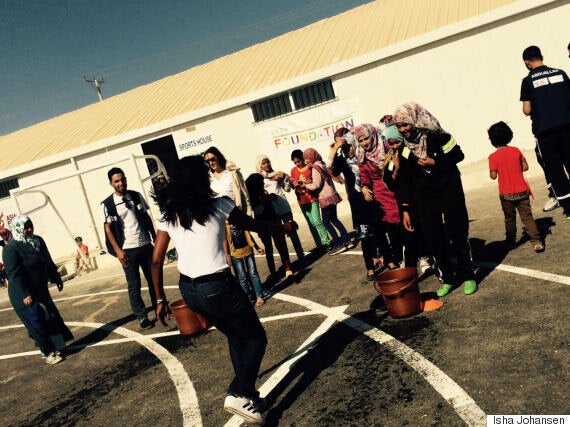 How rewarding too to have given interviews to Middle East female journalists from Palestine, Jordan, Sudan, Lebanon, all eager to know about my professional journey as a football boss in a male-dominated world, living and operating in a continent where struggling to break cultural, religious, ethnic and gender barriers are extremely challenging. It was an awesome experience not just sharing my story and its challenges, but at the end of it all seeing the glint in their eyes when I said to them, "our time has come, lets go for it"
I guess I should give you more detail about the following day's visit at the request of Prince Ali to two youth academies, Knight FC and Jordan FC where young kids, boys and girls chased their dreams of becoming the next global superstar. There was even a 12-year-old goalscorer dubbed Maradona whose underprivileged background was far from that of most of his friends at the Knight FC academy. He was one of the chosen lucky few who came from orphanages but were blessed with natural football talents, given opportunities to travel the world participating in international youth competitions and friendlies with teams like Real Madrid, Barcelona, Valencia.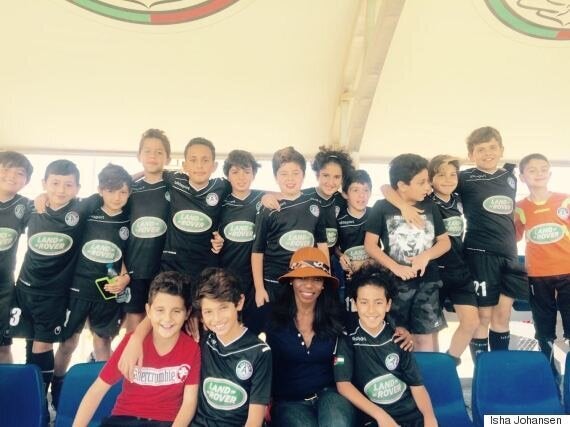 I could feel my heart pacing after visiting those academies and as we drove back I said to the Prince, "I have been down this very same road with my boys some nine years ago". He replied, "that's why I brought you here. Never lose sight of your dream. You have the power to change young lives through football. It's a gift, use it well."
Perhaps I should explain what I meant by "my boys". I meant FC Johansen, the club I founded in Sierra Leone for kids from deprived and displaced communities. Theirs is a story of real inspiration and succeeding against all odds, a story that will be told another day, another time.
But so to the purpose of this piece and exactly why those tears flowed uncontrollably. After catching a couple of hours' sleep on the flight, I am woken by the captain's announcement that we will be landing in a few minutes and that the stewardess would be walking through asking for donations for Syria's refugee children. I felt my heart beat racing again - this time even more. In fact I wanted to shout out. As I popped my donation into the collection pouch the stewardess looked somewhat surprised as she thanked me. "Madam, that's a very kind contribution."
If only I could have sat her down and talked her through my own experience with those same refugees. But who knows, she might be a subscriber to the Huff Post in which case if she does read this piece she will understand the reason behind the generous contribution.
It was day three of my Jordan experience. Destination: Za'atari refugee camp at Mafraq an hour away from the Syrian border.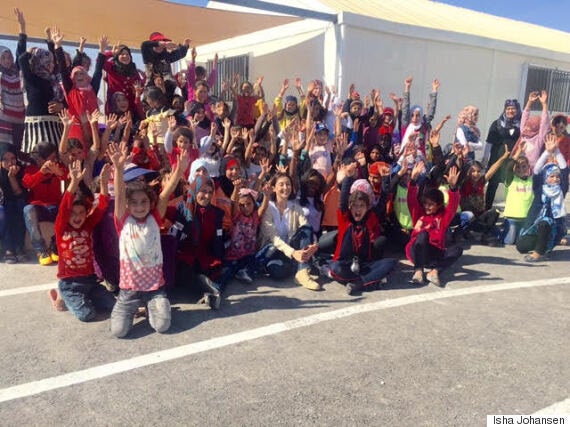 As a Sierra Leonean having made frequent return trips to my country just after the end of our civil brutal war two decades ago, I thought I knew everything about expansive refugee settlements. In Jordan, an estimated 250,000 refugees are reported to have streamed over the Syrian border fleeing what was an uncomfortable and all too familiar reminder of what my own people suffered.
I was again privileged to have as my host and guide HRH Princess RYM Ali of Jordan (wife of Prince Ali). We were on our way to meet young Syrian refugee girls and in particular to visit The Asian Football Development Program (AFDP), an initiative set up by Prince Ali and whose objective was simple: using football as a tool for social change to provide hope and make a meaningful difference in the lives of the displaced, innocent people, many of whom had lost family and friends.
Currently 5,000 kids are playing football at Za'atari, some on specially imported grass pitches, others on sheer gravel. They also have classrooms and learning centres which provide a basic education but football is what they love most. Of that figure, an astonishing 1,500 are girls, many of whom have genuine talent.
Having a former CNN reporter who had covered conflicts in Iraq, Haiti and other trouble zones by my side was an added bonus in terms of putting it all into perspective. That person was the afore mentioned Princess RYM Ali.
As we approached the camp, it reminded me of a scene in the movie The Terminator. Dry white sandy roads and single-story buildings. And camp sites as far as the eyes could see. The Princess pointed out to me a stall which sold fruits, vegetables and clothes with a sign that said, 'The Mall', providing virtually everything one might need on a full day's shopping.
We arrive at the site to be greeted by hoards of smiling young girls of all ages. Some as young as four. Some too shy to approach the princess. I kept a respectable distance but smiled. Suddenly I would feel a small hand gently slipping into mine. I look down to see the sweetest warmest smile from a little girl who decided from the onset that she would be my best friend. Others touched my skin, stroked my face. At that point I had to warn myself, "Isha don't you dare break down here. These poor kids have suffered enough. Tears are the last thing they need to see from you"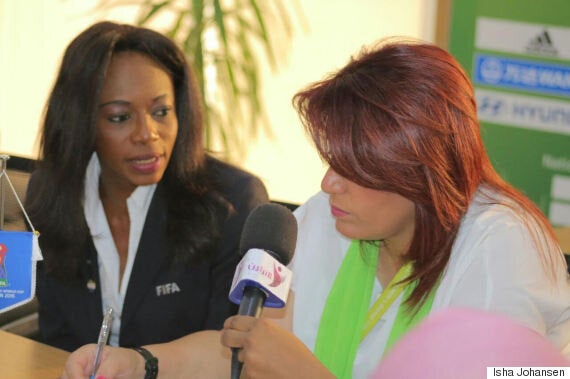 Carine, a former UEFA appointed-instructor and one of those running the camp, is a committed woman doing a remarkable job combining education learning through play, of course with the help of additional coaches training the girls to play football.
Princess RYM offered to be my interpreter as the girls filled what I believe was the camp community hall. They sang us a welcome song and listened attentively as a told them who I was and what I did back in my country.
I told them a little story about what happened some years back when war hit a small African nation called Sierra Leone. How children lost their parents, their loved ones, their homes, and how these children fled helplessly some without an adult or maybe with adults they possibly never knew. I told them how these kids had to flee not knowing if they would ever return to the places they called home. I told them about the FC Johansen " Field of dreams" story. At the end of this spellbinding, captivating few minutes, I told them that they had to promise to hold on very tightly to three things; FAITH, HOPE AND FOOTBALL.
Our day ended with a seven-a-side, 20-minute match with the U-13s. I was the goalkeeper and in true fashion let two goals in losing 2-0 to the Orange team. Nonetheless I was given the biggest hug and cheer which almost never happens in football.
I must have tried to say goodbye a dozen times for I just could not bear to tear myself away from these girls. But finally we had to leave and as I made my way into the car, I turned back to wave. The looks on their faces convinced me that without a shadow of doubt I will one day return. In the meantime, I will endeavour every day to try to further the cause of what I am privileged to have access to: using the power of football to change and enrich lives.