It's 9am. We've been travelling for 12 hours. The coach stops, but this is not Arequipa. We park with dozens of coaches on the edge of a small town, La Joya. Black smoke rises a kilometre away. News trickles through: demonstrators are blocking the route with burnt tires and stone barricades. They are part of a protest that has been going for over 50 days against the proposed Tia Maria copper mine in Valle de Tambo, situated in the region of Arequipa, Peru. Controversy has surrounded the mine for several years. Following violent protests in 2011, the government refused permission for the mine on environmental grounds. After a revised proposal from Southern Copper, a Mexican mining company, the government gave the go-ahead in August 2014.
Locals oppose the project: the mine, they say, will pollute their water and rich farming land, on which they depend. Protestors also say they see no return from mining: the proceeds go to foreign mining companies and Peru's corrupt politicians. 'There's gold, there's copper, but the people are still poor', goes one of the protestors' chants. Peru has seen impressive economic growth, largely helped by exports of copper and minerals, but economic inequality remains deep.
Our bus is allowed to pass. Riot police line the road and chase the occasional slingshot-wielding protestor who dares get too close. Peruvian President Humala authorised deployment of the army after protests began in March and has not ruled out declaring a state of emergency in the region.
This morning, 12 May, began a 72 hour strike by farmers in the Valle de Tambo. In a show of solidarity, the farmers are joined by several trade unions, traders, taxi and bus drivers, and students in the region's capital, Arequipa, and in other towns in the region.
In the city of Arequipa the protesting is continuous over the three days. The demonstrators' hub is in the main square, the Plaza de Armas. There are posters displaying those injured in police clashes during the past weeks and artwork making political commentary.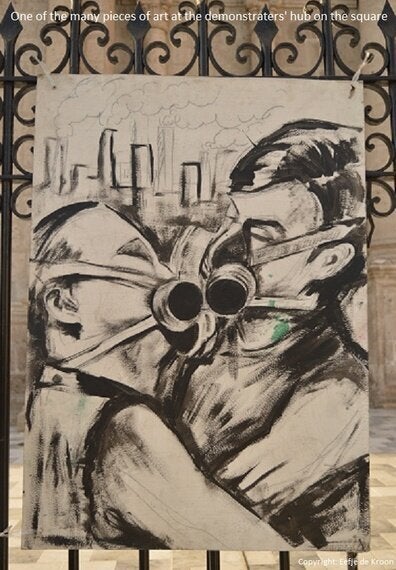 We come across various sizes of protest. A man wearing a placard and blowing a whistle cycles around town. A dozen people wave flags and bang drums shouting, 'No to the president, he is a murderer', 'Yes to agriculture, no to the mine'. Taxis blockade a main road.
Two groups of one hundred or so people carrying red flags and sticks chant the Latin American classic, 'El pueblo unido, jamás será vencido' ('The people united, will never be defeated'). Each group then runs in opposite directions around the vast town square, passing through each other when they meet to continue their circle - reminiscent of choreography from an Olympic opening ceremony.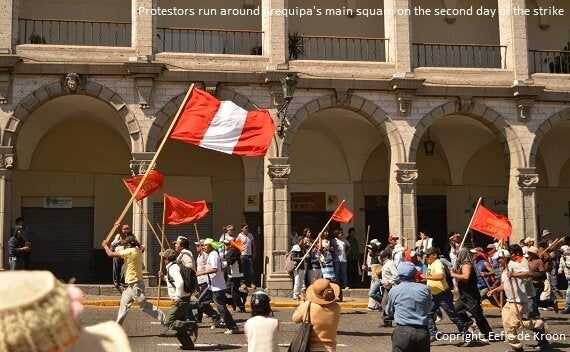 The square is lined with riot police bearing batons, shotguns and teargas launchers. As the protestors begin their run around the square, security personnel try to keep up. Short of breath, they quickly give up chase. Into the night, we hear sirens from our hotel. The protest has turned violent as 16 students are injured in clashes with the police.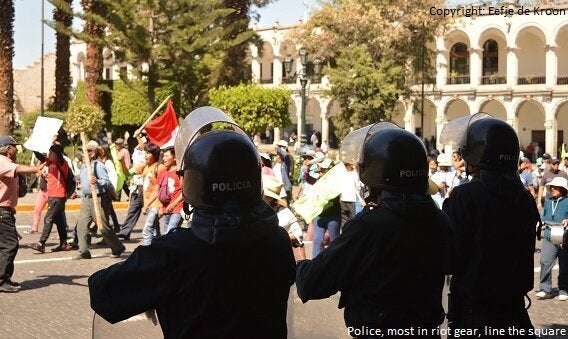 On the third day the number of protestors grows significantly: the immense square is full. Some protestors tell us that there are at least 3,000 people. The police fire teargas at several points during the day, and we are told that a protestor was hit in the head by a canister. Some protestors have pulled up the cobblestone roads using the rock to build barricades and to throw at police. Further protests and clashes with security personnel are reported in other towns in the region.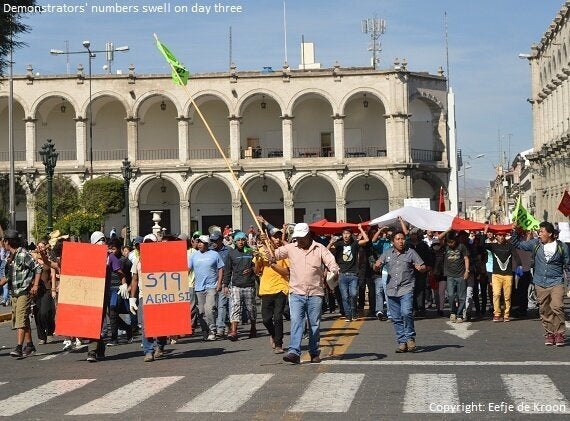 Media report that over the last seven and a half weeks over 200 people have been injured - some through the use of firearms by security services - and three killed, including a policeman. No deaths from clashes have been reported during the strike. One report tallies 32 injuries in the entire region during the last - most intense - day of the strike: 18 civilians, 14 police. By 10pm on day three, protestors have packed up leaving little trace in the city centre. A group of Arequipa's youth holding a peace march return the uprooted cobblestones to their bed.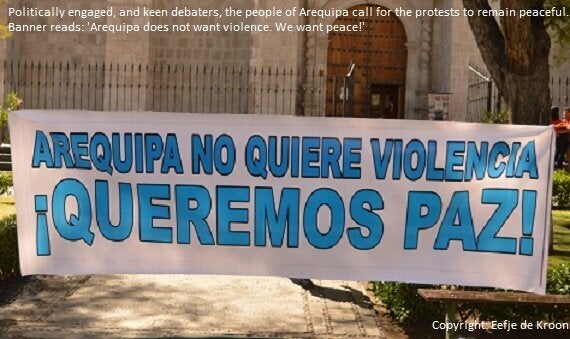 Arequipeñans are highly political. People who are not protesting gather in plazas and debate. An elderly man says, 'the Incas mined here hundreds of years ago. What's the fuss?' A woman from a mining town elsewhere in Peru explains mining has caused severe air and water pollution. Another pipes in, 'when the president was elected he promised to prioritise agriculture and clean water over mines. He broke his promise.'
The people of Arequipa have a strong sense of solidarity. Students, trade unions, and others who are not formally organised have been involved in protesting. They have no obvious link to the people of Valle de Tambo. I ask where Valle de Tambo is in relation to the city of Arequipa. 'It's two hours away.' 'So the mine doesn't really affect you?' I ask, surprised. 'No. But the people here want to support the farmers. We have a long history of protest in Arequipa. If something is wrong, we stand up and say it.' Despite the risk to their own safety, they stand in solidarity.
People are angry with President Humala, who they say is in the pocket of Southern Copper: 'Our politicians are corrupt. The president refuses to listen to the protestors because he and others take bribes from the mine'. Another passer-by blames the government: 'My two boys are policemen. The government should make Southern Copper leave. Instead, Humala makes us kill each other.'
Nobody I spoke to supports violent protest, and locals blame clashes on 'delinquents' who use the strike as an opportunity to attack police and property. Some protestors chant: 'Fight corruption, not the police'. Arequipeñans are a shining example of a politically engaged people, ready to act on their beliefs. Even more admirable, they have a sense of solidarity that makes them help others struggling to protect their homes and livelihoods. Those hoping to revitalise the many parts of Europe gripped by apathy and individualism should take note.