What do you think? Is there enough Equality and Diversity within Performing Arts? I agree, over the last couple of years it has improved dramatically, there are more opportunities and there are a more diverse range of jobs for actors, for example for the disabled, but I think there's still a way to go.
Chasing your dream as a performer is hard... It's stressful and sometimes both emotionally and physically draining. Everyone hits that stage of 'am I going to make it' or should I give up and 'get a regular day job' and its the strong that pass through it. Every performer I have spoken to including myself and close friends have been through that stage, and sometimes you just get 'urges'. It's a strange journey to follow, and hard to explain to people who aren't performers and don't understand it fully... Sort of like being a mother.
It is argued that for many of today's rising stars it is the unfortunate truth that it will be just that... a dream! I both agree and disagree with this argument because I do think it is an extremely hard industry to break into but I also feel if you are determined and you have the passion, you will succeed! With passion and HARD WORK!
There's no doubt about it... it is a money draining industry. There's headshots, showreels, spotlight, casting subscriptions, travel for auditions. Not to mention the prices of Drama Schools, which are drastically increasing each year, with you having to pay just to audition! What ever happened to the 'talent', these days I feel it's a lot more about money and as a passionate performer, I don't agree with this. Yes it is a business, but it is also a way of life for some people.
I am from a small town in the North of England and travelling for auditions used to cost me a small fortune, and I travelled for hours to get there at silly times - but it's worth it in the end. You have to put in the hard work to achieve your goals.
With the high drama school fees its increasingly hard for aspiring performers from working class backgrounds to study at the establishments, but again referring back to what I said, I also don't think that you need to go to drama school. I think if you have the passion and the talent, you just need to get yourself out there and send your showreel around to casting directors.
Performing is a passion, which unfortunately is inaccessible to so many, not to mention the recent proposal to stop Performing Arts in education by Parliament - if you take away performing arts, you are disabling people to express their creativity, it's madness!
There are people campaigning to get these issues addressed and make improvements for people within performing Arts to reach more opportunities. An example is the Actors Awareness Campaign which has been set up by fellow friend and actor Tom Stocks. He set up the campaign with the aim to give a voice to the community and express these issues.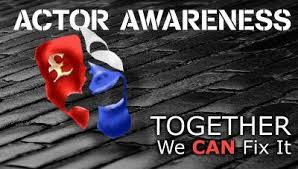 Photo Copyright of Actors Awareness
Since setting up the campaign it has skyrocketed in popularity. Performers are rushing to get the opportunities, also receiving media attention from BBC and ITV News, even supported by Sir Ian McKellen himself.
The campaign is a great way for performers to get involved in opportunities with regular 'scratch nights' supported by Spotlight. It allows them to become a part of a community facing similar struggles and allows them to work together, speaking to each other and voicing their concerns in order to campaign to get them resolved - which I think is a great idea! It's created by actors for actors and its great for people to talk to other performers who understand their issues.
Sometimes speaking to other performers is easier than talking to family because they understand better.
For more information on the Actor Awareness campaign you can visit their website - www.actorawareness.co.uk