With Spectre now packing in audiences in cinemas across the world, it's the perfect time to indulge in a bit of fantasy secret agent work. I for one am not averse to slaying imaginary criminal masterminds before making my getaway in my imaginary jet-powered car.
However, here in the office at the recently launched Gadget Magazine we've been playing with some everyday spy tech that could bring us a little closer to life as the next 007. Here's what we've been enjoying the most:
Send a silent text to get yourself out of a sticky situation with the Unhackable Phone
• Made by Geneva-based security firm Silent Circle, the Blackphone 2 is the phone 007 would use in the field
• Offers encrypted peer-to-peer phone calls and 'Silent Text' messaging so no one can eavesdrop on your conversations
• Security Centre feature gives you control of personal data apps
• Offers smarter Wi-Fi to stop you from joining unsecure networks that could compromise your security
Stop people from eavesdropping on your conversations with the Smartphone Encryptor:
• Plugs into your smartphone's headphone jack
• Converts your conversation into analogue noise that is completely inaudible to humans
• Noise is transmitted to your recipient - who will also need one of the devices - to decrypt the signal
• Works with any number on any network and can encrypt calls from Skype or WhatsApp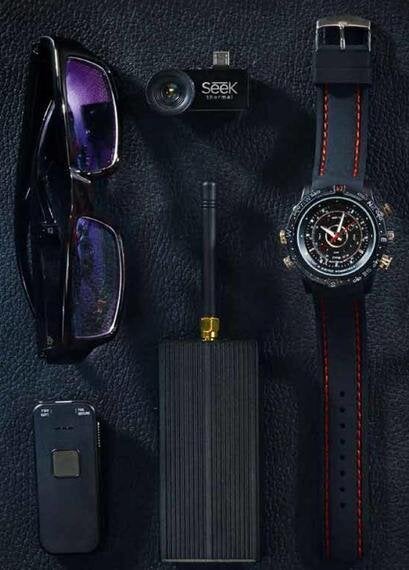 Image copyright held by the author
Wear Covert Recording Glasses to gather vital evidence:
• The glasses take microSD cards up to 32GB, so you can pack in plenty of video
• Tiny camera is so discreet it's difficult to find even if you were looking
• Slim and small enough to pass for real glasses
Hide your secrets with the covert Spy Coin
• Allows you to keep data safe and secretly hand it off to others
• A hollow coin, which opens with a few taps
• Stores a microSD card with all your private information
• Looks exactly like a real pound coin so raises no suspicions
Record secret conversations with the clandestine lighter
• A minute camera in the base of the lighter that can record high-resolution video and still images
• Activated with a click of the igniter button, the camera will instantly capture to a microSD card to view later
• Sound-activated recording function which detects a sound over 65 decibels and will automatically record for three minutes
Other amazing gadgets include a watch that can record sneaky photos and videos, a pen containing a toolbox of screwdrivers, blades and a file, and night-vision goggles.
So what are you waiting for? Don your dinner suit, climb into your Aston Martin (what do you mean you don't have one?), tool up with the latest kit and go out and save the world from cat-stroking super villains and eponymously-named clandestine crime organisations.
This post first appeared in Gadget Magazine. You can subscribe to Gadget Magazine and get each issue delivered direct to your door.