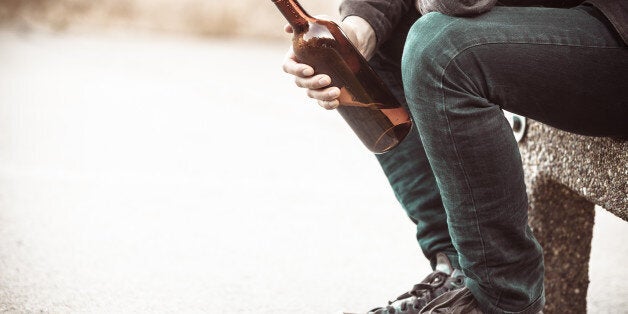 Google the effects of alcohol on anxiety and you'll be quick to discover the raft of cognitive trickery that lies in a pint glass.
Although alcohol can temporarily reduce symptoms of social anxiety - which is the reason many turn to it - it is usually only a temporary fix, and can increase symptoms of anxiety, irritability, or depression just a few hours later. In the long-run it can cause further problems because it interferes with neurotransmitters in our brains that are needed for good mental health, but in my experience these cognitive issues barely scratch the surface of the issue.
The problem with alcohol for those who suffer from mental health issues such as anxiety is that it is a bad solution that distracts us from pursuing good solutions. Rather than talk about our symptoms, go for a stroll, exercise or prepare a healthy meal it is often preferable to down our sorrows in a pub where we can be temporarily relieved of our cognitive ailments.
According to new research released to coincide with Mental Health Awareness Week a third of young adults drink alcohol when they are feeling down with 36% of men reaching for the bottle compared to 28% of women. Those aged 55 and over are more likely to stick to healthier methods of stress relief, with 74% opting to go for a stroll and two thirds preparing a healthy meal.
Jenny Edwards CBE, chief executive of the Mental Health Foundation, who commissioned the study, said: "Our research has demonstrated that now, more than ever, we need to make sure that we understand our mental health and know about the things that can protect or undermine it.
"It seems to be easier for people later in life to spend time doing the things that are good for mental health, and young people struggling under the life's pressures could take a leaf out of the book the older generation appears to be reading!"
The study also unveiled that we're a nation that is surviving rather than striving, which also borrows from some of the detrimental effects alcohol can have. You can have a really shitty day in the office that is compounded by a crappy night's sleep but then enjoy a few hours in the pub with friends and think that you have redeem the day. Except that you haven't, and using alcohol as a fix is a perpetually negative cycle to be wrapped in.
But perhaps it's not so surprising. In an on-demand, constantly switched on, "I want it now age" it makes sense that the younger generations are not only more susceptible to suffering from mental health issues but also not as well equipped at dealing with them. We want solutions yesterday and will invariably lend towards the vice that gives us a quick fix over a long-term solution. But it's not a compromise we can afford to make.
As Jenny Edwards CBE says: "With two in three of us experiencing a mental health problem in our lives, we need to respond to this public health emergency with a Thriving Nation programme. That's why we're calling for a Royal Commission to investigate the solutions to prevent mental ill health.
"We also want an annual report on the nation's mental health to go to parliament. We need to track the state of the nation's mental health, so that the government can take actions to tackle the main problems and report back on their success.
"The success of our society cannot and should not solely be measured in GDP, but the health of its citizens."