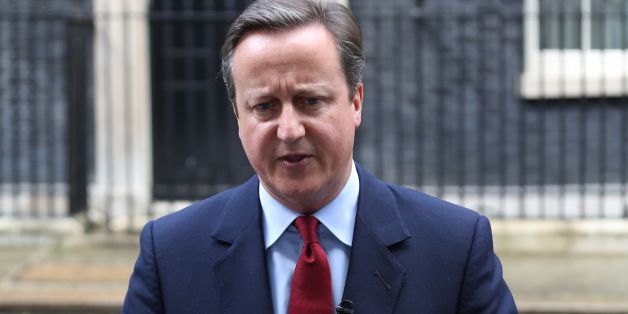 Philip Toscano/PA Wire
I am so fucking angry.
I am angry because yesterday evening, in a room filled with countless activists who have dedicated their lives to fighting for LGBT rights, David Cameron was handed 'Ally of The Year' at the 2016 Pink News Awards.
David Cameron voted against gay people adopting. He voted against that twice and abstained on the third reading. David Cameron voted against the repeal of Section 28, a piece of Tory legislation brought in by Thatcher that made the lives of out and proud LGBT people, put bluntly, a total fucking nightmare. A law that threatened their jobs, their welfare and their relationships with friends and family and David Cameron was happy to see that continue. In 2012 he even suggested there is a link between gay people and child sex abusers in a live TV interview. In 2011 he allegedly supported a ban on TV which stopped same sex people kissing before the watershed. Heaven forbid we see that sort of behaviour before 9pm!
As Prime Minister, David Cameron cut sexual health services that are vital to the gay community. More so, he cut funding into essential HIV prevention research - a move that could potentially stop tens of thousands of people in the UK from ever seeing a cure or significant advance in medicines in their lifetime. David Cameron also ensured that LGBT migrants are relentlessly chastised when trying to flee a country where they would otherwise be killed for being gay, often deporting them back to their home country for failing to "prove" that they identified as LGBT.
So let's come onto the subject of marriage. Let's not forget, the majority of David Cameron's party voted against same-sex marriage. As Leader of the Conservatives he failed to stop his party from voting overwhelmingly against people like me having the same, or at least similar rights, as everyone else. Those who retort back and suggest that by David Cameron bringing the bill into Parliament in the first place, he has paved the way for so-called 'progressive conservatism' only have to look to the shambolic events earlier this week when the pardon of 50,000 gay men was halted after the Conservative minister Sam Gyimah refused to give way so that the bill ultimately fell.
In six years of David Cameron being Prime Minister we saw LGBT people (and straight people of course) forced to queue up at food banks because his policies mean they cannot afford to feed or clothe themselves. Numbers of homeless LGBT people have soared while he was Prime Minister and his shambolic Brexit referendum saw a 147% rise in LGBT hate crime. His government saw disabled LGBT people killed after being declared 'fit for work' and cuts to mental health services mean more LGBT people are killing themselves than ever before.
I could go on on and on, really I could.
So I ask this:
Why then have the 'world's most read LGBT+ digital media publisher' given an award for 'Ally of The Year' to a man who has consistently voted against my rights and my friends' rights up until 2013? Why have they given this award, when we have countless LGBT activists who have dedicated their life to fighting for equality, to a man who would rather us get back in the closet until he wants our support?
For gay marriage I thank decades of LGBT people on the streets, throwing bricks and spilling blood, protesting against policies that treated us like second class citizens. Not a homophobic Tory who did all he could to treat us like second class citizens until he wanted our vote.
David Cameron is no ally of mine. He is no ally of the LGBT community. Pink News can hang their heads in fucking shame. 'Ally of The Year'? Not in my name.