Following on from last Thursday's column, which was all about developing muscle to get toned up for both summer and life. In keeping with my core message, which hopefully you will all by now know by rote. Namely there is no point in exercising if you don't eat the correct way to fuel your body to train. Good nutrition must be at the core of all that you do training and health wise
So if you're serious about packing on slabs of lean muscle, you better be starting your day with a good breakfast.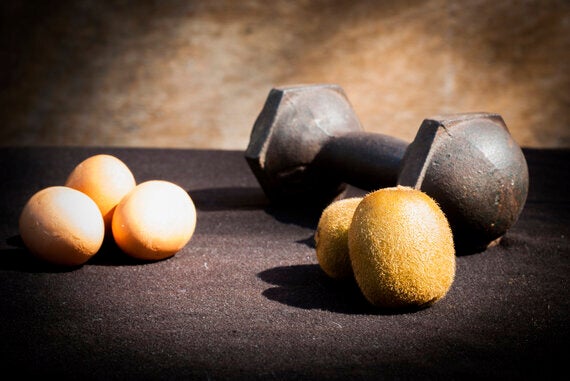 Although the TV commercials will try and have you believe otherwise, there is nothing good about breakfast cereal. No matter how 'low fat' or 'high in fibre' the box tells you it is, ditching the high sugar cereals is the first step you need to take towards a better breakfast.
The second most important step is to build your breakfast around a solid source of protein. After an overnight fast, it's vital to replenish your body with the amino acids it needs to get back into muscle building mode.
20 - 30 grams is the optimum amount to stimulate protein synthesis. That's the equivalent of 4 large eggs, a wild salmon fillet, or a small piece of steak.
Yes, you can have steak for breakfast. In fact, here at JHHF, we encourage you to.
It's time to say goodbye to cereal, toast, crumpets and bagels. These 10 easy muscle building breakfasts are all ready in 10 minutes or less, so you've no excuse not to give them a try!
#1 - Scrambled Eggs and Avocado
The classic pairing of scrambled eggs and avocado make for the perfect rest day breakfast. Packed with healthy fats, it will keep you fuller for longer whilst also giving a great testosterone boost - ideal for those looking to gain size.
To make the perfection serving of scrambled eggs, heat 1tbsp Tagaloa coconut oil in a saucepan over a medium heat. Crack 4 large eggs into a bowl and whisk well, with a pinch of sea salt and freshly ground black pepper. Pour the eggs into the saucepan, and continue to scramble with a wooden spoon until cooked. Don't overcook them - the last thing you want is rubbery eggs!
Serve your eggs with a side of avocado, and some grilled vegetables such as tomatoes and peppers.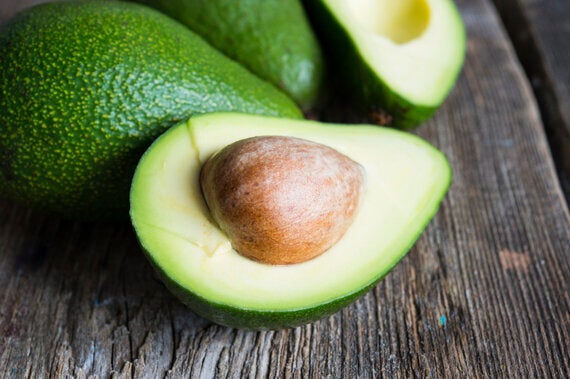 #2 - Asparagus and Red Onion Frittata
If you struggle to make time for a good breakfast during the week, make a big frittata at the weekend and enjoy a generous slice up to 3 days after. Frittatas are delicious, convenient, and can even be eaten cold - perfect if you're working against the clock to make your morning meeting.
In your largest, heavy based frying pan, gently fry 1 diced red onion, a handful of button mushrooms and some fine asparagus spears until golden brown. You can also add some sliced white potato if you want to add a little extra carbs to the mix.
Meanwhile, crack 7 - 8 large eggs in a bowl and whisk together with some salt and pepper. Add the egg mix to the pan, and cook for 5 - 6 minutes until the top side has almost set. Now set the pan under a hot grill, and cook for another couple of minutes until golden.
Leave to cool, slide out of the pan, then store in the fridge for whenever you need a quick hit of protein.
#3 - Sweet potato hash browns with bacon
The night before you want this breakfast, grate one medium sweet potato and combine in a bowl with red onion, garlic, herbs and spices. Add an egg to help bind the mixture. Mould into balls using your hands, and store them in the fridge overnight.
The next morning, heat a little Tagaloa coconut oil in a heavy based frying pan. Drop the hash brown balls into the pan, and fry for 4 - 5 minutes each side until golden.
Halfway through cooking, add a couple rashers of organic bacon to the pan. Serve alongside steamed greens and top with a fried egg for an extra helping of protein.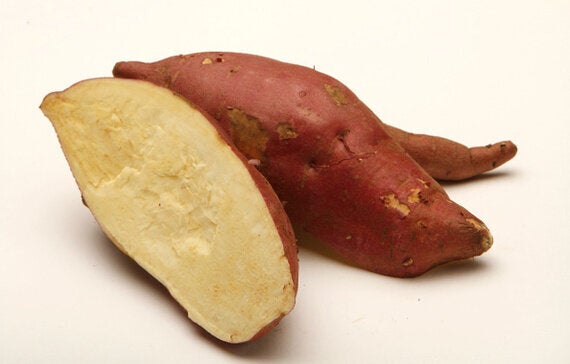 #4 - Steak with kale and Portobello mushrooms
Steak for breakfast = win. To save spending money on an expensive fillet, shop for cheaper cuts such as minute or strip steak, and marinade overnight in fresh herbs and a squeeze of lime juice. Not only will this flavour the steak, the citrus juices will help to tenderise it to make for easier cooking.
Serve alongside grilled Portobello mushrooms, steamed kale and a drizzle of extra virgin olive oil or better and healthier Tagaloa virgin coconut oil.
#5 - Greek yoghurt with nuts and berries
Shopping for yoghurt is not as easy as it sounds! Most supermarket brands are packed with sugar, artificial flavours and sweeteners. Instead, look for a high quality Greek yoghurt like Skyr or Fage, which are packed with protein along with probiotics to help maintain a healthy gut.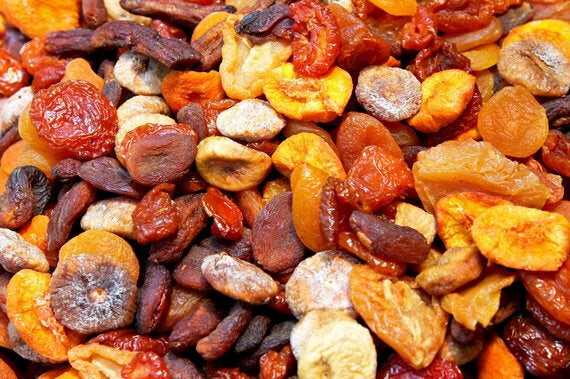 When you're in a rush, grab a bowl of Greek yoghurt and top with fresh berries and a handful of nuts. It's filling, delicious and will net you a solid 20g protein before you're out the door.
#6 - Wild Salmon with Caramelised Pineapple & Cashew Nuts
The award for the 'sounds fancier than it looks' breakfast has to go to number 6 on our list. Although it sounds like a Michelin star recipe, this dish takes just a few minutes to prepare so is perfect for when you're short on time.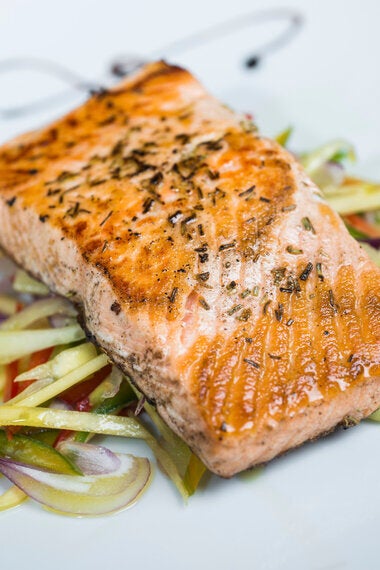 Using wild salmon is key to this recipe. Not only is it higher in protein and omega 3 fatty acids, it's also tastier too. Slice a medium sized fillet into chunks, then transfer to a bowl. Coat with a dash of soy sauce and a sprinkle of black pepper.
Next, heat some Tagaloa coconut oil in a frying pan and add a ¼ pineapple, cut into chunks, and a handful of cashew nuts. Pan fry for a few minutes until both the pineapple chunks and the cashew nuts turn golden brown. Add your salmon chunks to the pan and fry for another couple of minutes until the salmon is well sealed but still slightly pink on the inside. Serve alongside your choice of fresh vegetables.
#7 - Indian Spiced Omelette
For a twist on the classic English omelette, lightly pan fry in Tagaloa coconut oil some red onion, tomatoes, and green chilli. Crack 4 eggs in a bowl, and whisk together with 100ml coconut milk, ½ tsp turmeric and ½ tsp coriander. Season to taste with salt and pepper.
Just before you add the egg mix to the pan, throw in a handful of spinach and toss together with the other ingredients for 20 seconds, until slightly wilted. Now, add the egg mix, stirring the contents of the pan well. Cook for 2 - 3 minutes on each side, until golden. Serve and enjoy.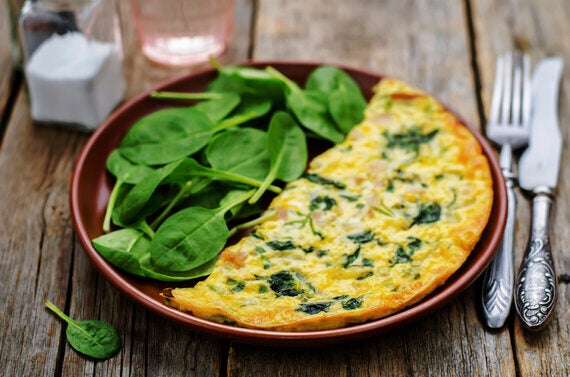 #8 - Banana Protein Pancakes
Fancy something a little sweeter? Give these banana protein pancakes a whirl.
Mash a ripe banana in a bowl with 2 whole eggs, then add 1 scoop whey protein and 2 heaped tbsp. ground almonds. Mix well to form a batter. Heat a little coconut oil in a frying pan, then drop in the pancake mix one pancake at a time.
The mixture should make 4 - 5 medium sized pancakes. Pan fry for 2 - 3 minutes each side, until golden, then transfer to your serving plate. Repeat until all the mixture is used up, stacking the pancakes on top of each other. Top with fresh berries and a spoonful of Greek yoghurt.
#9 - Eggs and bacon with plantain
If you can get your hands on some plantain, enjoy it for breakfast served with eggs and bacon. Choose the right plantains for you depending on your preference - green plantains have a starchier texture and are more savoury, whilst the yellow plantains are sweeter and closer to a banana in texture. Either way, they're delicious when pan fried and served with sunny side eggs and some organic bacon.
#10 - Tuna steaks with guacamole
Tuna steaks are packed with protein, iron and selenium, and are a delicious alternative to canned tuna. We recommend seasoning them with a little salt and pepper, and lightly grilling so that they are still slightly pink in the middle. Serve alongside homemade guacamole - mash 1 avocado with a squeeze of lime juice, fresh coriander, and some chopped green chilli. Add a side of rice for extra carbs, and / or some steamed broccoli to load up on greens.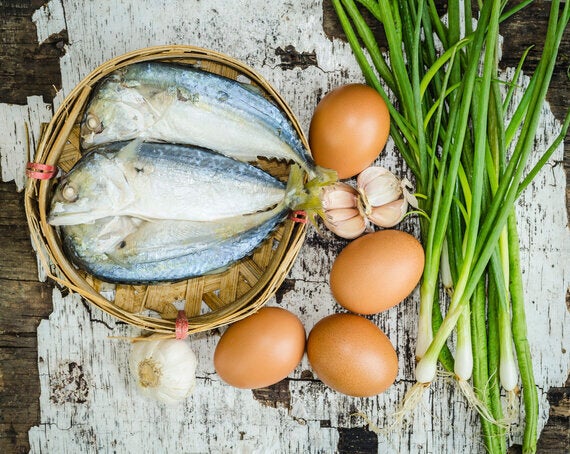 Please send us your questions and any comments you would like to make, via our social media channels. Plus if you feel informed by what you have read, please share the information using #JHHF #JHFitness #jHTraining #JHLeanGains #JHBodyBuilding #rugbyfit
Twitter - @jameshaskellhf
Instagram @jameshaskellhf