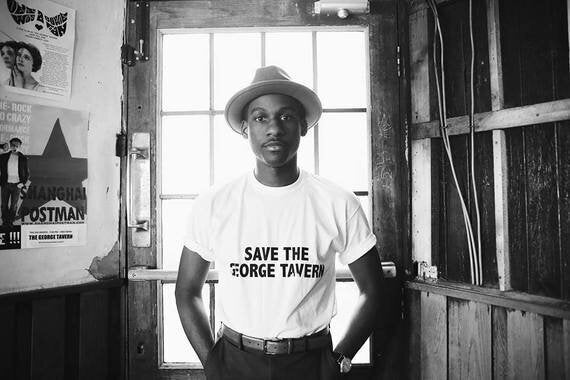 The climax of nine years protesting against plans to build flats next to an historic and iconic East London pub and music venue is nearing, as the family which owns The George Tavern in Shadwell are due at the High Court next week. Landlady Pauline Forster has been campaigning against the development which will put six flats in close proximity to the venue, effectively leaving the business open to noise complaints from new residents parachuted next to a space which hosts live music most nights of the week.
Since 2006 she's been fighting developments which put the viability of the music venue at risk. The George has played host to a who's who of the unsigned scene, as well as acts as diverse as Plan B, John Cooper Clarke, and even Sir Roger Penrose. Furthermore, the venue has been used as a location for photo shoots for Kate Moss, Georgia Jagger, Justin Timberlake, Grimes, Amy Winehouse and Grace Jones. Upstairs the building was featured in Plan B's movie 'Ill Manors' and Nick Cave's debut video for his project Grinderman was filmed on site. Recently, upcoming soul star Leon Bridges, who is pictured here, filmed an acoustic session upstairs at the George).
We met up with Pauline on a Thursday afternoon. The George was abuzz with crew, cameras and actors filming Ghostpoet's new video. This has become a regular occurrence at the venue as they try to diversify their income in order to meet mounting legal bills. We took a few minutes of her time to discuss how the campaign has been going, the effect it's had on their bottom line, and the emotional turmoil and distress that fighting developers has had on herself, and her family.
"I really do feel as if it's been David against Goliath", says Pauline. Through two different planning applications (and the subsequent appeals) she's been fighting plans put forward by Swan Housing to build six flats and a retail space on the site adjacent to the venue. She's first hand experience of a planning process which unwittingly favours large organisations over a small family run business, and which can be coerced into becoming a war of attrition against an independent business. Pauline continues, "They know all the tricks. All of the proposals were sent to me at difficult times - around Christmas or Easter. Times when the local planning office, lawyers, experts and the papers are on holiday."
She adds, "When I did get eventually get through to the local council or when I tried to speak to the developers directly, they didn't understand my concerns and the effect that this could have on me and my livelihood. I was speaking to people who were simply doing their job, but for me the George is my entire life."
"I'm dyslexic so it's been difficult for me to process all the paperwork and get a sense of what's what. I've had to learn about the planning rules and process and learn on the job. But we've fought the plans at every opportunity - and will continue to do so."
Pauline has successfully fought their proposals to date and has mounted a campaign which has meant lobbying local politicians, getting celebrities on board (Amy Winehouse, Kate Moss, Sir Ian McKellen and many many more), encouraging their regular punters to sign petitions, and trying to get the music industry involved. An exhausting state of almost permanent crisis has fallen on the George and its operations since the first planning application in 2006. A situation which has had a negative effect not only on the business but also on a personal level, "You become obsessed... no breaks... and the worry can make you sick. You don't want to open that email or letter in case it's bad news", says Pauline.
Many would simply look at the stress and worry and try and reach an agreement to walk away - but not Pauline, "People keep asking me why I don't just sell up... but it's not about the money.. it's about the work I've put into a building I love."
Despite the precarious and insecure situation this has put the venue in, the family have continued to lovingly restore the building. The George Tavern was bought at auction as a closed pub. Pauline has reopened it, brought live music and the life back to the Grade II listed building. She's almost singlehandedly restored the roof, brickwork and windows so the building once again stands proud on Commercial Road, an icon of the artistic, alternative, and independent in between the concrete, steel and metal office blocks of the City and Canary Wharf. She's spent around £200,000 over the years on returning the building to it's former glory. All of this work is at risk should the venue be forced to close.
"This building is like a work of art. It's my art and I'm happy with my life. All I want to do is to be able to continue to restore the building and give the space over to artists and musicians", says Pauline.
The situation the George Tavern finds itself in is not uncommon - many music venues are being put at risk owing to overzealous and inappropriate property development. The Ministry of Sound showed the way forward after a campaign against a new development local to them, with a specific legal agreement which ensured that new residents won't be able to complain about noise. Meanwhile the Music Venue Trust is leading a campaign to secure the 'agent of change' principle which would put the onus on new developments to pay for venues soundproofing and ensure that they can continue to operate as they have done before new residents arrive.
However, all of this comes too late for Pauline and the George which faces an uncertain future, ultimately decided by a legal decision at the High Court on May 14th. The decision to go to court has obviously had a huge financial impact and some of this is being met through the selling of t-shirts and special fundraising gigs, but it's merely a drop in the ocean in terms of meeting overall costs. But this hasn't deterred Pauline at all, "What else can you do? We have to fight for the George and our livelihood". After a pause she adds with a chuckle, "We'll never give up!".
Music Heritage UK is a proud supporter of the campaign.