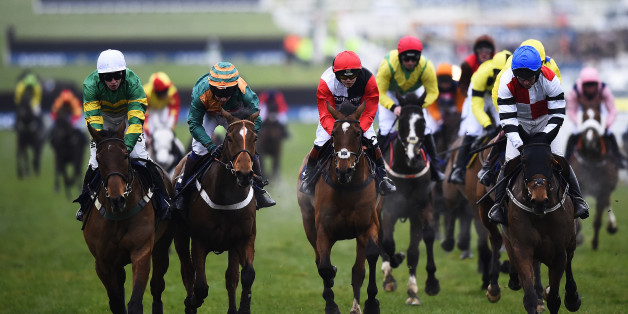 Dylan Martinez / Reuters
The Cheltenham Festival is one of the biggest sporting events of the year. People with just a passing interest in horse racing know that Cheltenham is the home of the Gold Cup and that thousands upon thousands of punters pour through the gates of the Gloucestershire race course every March.
Many of those who come through the gates will be what you'd call 'shrewdies'. A shrewdie is the sort of person who always has a copy of the Racing Post in their back pocket, can read form and will never back a favourite because they know best (or so they think).
But what if you're not a shrewdie? What if you think that Kauto Star is a shiny object in a galaxy far, far away? Or that Red Rum is something that your nan drinks?
Well, what you need is an idiots guide to 2017 Cheltenham betting, here provided by freebets.co.uk, who provide the best odds, tips and promotions in the sports betting market. And by happy coincidence, that's just what you're reading.
Let's let an idiot ask some questions and hopefully our answers will help:
"What's so special about Cheltenham?
The Cheltenham Festival is a four day carnival of horse racing.
Over Champion Day (Tuesday), Ladies Day (Wednesday), St Patrick's Thursday (surely you can guess which day this is) and Gold Cup Day (Friday) the best horses over both fences and hurdles compete for some of the biggest prizes in the sport.
"Sorry, fences and hurdles?"
Hurdle races are usually for the younger horses at the festival. The hurdles (of which there are always at least eight) are usually three-and-a-half feet high and allow less experienced horses to get used to jumping in races.
Fences are used in steeplechases (often just chases). The obstacles are higher and more diverse so it takes experience and calmness as well as just physical prowess to be a great chaser.
"Gotcha. So do I bet on them differently?"
Yes. It takes different qualities to win the Champion Hurdle (the biggest hurdle race at Cheltenham) and the Gold Cup (the biggest race over fences).
Hurdles are run at a faster pace than chases which are more about stamina and, at Cheltenham, especially having a turn of pace.
"Turn of pace? How come?"
Probably the most noticeable thing about Cheltenham as a race course is the famous uphill finish toward the winning post. Plenty of horses have been in a strong position only to fade late on as the hill saps all the strength from their legs.
"So the course is hilly?"
That's half right. Cheltenham's certainly a hilly race track with sections which are faster and slower but there are actually three courses, the Old Course, the New Course and the Cross Country Course.
They've each got their quirks so make sure that you know which course is being used and whether the horse you want to bet on is suited to it.
"That's a bit complicated."
Well it's not that bad. Generally the Old Course is used during the first two days and the New Course on Thursday and Friday.
"Right, so I'll keep an eye on the course. What else am I looking out for?"
If you're having a look through the form (basically, how a horse has performed previously) you must keep an eye on the type of race involved.
For example, there are a number of handicap races at Cheltenham. That's where the horses are all given a rating and then given weights to try and make the race as fair as possible.
Then there are novices which are open to horses who have not won that type of race before the season started. So a novice hurdler would not have won a hurdle race before the season but if they've been destroying the competition in hurdles recently, they're worth keeping an eye on.
"OK. But shouldn't I just bet on the favourite. They're the best horse in the race, right?"
That's not a smart way to approach your Cheltenham Festival betting. The favourite will often be the best horse in the race but that doesn't guarantee anything. A lot goes on in horse races, especially around Cheltenham and they are often far less predictable than they look.
Also, remember that the bookies want to come out on top. If they know a horse has a great chance of winning a race, they'll cut the odds to make sure they're not bankrupt should it go on to win.
"I'll mix my betting up. Is there any other way to make it more fun?"
Multiples my friend.
Many people watching the Cheltenham races won't want to bet £20 or £50 on each race but they'd like the option of winning big. That's where bets like trebles, trixies and lucky 15s come in.
You can win big from small stakes, just read the rules through with your online bookie.