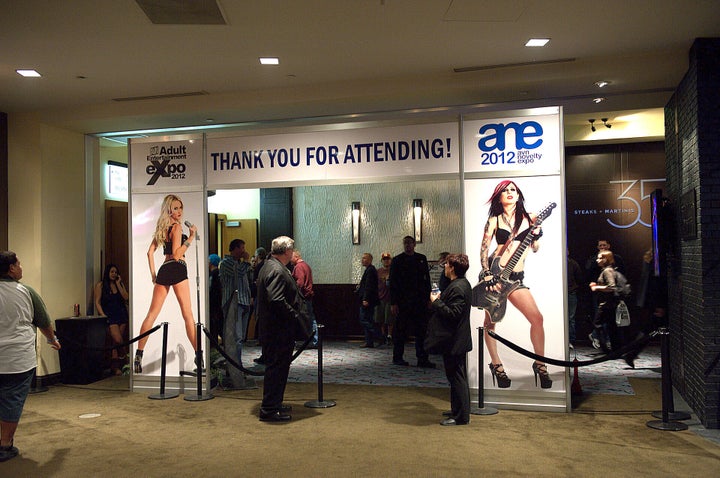 When it came to light last month that members of the British parliament had accessed porn sites over a quarter of million times in a year it brought the world of adult entertainment back into mainstream British media.
Meanwhile across the pond in the US porn stars were testing positive for HIV.
This underbelly and dark world that many avoid discussing and pretend doesn't exist dominates British internet search history. Alexa rankings puts porn giant xvideos.com in the top 50 most viewed websites in the world with thousands of hits coming from American and UK shores daily.
"Prof Dave Tubs" is a British Porn Producer and says with the increasing demands from viewers and customers has seen increased numbers of applications.
"It's a massive business still within the UK, and is only growing both in number of people wanting to be included in filming and revenue avenue's also"
US Adult Entertainment Director, Richard Nailder says he has seen an uptake in applicants since the economic downturn, "Since 2006 and 2008 I have seen slight increases in the number of applicants"
Nailder who runs a small production company in Colorado says the HIV outbreak has rattled the US industry somewhat but believes the risks are there for everyone involved.
"I like to compare having sex, on set or off, to taking someone for a ride on my motorcycle. The moment the passenger get on the back, then he/she is forced to accept any risk that the driver is willing to take. Don't get on the back of a bike if you don't know anything about the driver"
Conor Coxxx founder of COXXX models in Atlanta at only 23 says the well being of his performers and their health comes first. The producer and performer juggles his business with a music career and feels he brings a strong business model to what can often be a dangerous and erratic industry. He feels more needs to be done to educate and inform safe sexual practices and feels regular testing is vital.
One of his models Cherry Morgan from Tennessee joined the industry due to the economic slowdown finding a lack of jobs in the South led her to start webcamming and then joining an agency in the hope of building a national career.
She says adult entertainers and porn stars "should not feel ashamed of what they do" as they are merely performers and entertainers in an industry that is growing and growing.
Dave Tubs has seen this expansion first hand with a 2013 University of East London study showing that one fifth of British boys in their late teens now need porn to be sexually stimulated.
Tubs says respecting his models and their wellbeing is essential to maintaining a somewhat positive image in the UK.
"I might be paying for a model, the model is always in charge, it's my way of keeping my name in a positive light, and I still give to battered women charities, and do plenty of other things to help new girls within the modelling industry, most people once they see this side of my life they change there minds to the extend I may be ok in there eyes, it's just the rest they don't trust, until were open this will carry on being the way"
Full interviews with US performers Cherry Morgan and Conor Coxxx are below.