Neil Libbert is a photojournalist whose career spans 55 years. He has taken images of some of the worlds most famous people from George Best when he was nineteen to Winston Churchill at 88 years old. Mariah Carey, Kingsley Amis, Cassius Clay, Judy Garland... the list goes on.
Libbert is also celebrated for his groundbreaking street photography and his extraordinary career covering such events as the 1981 Brixton Riots and the Admiral Duncan pub bombing.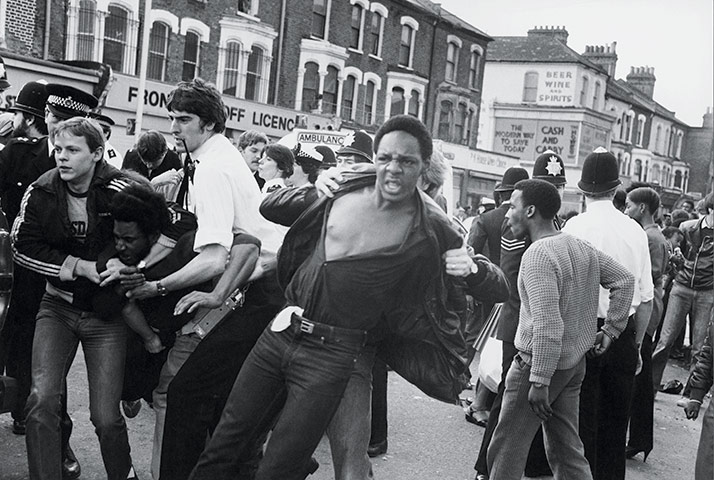 London, 1981 ©Neil Libbert
Born in Salford, Neil Libbert studied at the Regional College of Art in Manchester before starting to work as a photographer and opening his own studio in the city in 1957. He joined the staff of the Manchester Guardian, and moved to the paper's London office in 1961. He stayed with the Guardian until 1965 before working under contract to the Sunday Times, the New York Times, Granada TV and the Illustrated London News until 1968 when he again became a freelance photographer. Libbert still regularly covers performing arts photography for the Observer.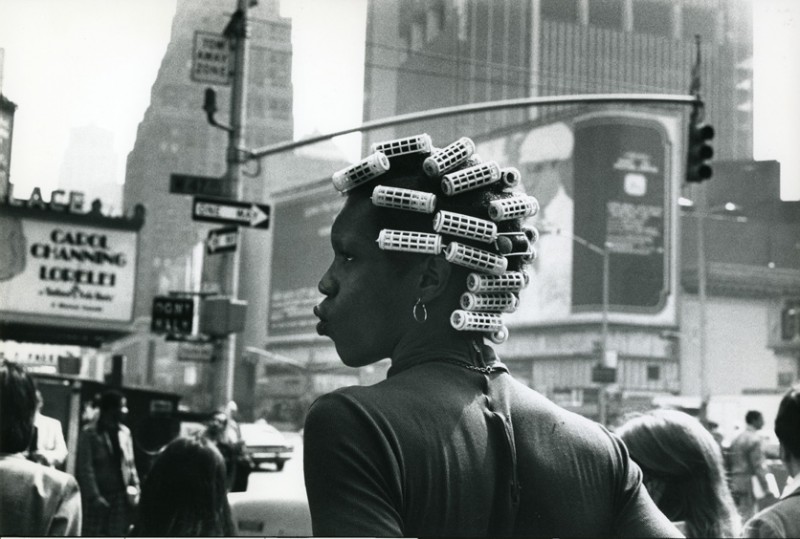 New York, 1974 ©Neil Libbert
The National Portrait Gallery is currently showing some of his photographs and I spoke to Neil about his long and varied career and some of the people he has photographed.
I asked him if he ever got excited about certain people he photographed, but he said he was mostly dispassionate: "I can't remember being excited about the person but it was always a challenge and I was quite often nervous but that was more to do with the actual shot rather than the person". Did he get to know them? " Sometimes, but it is of course a temporary familiarity, in many cases there is a reporter talking to them and I don't really communicate".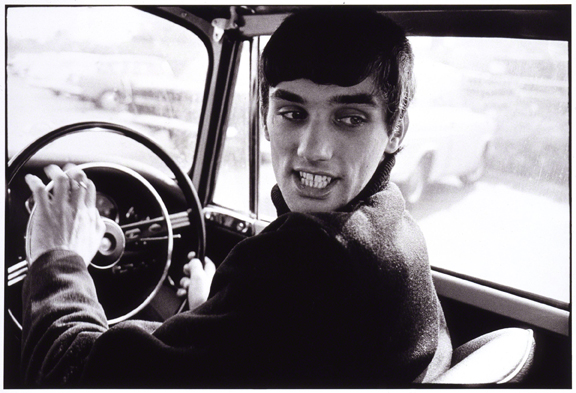 ©Neil Libbert
George Best 1965 (on show at the NPG)
"I was with Hunter Davies who was writing the Atticus column in the Sunday Times and we spent a day with him visiting the bowling alleys and billiard halls. He was 19 at the time and he was living in digs in Manchester. He was driving us around various locations in his sports car, a Sunbeam Alpine. I was in the back seat and George turned around to say something and I just caught him. He was very young and polite, before he was led astray. I wasn't a football fan so it didn't really mean anything to me. In fact I was having a pee and Hunter Davies said 'You do realize you were standing next to Denis Law', and it really didn't mean a thing!"
Jean Paul Getty
"For a short time I became Getty's personal photographer. He lived in a mansion near Woking, and they would call me up and ask me to come down when Getty had guests for lunch. I was really his court photographer, I would sit outside in the library and during lunch the butler would bring me cucumber sandwiches and then I would be summoned in to take shots of him and his guests. I remember he had his 'favourite' chair, which had two convector heaters blowing at him".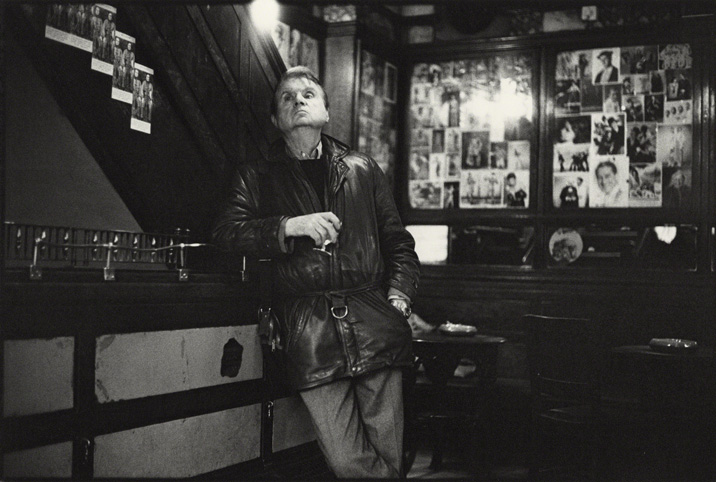 ©Neil Libbert
Francis Bacon 1984 (on show at the NPG)
This image of Francis Bacon is really how you imagine Bacon, with the imperious tilt of the head. It eventually appeared in the Observer years later with the artist's obituary but Libbert never intended the picture to be published. "I hadn't met him yet in 1984 but got to know him later. I had gone into the French House (in Soho) around lunchtime and I didn't really see him at first. He was on his own, there were probably just the two of us. I always carry a camera but I didn't have film in it so I very quickly and secretively, in my bag, loaded film in the camera and took two candid pictures of him, that's all. I never spoke to him actually and he might not have been aware of the camera at all".
Fritz Lang
He was being interviewed and as we left the room he said in his strong accent "Please be kind, please be kind"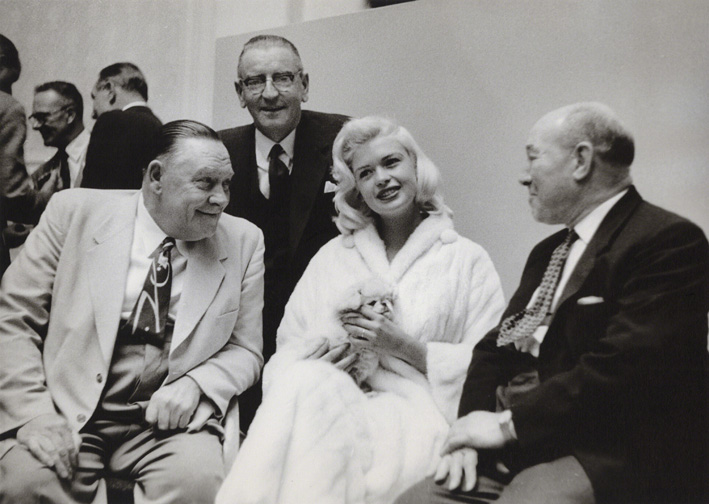 ©Neil Libbert
Jayne Mansfield 1959 (on show at the NPG)
"She came up to Blackpool to turn on the illuminations in 1959 and at the same time there was a TUC conference, which I was covering. She came into the Imperial hotel with her Chihuahua, which is on her lap in the photo, and we asked her if she would mind coming over and sitting with the delegates and she was only too happy. The man on the left is Ted Hill from the boilermakers union, the man behind is Morgan Phillips, general secretary of the TUC and the man on the right is Bill Carron from the Amalgamated Engineering Union, so it's rather a heavy bunch of political figures sitting with her. It was used on the front page of the Guardian the following day".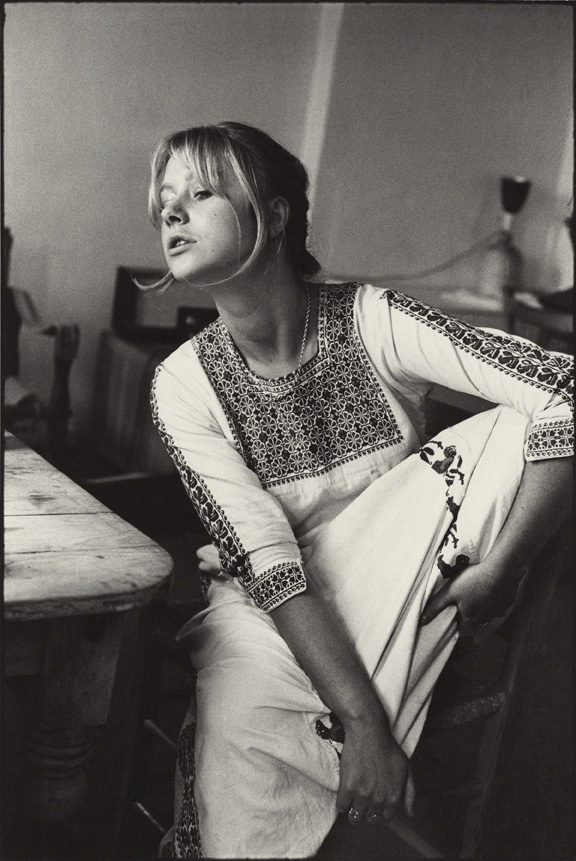 ©Neil Libbert
Helen Mirren, 1969 (on show at the NPG)
"After doing rep for years she had just got great reviews for Troilus and Cressida and I went to her flat to photograph her. She was lovely". Diarist John Halpern at the time said: 'She is 23, luscious, happy, slightly apprehensive about life and clearly destined for a wonderful career.'
Joe Strummer
"I hate to say this but I didn't know who he was. It wasn't my scene, Punk Rock. Afterwards people said 'Oh you photographed Joe Strummer from the Clash!' and I realized he was quite somebody".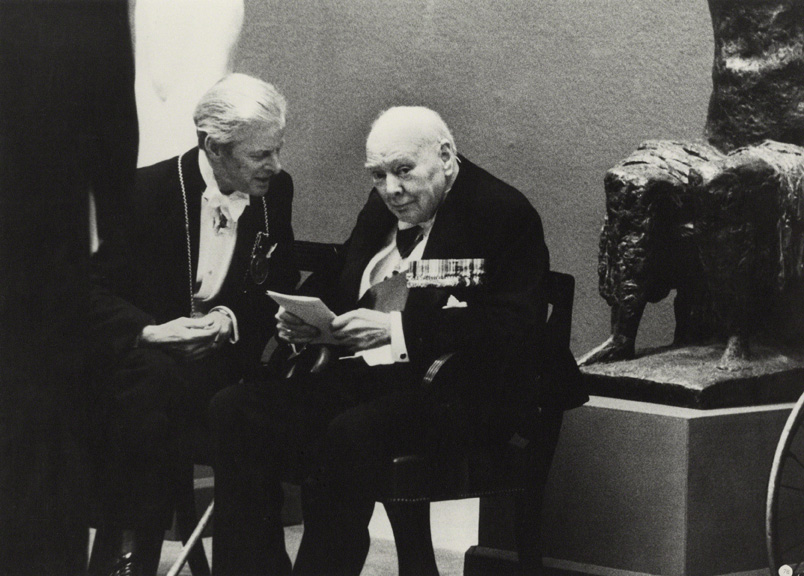 ©Neil Libbert
Sir Winston Churchill 1963 (on show at the NPG)
"This is with Sir Charles Thomas Wheeler, president of the Royal Academy, at Burlington House. It was 1963 and Churchill had announced he was standing down as an MP. I was ushered in for a few minutes, and Churchill just looked at the camera for a brief moment".
Marilyn Monroe
"I covered quite a lot of films for the Observer including Judgement at Nuremberg, when myself and a writer spent a few days on the set in Germany and I got some great images of Spencer Tracey, I also covered Judy Garland's wedding, but the one star I didn't photograph was Marilyn Monroe. I went out to Reno to photograph her on the set of The Misfits in 1960, but they wouldn't let me on the set as the agency Magnum had every photographer there including Cartier-Bresson and Bruce Davidson. They allowed the writer from the Guardian but not the photographer. So I stayed in the local YMCA and that was the nearest I got to Marilyn Monroe. Jayne Mansfield had to do!"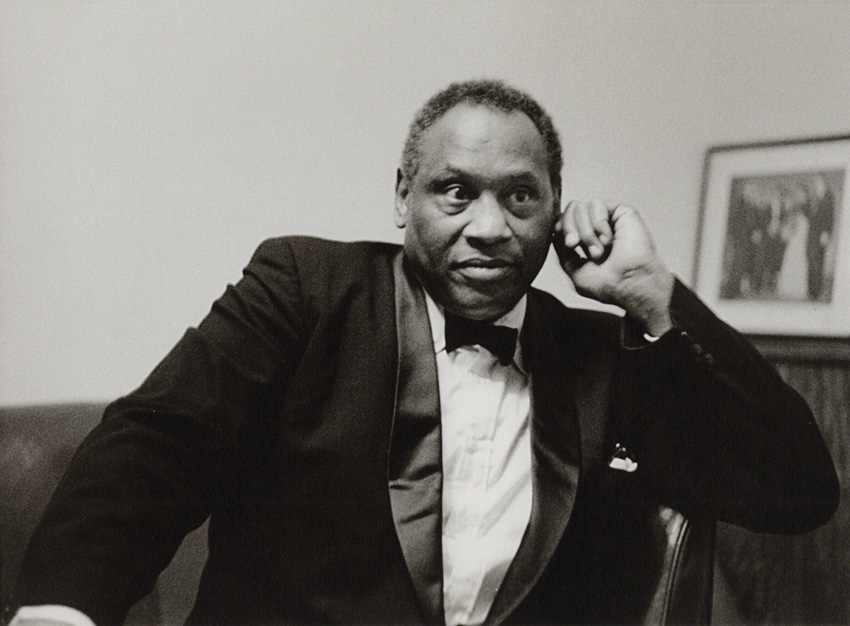 ©Neil Libbert
Paul Robeson, 1958 (on show at the NPG)
This was at the Free Trade Hall, Manchester. It was in his dressing room and he had just given a performance. He was blacklisted in the US by the Un-American Activities Committee during the McCarthy era. I remember various local dignitaries came in including the Lady Mayoress of Salford in full regalia who bent down and wanted to kiss his feet! She eventually kissed his hand. She was obviously obsessed by him, as so many people were. He was a very interesting man".
Henry Moore
"He had a show in Battersea Park and I was sent by the Sunday Times. As I was leaving he asked for a lift to Liverpool St. Station. When he got out it was late afternoon. He had a suit on and as he went down the ramp, he merged with all these other office workers and this extraordinary man became just another commuter".
Neil Libbert may have captured the faces that defined an era, but his photos taken over five decades ago are as fresh and as relevant as any of recent years. We see millions of images every day; On TV, in advertising, on Flickr, Facebook, computer games and on laptops His images do what all the best art does, it makes you stop and think. Makes you pause. And for a while makes text redundant.
Some of his work is currently on show at The National Portrait Gallery