Deafblindness is a complex disability. Not being able to see and hear requires specialist support and for many children around the world, accessing this support is incredibly difficult.
Harry is eight years old and lives in Lima, Peru. His family survives on a very small income and in poor, overcrowded conditions.
Harry was born prematurely, and spent the first two months of his life in an incubator. When he was released from hospital, his mother Monica quickly realised something was wrong. Harry didn't make any eye contact or respond to changes in light intensity. A visit to the hospital confirmed that he was blind. Aside from his vision loss, Harry was like any other child his age. He enjoyed playing with his mother and hearing her sing to him.
When he was three he contracted bronchial pneumonia a result of living in damp conditions. He was hospitalized for two months and when he left the hospital he had severe hearing loss in both ears.
Harry's father, Abel, was desperate to help him learn to communicate and engage with the outside world again. He secured his son a place at the Centre of Special Basic Education where they referred him to Sense International for specialist support. After seven months of intensive therapy Harry is now able to respond to simple instructions and is learning sign language. His father is amazed by the change and is delighted to see Harry becoming more independent.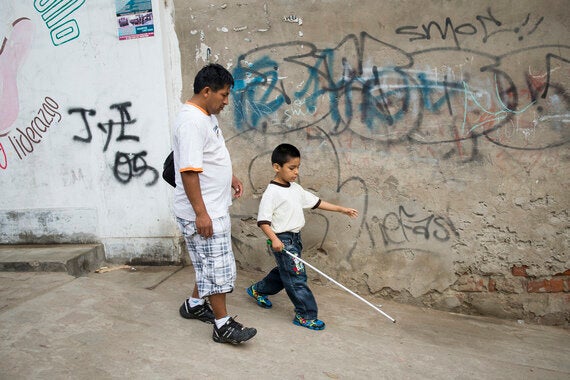 Before, Harry found it hard to play with his brother and sister. Now they all play together, sharing time as a family. All these positive changes make them feel like a close family again. Abel hopes that as Harry begins to learn a form of sign language he will become more independent and will have a much brighter future lying ahead for him.
Around the world deafblind children like Harry are missing out on the support they need. Many miss out on the opportunity to attend school, access healthcare and to the opportunity to earn a living as adults. This is made worse by poverty but also by services simply not being available to them.
Deafblind children also face discrimination and fear of their disability. As a result, many deafblind children are shut away from society, often with only close family members knowing about their existence.
Sense International has launched a new campaign to stop children like Harry from missing out. It is vital that deafblind children are able to attend school, receive healthcare and get the support they need.
To help us spread the word we are asking people to share what they fear of missing out on via social media using the hashtag #FOMO and join in the conversation.