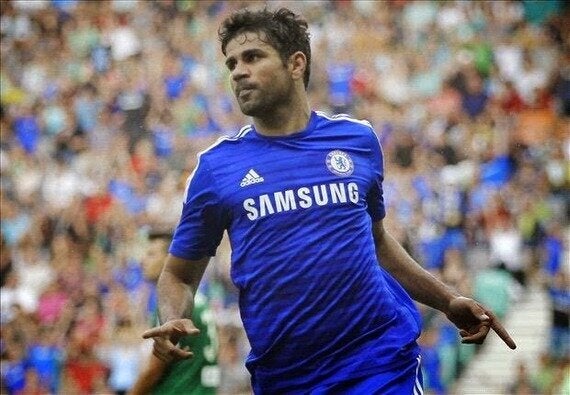 Diego Costa signed for Chelsea on the back of two magnificent club seasons and a disastrous World Cup with his adopted nation. Now the £32million man will start the season under Mourinho's management in a bid to prove he's not the next big-money striking flop at Stamford Bridge.
Despite only being 25, Costa has had a hectic career, he signed for the Spanish champions in 2007 for €1.5million, then loaned to Portuguese side Braga immediately. That was followed by loans at Celta Vigo, Albacete and then a permanent move to Real Valladolid, before Atlético used their buy-back clause and then loaned him to neighbours Rayo Vallecano. This was all in a five-year period.
It was only really when Diego Simeone took over at the Vicente Calderón that the bad-boy striker's Atlético career began to take off. The Argentine coach, instilled massive confidence, not only to Costa but his strike partner Falcao. Diego was very much the bridesmaid in that particular duo. Although he did manage to score the goal to win his side the Copa del Rey against Real Madrid, in the Santiago Bernabéu.
It wasn't until last season Costa became the bride, partnered by David Villa in attack, the bull-like forward had by far the most spectacular season of his career to date. He dragged the team over the line in more games than most, scoring all types of goals - the most spectacular coming as he rifled in an overhead kick in a 7-0 rout of Getafe. His wholehearted approach along with his superb performances, goals and work rate meant more of the top clubs where beginning to take notice. Vicente del Bosque and Luiz Felipe Scolari were just two of the curious onlookers. So much so Costa made his international debut for both Brazil and Spain, in friendly matches against Italy. Injury would then curtail his end to the season, having to come off only minutes into the title decider at the Camp Nou and the Champions League final. Even in the World Cup he simply did not look 100% fit.
The next challenge in the hitman's career is to go to the strikers' graveyard and make his move a success. He will aim to prosper at a club where many before him, with better pedigrees have ulitmatly failed to make any impact. Fernando Torres and Andriy Shevcheko being the two that immediately spring to mind. Both of whom played second fiddle to Didier Drogba who is no back at the club in a player-coach role.
Costa certainly has similarities to the Ivorian in his game, hence why Mourinho had no problem in chasing the man he saw first-hand in La Liga.
The question will be asked over and over: Can Diego Costa buck the trend of failing Chelsea strikers? He can, he is a Mourinho-type player and able to spearhead the Blues' attack next season. He will give them the physical presence they have been sadly lacking since Drogba's departure. The Premier League battle is one he will relish, and no doubt he will be the man, if he can stay fit, will thrive under Mourinho's man management and the style that he likes his teams to play. He will be looking to replicate his 27-goal tally with his new side, with Chelsea's attacking options and the service he will receive - it's certainly a possibility.
He will be aided by fellow summer additions Cesc Fàbregas and former Atlético teammate Filipe Luís, with regards to settling into life in London. The striker got off the mark in pre-season against NK Olimpija. He latched onto a Fàbregas through ball before firing high beyond the keeper, which is very much a typical Diego Costa goal.
With only a few weeks to go before the start of competitive football for Costa and his Chelsea teammates, all eyes will be on his performances. It's vital he gets off to a goalscoring start, if he wants to keep the comparisons to Torres, Shevchenko and the likes away.
Chelsea have failed with several signings over the years, and will be hoping their capture of Costa will pay dividends - it simply has to.