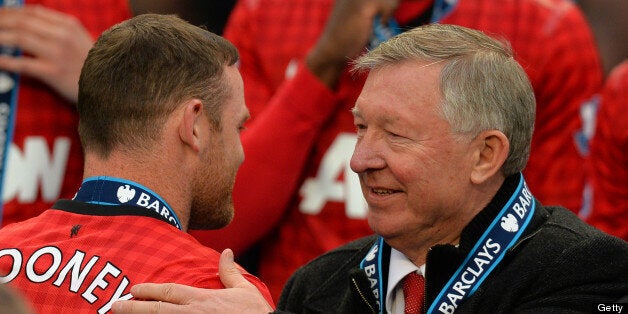 ​People don't like change, just look at the 'outrage' on social media following the changes made to Toblerones this week. Everyone's favourite triangular chocolate will never be the same.
Manchester United fans have had an even harder time coming to terms with the changes that their club has experienced since the retirement of Sir Alex Ferguson. No longer feared, no longer number one, even more of a commercial juggernaut, but definitely not one on the pitch.
As 13-time Premier League winners under the legendary Scot's stewardship, United were unstoppable. Fergie's Red Devils played free flowing attacking football every game, always had 20 or more shots on target each 90 minutes, were never ever poor, and invariably won 5-0, 6-0 or 7-0 every single time they stepped out onto a football pitch.
No, they didn't. They sometimes did, and certainly performed to that incredible level more often than any other English side could, but those are the false memories that an increasing number of supporters seem to have painted for themselves in the three years that have passed since a great chapter in United history came to an end.
Nobody wanted to see the Louis van Gaal style persist. It was effective in some circumstances but not overall, and Jose Mourinho has already drawn plenty of criticism for overly defensive tactics as he struggles to get the best out of his array of vastly talented attacking players.
What's important to remember here is that while there was very much a 'United Way' that was visible throughout the unprecedented glory years of the 1990s and 2000s, it was only there when applicable. Ferguson knew more than anyone the importance of a scrappy 1-0 win, of collecting three points any way or how even if the team didn't always obviously deserve them.
"I think it was in 1995/96 we won eight games 1-0 and won the league. These are championship-winning games without question," he said in April this year when reflecting on one of his own past successes as Leicester were grinding out narrow victories to edge closer to the Premier League title.
"It's about time we won 1-0," he said after a game in 2011 when United beat Everton en-route to a record breaking 19th league title - a result that was only decided by a late Javier Hernandez winner. United had only won five of their last nine league outings before that important victory.
"It means championship form. I don't mind the 1-0s, I really don't because it tells you we are determined, we're going to defend, do the right things and play as a team," Fergie said in 2012.
Winning doesn't always have to be pretty and it wasn't uncommon for it to be ugly under Ferguson. He won however he could at any given moment, but even just the short passage of time has more and more United fans harking back to the 'good old days' that didn't happen quite how they remember them.
Every time there isn't a convincing win, people are automatically thinking, 'well, that's not how it was under Fergie'. Sometimes it was and it's a counterproductive mindset. The risk of becoming the next Liverpool is already real and any sense of entitlement from supporters has to stop - hard as it may be given a whole generation or two has never known anything else.
The past is the past and while the glory can always be looked upon with utmost fondness and serves as a target to replicate in the future, it's unfair that a rose-tinted version of it should be used as a weapon with which to attack and criticise the players and regime of today.
Nothing can last forever and what Ferguson did for so long was unique, he was unique - even Liverpool's great period of success and domination at home and abroad was the work of several different managers rather than just one individual.
Ferguson was United, and United was Ferguson. United must now, in a sense, grow as a new club. Cherish the past, enjoy it, but don't twist those memories too far away from reality and expect the present and the future to match up.
For more fan views or to join the conversation visit www.90min.com