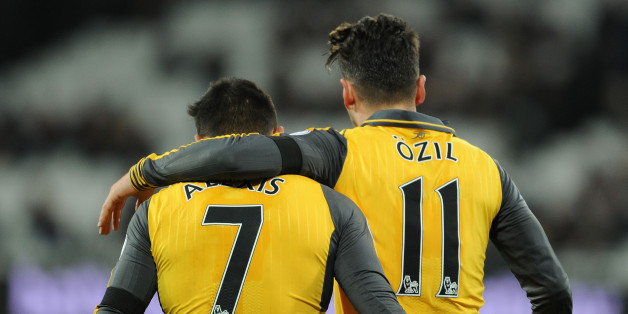 Stuart MacFarlane via Getty Images
Forget the growing fan pressure on manager Arsene Wenger, the impending exit from the Champions League in the first knockout round for the seventh straight season, and the lack of a serious Premier League challenge yet again. This is about the continuing uncertainty over the respective futures of superstar duo Alexis Sanchez and Mesut Ozil.
Both players, two of the Gunners' three most expensive signings in history, are out of contract at the end of next season and neither has signed an extension despite months of negotiations.
It appears to be a question of money, competitiveness and ambition. Each man wants to see the kind of wages they would get at another elite club - it shouldn't come as a surprise that Arsenal pay relatively frugal wages compared to other wealthy European clubs. They also want to be part of a team that consistently wins and is fighting for trophies on a regular basis, which Arsenal are most definitely not.
Sanchez is a talisman. He is the Premier League's top goalscorer at the time of writing with 17 to his name this season, ahead of Romelu Lukaku, Diego Costa, Zlatan Ibrahimovic and Harry Kane, he has relentless energy and enthusiasm on the pitch, think back to his unhappy reaction at being substituted against Swansea, and he always makes things happen.
Somewhat difficult to fathom given his continued level of high output, the Chilean is still yet to have a proper summer break since he joined Arsenal back in 2014. Sanchez arrived in north London off the back of a World Cup campaign with Chile, and has been in action with his country at the Copa America in each of the last two summers - winning each time.
Most players take a few weeks or even a couple of months to get back into the swing of things at club level after an international tournament - see Olivier Giroud's laboured start to this season after Euro 2016 - but Sanchez has remained Arsenal's best and most important player despite his exertions elsewhere.
If the man wants £200,000-per-week, Arsenal need to put aside any qualms about wage structure and just give it to him. They can definitely afford it and it's certainly not as though such demands are unreasonable for a player of his proven quality in the current climate.
On top of that, a genuine effort needs to be made in the transfer market to demonstrate to Sanchez the club can match his ambition. It doesn't have to be wall-to-wall marquee signings, but something has to show the Gunners are moving forward in a positive direction and concertedly strengthening their weaknesses.
For Arsenal, Sanchez is the kind of superstar individual that only comes around once in a while. The club hasn't had a player like him since Thierry Henry left in 2007 - it was certainly fitting that in 2014/15 Sanchez matched the French legend's debut season goal tally of 25. It's clear the Gunners need to do what it takes to keep Sanchez happy and on board as they would be completely lost without him.
Ozil, however, is a different story altogether. To put it bluntly, it's time for the German to go.
Ozil's agent was quick to jump to his client's defence after the player was apportioned blame after the 5-1 thrashing at the hands of Bayern Munich last week. "Bayern had 74% possession. How can someone in the number 10 position create chances if you don't have the ball? Was he the reason that Arsenal conceded five goals?" asked Dr Erkut Sogut following the humiliation at the Allianz Arena.
Ozil wasn't solely to blame, he couldn't be. But the 28-year-old characterises everything that is wrong with Arsenal at this moment in time and is the complete antithesis to Sanchez.
Ozil was no more than a few feet away from Arjen Robben as the winger cut inside to give Bayern an early lead. He could have helped his team, but he stood there motionless, just watching. It is rarely any different when Arsenal don't have the ball. Walking, always walking, and totally disinterested. If he feels like a scapegoat, he ought to at least act like he's trying.
Given the way that Paris Saint-Germain defended from the front as a whole team just 24 hours earlier in a demolition of Barcelona, Ozil's latest disappearing act - it's nothing new - was a slap in the face to fans. He'll run the show against a minnow soon enough, and yet he'll always remain a passenger when it really matters. Arsenal no longer have room for passengers.
That is why it is time to bid farewell. The Gunners must make him available for transfer this summer and accept the highest bid - £25million-£30million might be expected in light of his expiring contract - because they could easily find an equally talented replacement, more than just an individual who only performs when the pressure is off, one with an attitude more like Sanchez.
Mesut Ozil has had his day in an Arsenal shirt, ultimately underwhelming, but the club cannot afford not to build the future around Alexis Sanchez.