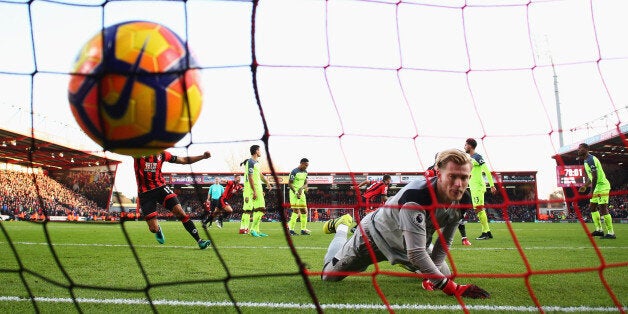 Liverpool goalkeeper Loris Karius is firmly under the spotlight after his avoidable mistake saw Bournemouth grab a stoppage time winner to complete a dramatic 4-3 comeback during Sunday's Premier League contest at the Vitality Stadium.
Signed from FSV Mainz in the summer and billed as a foundation of the future, the German had to wait for his chance after breaking a bone in his hand. He eventually won the starting job from Simon Mignolet in late September, but a number of questionable moments since means that the jury is still very much out.
Mignolet was another who came under fire early in his Anfield career after a high profile £9m move from Sunderland in 2013 and the question right now stands as follows: Is Karius actually faring any better than Mignolet did when he first arrived on Merseyside three years ago?
A major problem for Mignolet throughout his time at Liverpool has been aerial dominance.
The Belgian played all 38 Premier League games for Liverpool in 2013/14. In those appearances, he averaged 0.95 high claims per game and 0.76 punches. In contrast, averaged across nine league outings thus far, Karius has 0.56 high claims and 0.22 punches per game. The former Germany Under-21 international is struggling to impose himself, physically.
Karius had to wait until his third Premier League game before recording his first clean sheet - the 0-0 draw against Manchester United in October. Mignolet actually managed it at the first time of asking as Liverpool beat Stoke by a single goal in August 2013 - he even saved a penalty in the 89th minute to preserve his new team's slender advantage.
But despite waiting longer, clean sheets have so far come more often for Karius. He has managed a 'shutout' once every three games, while for Mignolet it was an average of 3.8 in his debut season.
Karius has conceded goals less frequently, too - just 1.11 per game compared to 1.32 for Mignolet back in 2013/14. However, the latter was busier and seemingly better at keeping the ball out, with 2.82 saves per game. For that statistic, Karius' number is 2.11 per game.
Where Karius does hold an advantage is with the ball on the ground. He has made an average of 26.78 passes per game and is more involved in open play - an extra man receive and keep possession. Mignolet passed less in 2013/14, only 19.02 times per game.
Mignolet was also more likely to play it long and clear the ball than Karius is now. His average clearances for the season in question stood at 1.07 per game, while the current number one is only clearing the ball on average 0.44 times per game.
What is on Karius's side is age. He is still only 23 and therefore remains young with plenty of room to grow yet. There can be no doubt he has struggled, more than Mignolet in some areas, but patience can be a virtue with goalkeepers, more so than in any other position. It's not time to write him off just yet.
For more fan views or to join the conversation visit www.90min.com
Popular in the Community