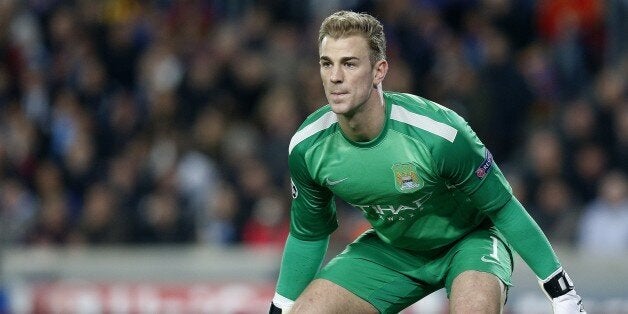 ​Manchester City's capture of Claudio Bravo is virtually over the line, pushing Joe Hart closer to the exit. Despite his 10 year of service to the club, the England number one simply isn't going to play if he stays, meaning a move is now the only option for him.
The problem is, where can Hart actually go?
It has been rumoured that City want £30m for the 29-year-old, a fee that would make him the second most expensive goalkeeper of all time behind only Gianluigi Buffon - it's hard to justify a valuation in excess of £10m more than what you're paying for someone you think is actually better.
More recent reports have suggested that the two-time Premier League champions would even demand a substantial fee of £7m the privilege of just a one-year loan.
Sometimes selling clubs hold strong positions. On this occasion, City do not. They have no leverage to command a high price because it's clear that Hart is not part of the plans. Anyone who is interested can afford to negotiate the sky blues down, which could easily see the situation drag on until transfer deadline day at the end of the month.
If no deal is done, either because City don't find an acceptable agreement, or Hart doesn't believe the clubs on offer are right for him, he sits and rots for four months until January. That could then quickly turn into a year out of action if the situation isn't then resolved mid-season.
Most people think he'll be fine - this is a 'world class' (large pinch, maybe even a spoonful of salt required) goalkeeper after all. Clubs will obviously be queuing out of the door to speak to him. Yet when you look at the situation, Hart's options are terribly limited.
In short, he's in big trouble.
Temporarily putting aside the controversy of a move to a direct rival for the sake of argument, none of the other top Premier League clubs are in the market for a number one goalkeeper.
Manchester United have David de Gea, Arsenal have Petr Cech, Chelsea have Thibaut Courtois and Tottenham have Hugo Lloris. None of those individuals are likely to leave any time soon, and Hart wouldn't offer an improvement on any of them.
It means he's immediately not going to be playing Champions League football if he stays in England.
Further down to the table, ambitious clubs like Leicester and Southampton are also sorted for the long-term with high quality stoppers in Kasper Schmeichel and Fraser Forster respectively. Stoke are also well set up with Jack Butland once he returns to fitness.
Could West Ham be convinced that Hart is a better prospect than Adrian? The Hammers have been desperately trying to throw money at various high profile players in an attempt to and bridge the gap to the elite Premier League sides. Should Hart be considered in that bracket it would be awfully harsh on Adrian, a real fan favourite and a very competent Premier League goalkeeper.
Liverpool, as they always are with any player on the move, have been linked. But don't kid yourself. There is not a chance that Hart will be heading to Anfield. The Reds are another well stocked club between the sticks, having landed Loris Karius as a long-term number one well liked by Jurgen Klopp and Alex Manninger as a veteran emergency third choice.
In the middle is Simon Mignolet, who Liverpool would most likely have to rush to sell simply to find room for Hart. It's just not worth the hassle for them. Klopp has even said that he's tired of what the rumour mill is churning out and cannot wait for the window to close.
Unless you're looking at a club towards the wrong end of the table, Sunderland perhaps, Everton are possibly the only semi-viable Premier League option for Hart at this moment in time. The Merseyside club are rumoured to have been interested since before Euro 2016, although there has been a conspicuous lack of further updates with anything more than 'interest' since.
The Toffees are also in no urgent need for a goalkeeper, with other positions taking priority in the next few days after Maarten Stekelenburg's strong start to the new season.
Somewhere abroad might be Hart's best bet if he is to have any chance of not taking a backwards step. Sevilla, where promising 22-year-old Sergio Rico is current number one, is one rumoured destination. Borussia Dortmund is another. In reality, moves to either seem unlikely.
Beyond that, are you looking Valencia, where Mat Ryan and Diego Alves are already battling for number one? Could Villarreal afford him? Is something as farfetched as RB Leipzig in Germany a possibility? France? Portugal? There's definitely not the money in the Eredivisie.
What is clear is that the next few days are going to be absolutely crucial for Joe Hart and his future. And it's definitely not a position to be envied.
For more fan views or to join the conversation visit www.90min.com