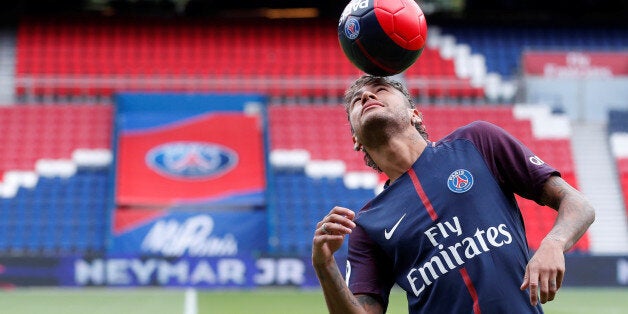 ​Neymar has a lot of work to do to convince people his world record move from Barcelona to Paris Saint-Germain wasn't motivated by money. He's left behind one of the most famous sporting institutions in the world for a club that is younger than Jennifer Aniston, and is expected to pocket in excess of £500,000, after tax, each and every week in France.
But to accuse the Brazilian superstar of simply quitting Camp Nou for a huge pay day is the lazy criticism, and more than a little unfair.
Neymar answered those critics in his own words on Friday: "What I say to these people is they don't know anything about my personal life, I was never motivated by money.
"If I was following the money, I would be somewhere else, with other clubs in other countries. I'm really sad that people still think that way and I'm glad that PSG believe in me."
A major theme of the 2013 autobiography Neymar co-wrote with his father centred on money not being a driving factor in his career. Together, they both explained how football was always the most important thing and that had money been a motivating factor the emerging player could have left Santos on several occasions in a lucrative deal before he eventually joined Barça at the age of 21.
As difficult as it is to push the money angle to one side, fans and critics must do so because Neymar was absolutely right to leave Barcelona for PSG for footballing reasons.
The message that Lionel Messi's recently signed new long-term contract effectively gave to Neymar was, 'This is still out guy for the next four year, not you'.
Messi was apparently given terms that Neymar was told a year previously were impossible. That doesn't mean it's about the money itself, but rather parity and validation. How is Neymar supposed to feel when he is constantly told he'll soon be the best player in the world, but his club won't treat him as an equal to the star they expect him to match?
It has nothing to do with the personal relationship between the pair either. But Neymar, with ambition to be the greatest footballer on the planet, would have looked at the situation and seen Messi backed to remain number one at Camp Nou until 2021, by which time the Brazilian would be 29 and have potentially missed his best years still stuck in the shadows of a club hero.
Leaving is not the easy option, staying and continuing to stay in those shadows would have been the far safer choice. He had a very good contract anyway, was still very highly thought of regardless of Messi being in front, and could easily have collected many more trophies.
But what Neymar has done by accepting the call from PSG is risk everything. He has backed himself and staked his whole reputation on proving that he can actually be the main man at the highest level, the world-leading superstar that his potential always suggested he would be.
He won't get plaudits for helping PSG to French titles or domestic cups, those were the minimum requirement at Parc des Princes for six years before Neymar arrived. Instead, the dream is the Champions League, to become only the second French club to be crowned European champions.
PSG's only appearance in the old European Cup ended in a first round exit in 1986, while they have never been beyond the semi-finals in the Champions League. In fact, their only appearance in the last four actually came as far back as 1995, long before the current regime of Qatar-backed wealth.
Neymar is presented with the challenge of creating history where there isn't much. At Barça, he would have remained just another face in the crowd, the latest on a long list of legends. No, PSG is the real challenge. PSG will give him the platform he needs, and the money is almost irrelevant.