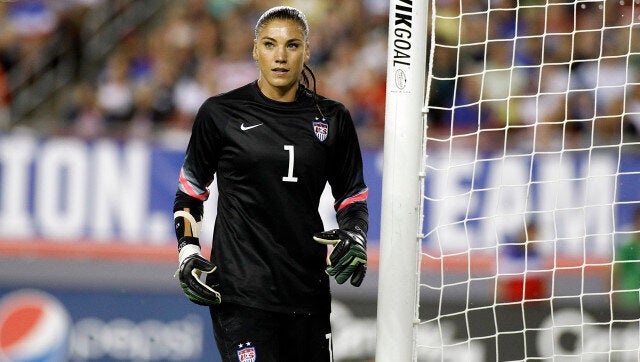 Football has been a core part of the Olympics for over a century, but it's far from the most prominent of competitions on the global football calendar. And yet it still has a rich and interesting history that is ready and waiting for you to discover.
Here's a look at 19 facts about Olympic football that you probably didn't know...
1. There was actually no football tournament at the very first incarnation of the modern Olympics in 1896. Football only made its Olympic debut four years later in 1900 when Great Britain, represented by a club named Upton Park FC, beat a French side to gold.
2. Countries didn't actually begin entering national selections until 1908. Prior to that most nations sent an amateur club side to play on their behalf. As a result, only Olympic tournaments from 1908 onward are actually officially recognised by Fifa.
3. There wasn't a women's Olympic football competition until 1996 and there has never been an age limit for female players. That first edition was won by the United States on home soil with a group of players that mostly go on to win the women's World Cup three years later as well.
4. Participating countries have been allowed to pick professional male players since the 1984 Games in Los Angeles. Before then, the Olympic football tournament had been a competition for amateurs, as a handful of other Olympic sports, notably boxing, still remain to this day.
5. From 1952 to 1980 inclusive, every winning country was from Eastern Europe. Countries in the Soviet and communist bloc were best placed to dominate during the amateur age - their players were full-time but because they were state sponsored they weren't 'professional'.
6. Football was temporarily dropped from the Olympics for the 1932 Game in Los Angeles. Fifa had launched the World Cup only two years previously and American Football was instead included as a demonstration sport to appeal to an American audience.
7. Despite Olympic football turning professional in 1984, it wasn't actually until 1992 that the an age restriction for men was introduced. That meant there were two Games, 1984 and 1988, when it was an open-age tournament for professional players.
8. However, only countries from Asia, Africa, Oceania and North/Central America were allowed free reign over players. They were at liberty to pick their best players, but nations from Europe and South America were only allowed to select players that had never been to a World Cup.
9. The over-age player rule allowing countries to include a specified number of older individuals, was introduced in 1996. Among the first group of over-23s who benefitted were Diego Simeone, Alexi Lalas, Jorge Campos and Rivaldo.
10. In the years since, Ryan Giggs, Ronaldinho, Juan Roman Riquelme, Andrea Pirlo and Brad Friedel have all featured as designated over-age players at one time or another. Barcelona superstar Neymar will fill one of those places for host nation Brazil at this year's tournament.
11. The United States have actually won all but one of the women's Olympic tournaments. The only other country that has collected gold was Norway in 2000, and they beat the Team USA in the final. Brazil have two women's silvers and Germany have three bronzes.
12. The record for most goals at a single competition belongs to Hungarian striker Ferenc Bene. He scored 12 times in just five games at the 1964 Olympics in Tokyo. No other player in that particular tournament even managed double figures - he is the only one in 104 years to do it.
13. Despite dominance, an American player has never finished top scorer in any of the five female competitions to date. That's despite boasting legends of the sport in every squad such as Michelle Akers, Mia Hamm, Abby Wambach and more recently Carli Lloyd and Alex Morgan.
14. Javier Mascherano is the only male player in the professional era (since 1984) to have collected more than one gold medal. An over-age player in 2008 when Argentina retained their title, he was the single surviving member of the victorious 2004 Albiceleste squad.
15. Great Britain (1908, 1912), Uruguay (1924, 1928) and Hungary (1964, 1968) are the only other men's teams to have won successive Olympics. A handful of British and Uruguayan players got medals on both occasions but the two Hungarian squads were entirely different.
16. US women's goalkeeper Hope Solo could collect an unprecedented fourth Olympic gold medal in 2016. She has prior medals from 2004, as a non-playing 'alternate', 2008 and 2012. Christie Rampone, Shannon Boxx and Heather O'Reilly also have three golds but none will be in Brazil.
17. The United States actually took home two medals, a silver and a bronze, from the 1904 tournament after entering two sides in a tournament that was only contested by three in total. In the days before national selections, the American squads were both local church teams.
18. Home advantage rarely rings true. No team, male or female, has won an Olympic gold medal on home soil for 20 years. The last to do so were the American women in 1996. The last men to achieve the feat was a Spanish team featuring Pep Guardiola and Luis Enrique in 1992.
19. Despite being the most famous footballing nation on the planet, Brazil have never won gold in either men's or women's Olympic football. The 1996 squad featuring Roberto Carlos, Ronaldo, Rivaldo, Bebeto, Dida and Juninho could only manage a bronze. Neymar got silver in 2012.
For more fan views or to join the conversation visit www.90min.com