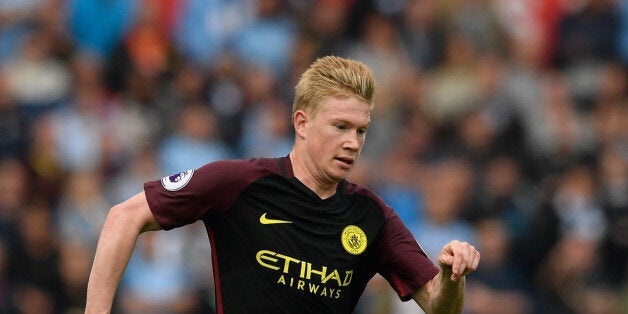 ​Manchester City were in relative trouble against Swansea this weekend. The Welsh side had opened the scoring at the Liberty Stadium, only to see the goal disallowed because the play had already been whistled dead, while they struck back with Fernando Llorente mere minutes after Pep Guardiola's side had broken the deadlock for real through Sergio Aguero.
It was only in the second half, around the hour mark, when the City from Manchester began to exert a greater degree of control over their Welsh counterparts. That increase in pressure ultimately resulted in Aguero restoring the lead from the penalty spot, before Raheem Sterling made it three with just under 15 minutes left to play.
Aside from Swansea perhaps starting to tire as the game wore on, there was one key factor above all else that changed to give City the critical advantage that presented them with three points and a 10th consecutive win under Guardiola in all competitions. Kevin De Bruyne.
The Belgian, still the most expensive player ever to pull on a City shirt despite another summer of heavy spending in July and August, started the game in a wide role to compensate for the return of David Silva from injury and the preservation of Ilkay Gundogan's place in the starting line-up.
Soon after half-time, De Bruyne moved back into a more central role, the one he's been playing to such brilliant effect in recent weeks. He could suddenly affect the game a lot more from that position and within minutes of the switch it was the 25-year-old who had won a penalty, worrying Swansea's Mike van der Hoorn enough to prompt an outstretched arm from the Dutch defender.
That De Bruyne was forced to leave the game early with a hamstring problem not long after that decisive moment and is now expected to be out of action a few weeks comes as a huge blow to City. And it's a blow that is bigger than briefly losing Aguero to suspension was earlier this month.
If anything, the Argentine superstar wasn't particularly missed during his now complete three-game domestic absence. City coped in the Manchester derby, winning 2-1 as Kelechi Iheanacho filled in admirably and scored the second goal that made the difference in the end.
Aguero returned to face Borussia Monchengladbach and scored a hat-trick to underline his undeniable quality a few days later. But again, out of action in the Premier League in the very next game against Bournemouth, it was as it had been against United in the derby. Iheanacho filled in up front and De Bruyne took centre stage as City tore the Cherries apart.
The Chelsea reject, a fact still hard to fathom, was involved in everything. He scored the first City goal that day, created the moves that led to both the second and third goals for Iheanacho and Sterling, and then laid the fourth on a plate for Gundogan after a pinpoint through pass.
As well as Aguero, Silva was also missing from that game. So too was Vincent Kompany, while the less said about Yaya Toure's situation the better. Even just 12 months ago, City would have struggled badly without any one of those huge names, let alone all four.
It doesn't matter that it was 'only Bournemouth', City came unstuck against enough average or poor opponents last season to know it has been a genuine problem. Yet De Bruyne's recent performances, combined with the obvious tactical influence from Guardiola, have rendered all of that fairly irrelevant so far in 2016/17. Even with Aguero on the pitch against Swansea, City were noticeably short of their best when De Bruyne wasn't pulling the strings in the middle.
A few days before the league meeting, the two sides had already faced each other in the EFL Cup. De Bruyne didn't start, but with Swansea threatening he was added to mix before the hour mark. Leading 1-0 at the time, City soon had a second, while Swansea scored a mere consolation deep into stoppage time.
Don't think of this as slur on Aguero. He adds an incredible amount of class and threat to the sharp end of City's attack. But his temporary loss was not anything like as detrimental as had been feared it from the outset, because of De Bruyne. The Belgian, on the other hand, as proven by the performances when he has and hasn't played, is a different story. City just aren't the same team when he's not on the field or not in a position where he can influence things.
And that will certainly be something to look for as he sits out the next few weeks.
For more fan views or to join the conversation visit www.90min.com