Ed Vaizey, the Minister for Culture and the Digital Economy has echoed the Prime Minister's message to young voters last week and urged video gamers to vote to remain in the upcoming referendum on the European Union.
Speaking at the London Games Festival which drew to a close Sunday, he addressed the eSports summit. He stated quite clearly that we need to stay in the EU to be able to continue to attract more eSports investment in the UK.
Ed Vaizey also called upon the interactive and entertainment industry to come forward with ideas to Government on how to help the industry grow.
Dr. Jo Swift, Chief Executive of UKIE, the industry trade body wasted no time in referring the minister to the statistics that showed it was countries, like South Korea, with the best broadband that was leading the interactive entertainment and technology industries.
Last week London once again topped the Global Financial Centres Index, just beating New York with thanks to the growing 'Fintech', financial tech, industry. But it only topped the list narrowly. George Osborne has already started to look at new technologies to bolster the UK's economy with his particular interest in Google's driverless car, it seems the Government is now waking up to eSports too.
Just as the French are. Indeed, this week one panelist at the London Games Festival's summit, Veronique Lallier VP European Publishing at High-Rez studios, spoke about how the French Government was looking to legislate in a way that re-defined professional gamers as athletes in order to stimulate the eSports industry.

Video Gamers as athletes - heresy I hear you cry. I remember when similar throw away remarks were made about YouTubers going full time. Now hundreds of them have made careers out of talking at a camera - (far too often in their PJs IMHO). And who is the most popular on YouTube? It's the likes of PewDiePie, Let's Play and game casters who commentate along as they play video games. Indeed, PewDiePie's production company earned $7.5 million in 2014.
Vaizey's EU message has a bigger takeaway than just another throw away remark in the referendum though. It was of course, on par with the Governments official policy which wants to stay in a reformed European Union. Just last week they announced they would spend £9M on a leaflet that outlined 'the fact's' in the referendum. But what I'm interested in is just how much of that otherwise very expensive paper leaflet, will be spent on sponsored social media posts?
Craig Elder who ran the Conservative Parties general election digital strategy, that founded Edmons Elder with Tom Edmonds have been tasked with doing the same for the Better In campaign who hope they'll be able to use social media to target middle ground and swinging voters. And that's why you'll be seeing more and more of these promoted posts clogging up your Instagram feed over the coming months.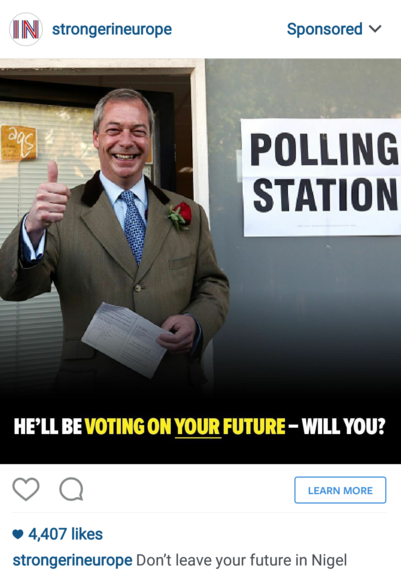 What does this all say to me? Sure Jeremy Corbyn's campaign took a decisive swing by in the last fortnight with their e-Petition. But considering I found about it from others on Twitter before Corbyn's official account posted a link, is an indication of how far ahead the Conservatives are ahead in understanding the potential of social media marketing. Crucially important, just like in the general election, as it could well sway just enough voters to get out to the polls in the referendum. After all, that's beginning to look like the crucial part of the outcome. Interest in the bouncing around of statistics is already waining with yet another 2 months still to go.
Looking at last week's poll from the OBR for the Telegraph showing that 51% are backing 'Bremain' means it's clearly close. However perhaps it was Sir Lynton Crosby's analysis that is the most important takeaway, who said: "the outcome of the referendum will hinge on which side can better turnout their supporters".
If he is right, then is the Better In's targeting on social media at the perhaps harshly named 'clicktivists', going to make a difference? Time will tell - for now though David Cameron can take solace in the fact that this week's London Games Festival showed how far Virtual Reality has come. If he has to resign, he can always re-live his haydays by sticking a VR headset on.
The London Games Festival also looked at the exciting opportunities in virtual reality, the history of games including a huge monopoly board in Trafalgar square and ended with gamer expo EGX Rezzed. You can find out more about the festival in this week's Double Tap podcast.