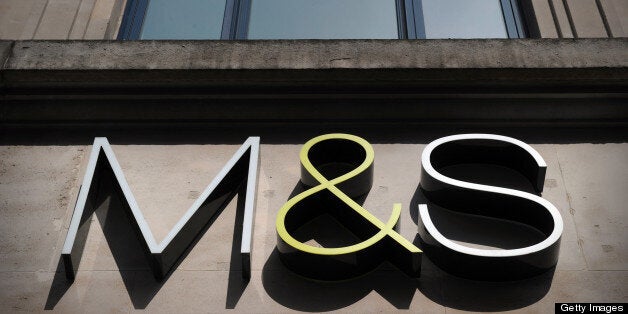 So Janie Schaffer has fled the Good Ship M&S, presumably passing on the gangplank, Hilary Alexander on her way aboard.
Ms Schaffer, a former M&S employee who founded the Knickerbox chain in the mid-80s and then served as chief creative officer of US lingerie giant Victoria's Secret, was brought in to M&S in January by chief executive Marc Bolland to revamp the lingerie department. She was part of Bolland's glittering new fashion team, led by John Dixon as executive director of general merchandise, and Belinda Earl - ex Jaeger and Debenhams - as style director, a trio whom Bolland believed would give some serious va-va-voom to the M&S fashion offering.
Hilary Alexander, meanwhile, the former fashion supremo at the Daily Telegraph, has been drafted in to reinvigorate the sad, tired Per Una Collection, a task which - with the line's endless frilled cardis and bias-cut skirts - may be beyond the capability of even the most skilled former fashion editor.
This prediction is inadvertently given additional credence by "a friend" of Ms Schaffer, who was quoted in The Times as saying that she was "not given free rein to carry out the job as she wished". (The quoting of a "friend," it should be remembered, is a Fleet Street device - honed, I recall, by Ms Schaffer's former partner, Princess Diana's biographer, Andrew Morton - for including comment that the subject does not wish to have attributed to them.)
If Ms Schaffer, with her decades of retail experience was "not given free rein", what hope for a former fashion director, albeit one who was a brilliant journalist with stellar contacts and endless fashion savvy? It suggests that - like Janie Schaffer - Ms Alexander's presence is little more than a PR exercise, which may earn the brand some column inches, but is unlikely to achieve the kind of radical upgrades in the chain's fashion departments that are so essential if they are to get their customers back and spending money.
It would be unfair to pin the blame for the fall in general merchandise that was announced last week - 3.8 percent in the 13 weeks to March 30 - on Dixon, Earl or Schaffer; M&S's myriad autumn collections were already in production long before any of the trio had settled into to his or her office at M&S's shiny Paddington Basin HQ.
But the question remains, can any team achieve the level of improvement in M&S's fashion offering without the wholesale slaughter (metaphorically speaking) of their selectors who seem incapable of translating what is seen on the runways into clothing that any of us might wish to buy.
To see how deep the problem goes, one only has to look at The Times shot of Marc Bolland pictured with two models wearing M&S A/W 13. One of the models is wearing what might kindly be described as a dress. Held up by an asymmetric strap, it has been rendered in a mix of horizontal and vertical stripes of gold, cream and black, making it resemble the wallpaper in a curry house, circa 1975. The model's left breast - probably several cup sizes smaller than even the slimmest average customer - is barely contained in the dress and the fabric is not just nasty but rumpled.
This dress is the perfect example of how M&S consistently miss every demographic through their poor translation of trends: the obvious customer for this dress is a young woman who wants something a bit bling for a night out. But its "obvious" customer would probably want to pay £10.99 for it, so would shop in Primark. At M&S, it probably costs upwards of £50 (I can't tell you exactly, since it is part of next season's collection), so it is far too pricey for Ms Bling-Night-Out.
On the other hand, it is too strappy and unstructured (and, frankly, too lacking in taste) for a more fashion forward and - I hesitate to say it, but "traditional" will do - client. So, if I can see the problem - and I am merely an ex-journalist, now co-director of SoSensational.co.uk, the fashion website for grown up women, why can't the selectors who are paid to do the job by M&S?
I suspect it is that phrase "fashion forward" that is getting them into so much trouble. Fashion forward does not mean - or does not have to mean - tacky and gimmicky, as Zara, Cos, Gap and Banana Republic prove season after season. It does mean editing the trends and executing them in an elegant and stylish way, without the need to add clunky, superfluous trims or use eye-searingly horrible colours or ugly prints which resemble the daubings of a blindfold three-year-old let loose in a paint factory.
And if M&S want their customers back, they also need to review their fabric quality. The perfect example is that (apparently) rather good, half-sleeve black dress at £45 which featured in their recent "Key Pieces" ad campaign. It costs £45, which seems very reasonable, until you handle it. It feels like nuclear waste, which means their core customer won't buy it (or, at least, she may buy it online but will probably return it immediately), and once again, it's too pricey, for the customer on a Primark-type budget.
Take a good long look at your demographic, Mr Bolland, and then make beautiful clothes, shorn of gimmicks, in good colours, good fabrics and great prints (and put them out on the fashion floor, not just at the press show) and we will trample you in the rush to buy...