When the London riots erupted three years ago, Hackney was on fire. Alecky Blythe, who wrote London Road, a sell-out at the National Theatre, took to the streets to record the voices of the people involved.
Jane Egginton, who is a character in Little Revolution, the resulting play, reports from the world premiere at London's Almeida Theatre.
'This is JANE!' playwright Alecky Blythe squeals to actor Ronni Ancona as they step off-stage. It is a strange experience to be greeted so excitedly by two acclaimed professionals and I am surprised at how keen they are to hear my reaction. As in London Road, Blythe records verbatim speech with her dictaphone, which goes unedited into the play.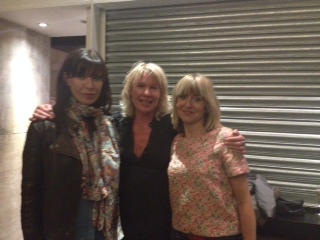 As well as my character, 'a can-do, no-nonsense market trader' in the words of the Telegraph, Ancona is playing a straight talking, straight-backed mother from the estate where the riots took place. This character is scathing of the white middle class locals - including me - who raised £50,000 for a Sri Lankan shopkeeper who lost everything to looters.
Blythe plays herself. 'But surely her ridiculous laugh isn't really like that?' I hear one theatre-goer remark, as if Blythe has somehow caricactured herself for dramatic effect. But Blythe is as true to herself as she is to the other characters in the play.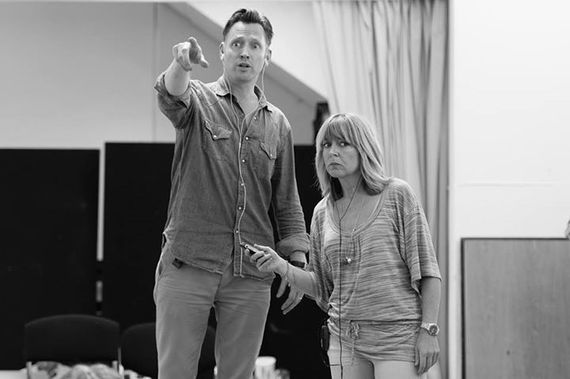 Embarassingly, I really did persuade Siva, the shy shopkeeper to go on Breakfast TV, telling him: 'It's not about you any more'. I also sarcastially question the self-satifised councillor's influence over the police and stupidly lose the long-awaited-for-figure of the funds raised for Siva.
Both Blythe and I are Hackney residents who love living in the Borough and were disturbed and disbelieving at what happened the night of the riots. I was safely holed up in my house watching the terrifying events unfold on Twitter as helicopters circled overhead, as Blythe was bravely documenting the scene on the ground.
'What do you think? Did Ronnie get you?' Blythe quizzes me as Ancona studies me as if an insect under a microscope. Clocking my designer dress, Ancona demands, 'I need more sexy outfits!' and wants to know where I was born, to get my accent. I just want to - and do - hug her. My mother and me were huge fans of her in The Big Impression with Alistair McGowan. Ancona, who hugs me back, appears as focused and funny in real life.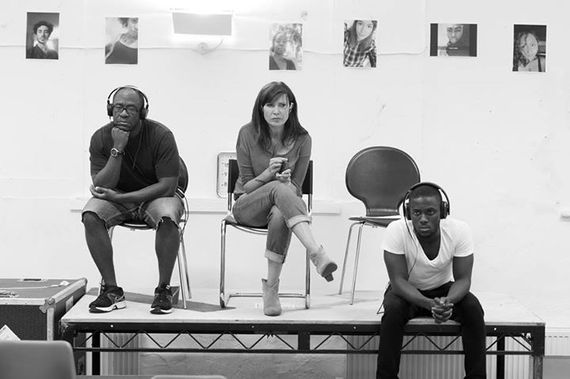 'Don't worry, I'm not Posh', I attempt to reassure her. Ancona was famous for playing Victoria Beckham as a Spice girl in the '80s. 'But I want to get you!' Ancona insists, continuing to fix me in her gaze. Like Blythe she is painstaking in her attempts to be faithful to the voices and characters in the play, all of whom are based on real people.
Little Revolution's conclusion has been criticised for disippating in energy and direction, yet this is the truth of what has happened, hence its name. It has also been said that Blythe does not tell enough of the rioters' stories. Yet, mostly, it is because these people did not want to speak to her.
In a real-life scene that didn't make it into the play, a reporter from the German magazine Spiegel (played hilariously by Rufus Wright) accuses my market, Hackney Homemade, of causing gentrification. And when I open a community café, Hackney Heart, just metres from where the riots happened, I am threatened by people, apparently angry at me for being white and middle class, with another riot.
Little Revolution gives us snapshots of scenes in which young black men in Hackney are consistently stopped and searched for no reason. Many black people, some of them middle aged and middle class, most of them men, continue to have the same experience. The 'apartheid' described by one of the characters in the play exists in Hackney today.
In a vigil in the post-riots aftermath at St John at Hackney church, the Bishop of Stepney quoted Martin Luther King, saying:
'If a riot is the language of the unheard then we should surely listen.'
Blythe's brave and ambitious play manages to be political and very funny, while giving a voice to those normally unheard.
Little Revolution by Alecky Blythe
Tue 26 Aug 2014 - Sat 4 Oct 2014