'To a father growing old, nothing is dearer than a daughter.' - Euripides
We went to Wells Cathedral in Somerset to visit my father recently whom my sister and I buried there in the summer of 2011. The photos show how glorious the cathedral is and no it wasn't a sad occasion at all - it was just great to be near him again and wish him love. A funny coincidence, which he would of adored, is that he is buried with his beautiful dog, a Great Dane called Daisy, that I had bought for him when he first moved to Somerset - and the cathedral garden where he is buried is now just covered in daisies! I like to think it was nature's homage to my father and Daisy!
It was such a joy walking through the grounds of the cathedral again and it just made me realise how my father had manifested exactly where he wanted to be buried and it had happened for him in such a glorious way. The service was memorable and profound - he would have been proud. I have to say I think Wells Cathedral is even more beautiful than Westminster Abbey - clever father or what? Jeffrey Archer was so impressed that my father is buried at Wells Cathedral - he said so few get that privilege - I said he had manifested his wishes with positive thinking. It gives me great comfort to know he is buried in such a beautiful place and a good excuse to keep visiting him because he planned it that way.
It got me thinking about how great my father was at naturally attracting the good stuff to himself. I don't think the idea of positive thinking existed when he was a young man - but he certainly naturally had the gift of the gab! Passed down by his French mother perhaps, my grandmother - who always wanted the best for her family!
My father would often say 'I just want you to be happy darling' - and you know something, I was. That to me is a great gift. There were no demands made on my academic achievements other than the demands I put on myself. And you know I worked hard because I was happy in all the subjects I studied as a teenager, from all the arts, art to art history, history, english language and english literature, geography (I've always loved maps and travel because of my father who travelled the world and just made me feel happy and confident about travel too), French, tennis and swimming!
Don't get me wrong - I wasn't a perfect child by any means - but I adored both my parents and I think looking back because I new they loved me, I wanted them to be proud of me too. So you see again, it all comes down to love. I think if a child is loved and they know they are loved they will always be happy. It is a fundamental knowing that sustains you for the rest of your life - whatever happens. I wish and hope that every child could have that kind of foundation of love - the world would know peace. He has naturally shown me to expect the best and there is no greater gift to a child than to be happy, optimistic and expect the best - because what you believe is what you get. How you perceive things is how they will show up for you. He was kind and compassionate and generous which I believe helped attract the good to him and he also showed me that discipline sets you free!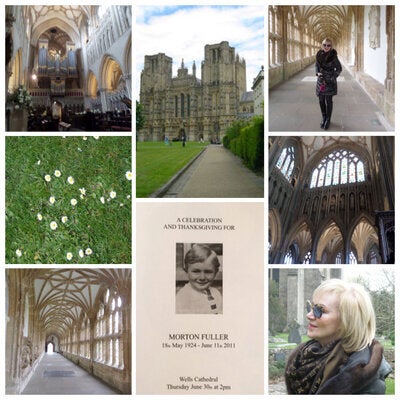 Here are the 12 most important life lessons I learnt from him and I know they work:
1) Be friends with people because you love them - nothing more. He thought the human relationship the most important in life.
3) Restore your soul in nature - he loved his garden and was so proud of it with all the flowers, beautiful hedgerows, singing birds. It brought him great joy to be in nature and that was a lifelong habit.
4) He was artistic and loved to draw and do photography and had lovely hand writing. He thought drawing teaches you not just to look but to see and that nourished him.
5) He was tall, slim and fit until the day he died - he was naturally athletic and understood that looking after yourself does not convey or cover-up any deficiency. It's smart to care and always look your best - it instills confidence in you and others. He was a great tennis player and a member of the MCC most of his life.
6) He relaxed very easily and would often have an afternoon nap. He was always good at taking naps - Arianna would have been proud! He thought it very important to rest so you're energised for the next adventure!
7) He never got angry - he thought anger was futile and only attracted more anger into your life. Gratitude and forgiveness were his bedrock.
8) He knew how to have fun - always generous and 'a glass of champagne darling?' When I was a student in Florence he flew out for a week-end and took my whole class out for supper. Mind you he'd flown out because I'd told him that my male Italian Professor was taking me to Switzerland for the week-end............he was out on the next plane!
My friends loved him - Cambridge May balls, cocktail parties on the lawns by the river - joining me to see my current boyfriend in his Footlights show. My school friends adored him too. He always new how to make things fun and so he attracted it!
9) He thought wealth was a mind game - once you understood that and finding harmony within yourself - you become rich. He was a successful businessman but work never consumed him.........he provided a beautiful home for his family, a great education for his daughters, foreign holidays, etc., but work was kept in perspective. He understood what was important.
10) He loved history - he thought it was very important to know where we came from and our heritage. He loved reading about history.
11) He loved music from The Rolling Stones to Chopin - he found music inspiring and got the imagination and creative juices flowing.
12) He knew that discipline sets you free - always neat, tidy, clean and organized. Even after his death with finances and providing for his family - all the paperwork was organised and calm. Again he was right.
It sounds like my father was perfect and he wasn't, but I've understood since his death what he passed onto me and how he truly understood about the meaning of life. I'd like to think he'd chuckle at this blog of mine - but you know I love and miss him everyday and I think he'd be proud to know I did. What better legacy can a father leave?
'Life's journey is not to arrive at the grave safely in a well preserved body, but rather to skid in sideways, totally worn out, shouting 'Holy shit......what a ride!" - Hunter S Thompson