Ever since news broke that Alfie Boe would play JM Barrie in Broadway's Finding Neverland, expectations from fans have been sky high. So, with Alfie's opening night this week, our fabulous regular New York reviewer, Roberta Kappus, went along to the first two performances.
Alfie Boe not only flew from Les Miz to Neverland as the headlines read but soared. The role of J. M. Barrie could have been written for Alfie. His youthful exuberance when playing with Peter and his brothers in the park or at the dining room table (great scene) and his caring and tenderness towards their mother exemplify qualities we have all associated with Alfie.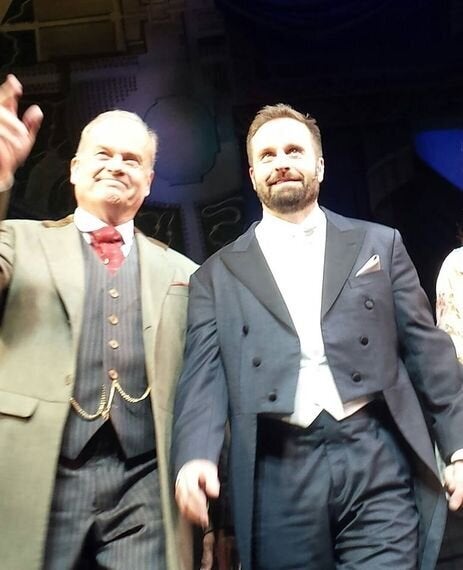 As was expected Alfie's singing was extraordinary. I had seen this show last year with Matthew Morrison and thought the score was rather bland. I am not sure how he did it but Alfie breathed new life into these songs. They became vital and colourful and you left the theatre humming them. The most impressive and surprising thing about Alfie's performance in his new role was his mastery of the very complex choreography which dominates act 1. Anyone thinking Alfie has moved into an easier, less exhausting role in Neverland (which included me) from Les Miz is mistaken. Alfie jumps on and off benches, twirls around lamp posts, chases children through a park, is turned upside down and leaps over a park bench landing on his feet all in perfect time to the music on a stage filled with other performers. It is truly amazing to watch him do all this with such pinpoint accuracy while sometimes singing at the same time. All this comes in the first act and Alfie seemed much more relaxed in act 2, developing a nice relationship with Laura Michelle Kelly's character, Sylvia. The audience even applauded when Barrie and Sylvia finally kiss, although I have to note that they did the same when Matthew Morrison was in the role.
A month ago almost to the day I had watched Alfie as a dying, old man utter the words "to love another person is to see the face of God". Last night I saw Alfie as an imaginative author creating Peter Pan and becoming the father of four orphan boys. To me this is a truly remarkable transformation and a testimony to Alfie's skills and abilities. He is truly brilliant in both roles.
Thanks for that great review Roberta, as ever you made me feel as if I was there watching.
Related