The finale of the Big Music Competition on Thursday 19 February saw two young classical artists wow the judges and win a performance at Classic FM Live later this year. The annual event, which in past years has seen Alfie Boe, classical guitarist Milos Karadaglic and Sir James Galway perform was the prize for Yuanfan Yang and Sarah and Laura Ayoub at the nationwide competition.
The project initially started back in October 2014 in London before moving on to twelve further venues around the country. Sixteen finalists were chosen to represent three categories of contemporary music and two of classical. Funded by the National Lottery, the idea for the project was conceived by Global Radio (home of Capital Radio and Classic FM) and the BPI which is behind the BRITS to offer opportunities in music for young people around the UK that would not otherwise have such opportunities. At the same time, On Track, an initiative to help young people into the music industry was launched.
Last week's event at the Indigo at the O2, timed for BRITS week, was judged by BRIT school alumni Rizzle Kicks and sporting soprano, Laura Wright as well as RCA's Colin Barlow and Virgin EMI Records' Glyn Aikins. Capital present Pandora, hosted. Chart topping duo and panelists, Rizzle Kicks, said: "The Big Music Project has given amazing, young performers the chance to play in front of the biggest names in the music industry. We were honoured to be a part of it.".
Of the two classical categories, Yuanfan Yang was the winner of the 14-17 category with his mesmerising performance of La Campanella by Liszt. The Ayoub Sisters from Glasgow gave an incredible performance, with Sarah on violin and Laura on piano accompaniment, which bagged them the top spot in the Classical 18 - 24 category. All three will join the line up of performers at Classic FM Live which should be a fantastic start to their professional careers. Here are the three winners pictured with Laura Wright.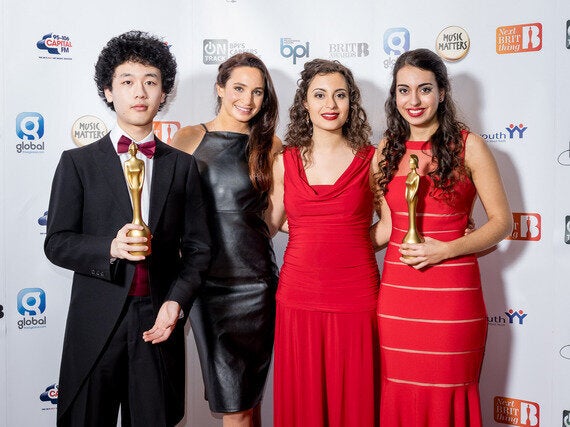 Meanwhile, the three contemporary winners were Aina Moore, a rapper and lyricist from Dulwich, who won in the Contemporary 18-24 category. Indie band Jump the Shark, from Wolverhampton, and singer songwriter Daniel Scott, from Edinburgh, took the top prize in the 14-17 category. The prize for these categories is a chance to record their music at the acclaimed Abbey Road Studios.
Related