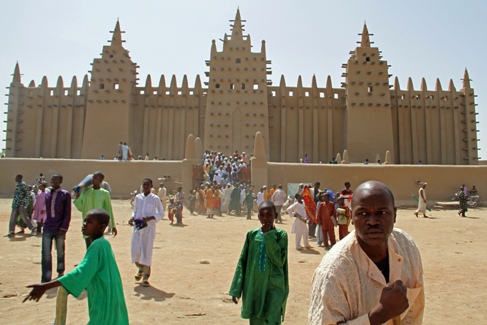 Photo: Friday prayer at Djenné's Great Mosque ©janelabous
London, January 25 2013: WHEN I first went backpacking to Mali in 1998, no-one had ever heard of the place. Thirteen years later I spent two months researching and writing a radio documentary there, living with Malians in Bamako, Koulikouro and Djenné. Even then, no-one knew anything about this breathtakingly hot, landlocked West African country. Many mixed it up with an island in the Maldives. "Oh", exclaimed one relative I told them where I was going, "how absolutely lovely!"
Now, everyone who follows the news has heard of Mali. Predictably, the country's problems have only properly hit international headlines since shots were fired by the French earlier this month; journalists love a war and have been quick to travel to cover the conflict, but most seem at best only vaguely informed about its political, geographical and humanitarian context. The same editors who told me last year, in the midst of the political coup, that 'no-one's interested in West Africa, Jane' are now splashing pictures of soldiers and guns over their foreign news pages. No-one, again predictably, took any notice last spring as thousands of people crossed the borders out of Mali, contributing to a burgeoning food crisis in the region. Arguably it even started before that, the combination of a weak government, corrupt military and a population afflicted by poverty leaving the country open to abuse. Northern Mali has been off-limits for years; as daily reports emerge of the French 'taking' north Mali, the journalists seem to forget the hundreds of kilometres of desert north of Timbuktu which remain a lawless terrain where rebels can simply melt into the horizon.
During my time in Mali, I spent a considerable amount of time hanging out with the chen chen boula, a group of courageous sand diggers in Koulikouro. The town north of Bamako had been on the verge of economic collapse since the soap factory shut down. Every day, the men dived to the bottom of the river Niger to find sand to sell to the concrete tycoons fuelling the housing boom in the capital. I found myself knee-deep in this fierce African river that flows from Guinea across Mali towards the Atlantic. Renowned for its crocodiles (Mali's capital, Bamako, means 'crocodile river'), it's the largest body of water in the country and also its lifeblood; the place where communities comes to drink, wash, bathe and water their livestock.
Sidou, a tall, cheerful man of 40, co-ordinated that small group of men who'd banded together to, quite literally, dig themselves a living. Sidou had brought his young wife, their several children, mother-in-law and various other members of the extended family from Mopti to live in a mud compound on the river bank. He spoke Bambara and a smattering of French and he christened me Jane-aba, giving me his own surname to make Jane-aba Jerré. It's a term of endearment that I'll never forget. The others were from Koulikouro. Their good friend was a fisherman, also called Sidou, who confided that he regularly spotted pert-breasted mermaids (his words, not mine...) in the river.
I quickly discovered that Malians are a gentle, charming, resilient people, who, as in the rest of this West African region (the same religious attitudes are found in Senegal, Guinea Bissau, Guinea and the Gambia), follow a devout but mystical version of Islam. For example, many Malians, when building a new home, ask a mason (widely seen as the community magicians) to cast a spell on the four corners of the building's foundations to protect its inhabitants and bring them wealth and happiness. I remember Sidou telling me that Malians don't like to fight or argue because in Mali everyone's considered family.
"And what's the point in arguing with your family?" Sidou said, memorably, over tea beneath the mango tree in the courtyard of his home as his children gathered giggling around us. A stranger is of course always invited into the home, welcomed with sweet tea and nourishment. The sand diggers also told me of the spells they use to protect themselves against the Niger's currents, wild animals and demons like the 'bafaro'. "It's a must," Sidou explained, "as there are lots of bad spirits in this river. During the rainy season this water gets deep and it's very dangerous. The spirits cast spells on you."
Malians are lyrical too, with a joyous musical tradition that pervades their culture. Most nights someone would bring out the drum, encouraging a sing-song. At a wedding in Koulikouro I recorded one of the most beautiful pieces of impromptu music I've ever heard. One day, a girl sang to me of the river and its importance to the community. She was dressed in a sunshine yellow, off-the-shoulder, two -piece dress tailored out of wax fabric. Like most West African women, she clearly took great pride in her appearance - and her shapely figure.
Even in 2011, there was a great danger of kidnapping by the Islamist rebels. Far from a new threat, A-QIM - the now well-known franchise of Al-Qaeda - had been operating for years in the northern Maghreb, a vast, empty slice of sand dune in north Mali, a no man's land roughly the size of Texas bordered, unpromisingly, by Algeria, Mauritania and Niger, next stop Libya. I'd heard that 4x4s regularly went missing here and, since 2009, numerous European nationals had disappeared. The man at the Foreign Office had told me not to go.
"I really wouldn't advise it Jane", he'd said, Judi Dench-like over a crackling line, and I'd imagined his red embassy telephone and the grey lines on his forehead creasing further at the thought of the annoying journalist launching herself into the Sahara. "I have to tell you that we wash our hands in this situation. I mean... if, er, anything happens."
I didn't travel to Timbuktu, as it was too risky and I felt too guilty about the Embassy man, but I did reach Djenné, the site of the biggest mud mosque in the world. Clinging to the inland River Niger Delta, 345 miles south of Timbuktu and the southern edge of the great Sahara desert, Djenné is entirely made of banco, or river mud, a twisting, crumbling jumble of earth houses, alleyways, staircases and dreaming spires.
Once again, it was a placid, spiritual place, where life played out in the shadow of the great mud mosque. The building is another subtle combination of the Islamic and the mystical - its rounded minarets point skyward, each one topped, playfully, with a pure white ostrich egg symbolising fertility. At sunrise every morning, the cart drivers would feed their horses as passengers climbed aboard decrepid old buses bound for Mopti, Gao and Timbuktu. Clusters of ragged kids clutching blackboards would gather for Koran school while nine year-old apprentices trod mud and rice husks into banco by the western wall and the master masons plastered it onto the mosque roof, dark figures against the white hot African sky.
In the afternoons as the same sky exploded with heat, everyone retreated to the shade while the children played until the day cooled and the square came alive with silhouettes. Women tied bundles of kindling wood and the kids played on strange chariots that littered the square. Cooking fires glowed red. There was laughter, drum rolls and music blaring from radios; the zoom of mopeds kicking up the dusk and the pad of donkeys' hooves. On Fridays, the worshippers would emerge like resplendent swarms of butterflies down the great mosque's steps, their sherbet-coloured robes glowing purple and pink in its shadow as the Imam's call to prayer rang out through the heat and the dust.
One afternoon, Djenné's head mason, Kum Baba, the man in charge of replastering the mosque every year, showed me how to plaster a wall using my hands, slapping the banco on and smoothing it out like a big mud pie. Then we squashed into a tiny, crumbling room at the top of his mud house, where a little TV perched on a pile of books buzzed in the background (Mr Baba enjoyed his Malian soap operas) and he regaled me with tales of being taught spells by his uncle in the dead of night.
I've followed Mali's crisis since last February, when the military coup and the consequent Tuareg rebellion first happened. It makes me fearful for those Malian friends now that such troubles have come. If Djenné falls under Shariah law, the radios and the soap operas will be banned. The Islamists have already destroyed similar ancient mosques in Timbuktu. The precious music that is Mali's soul is already prohibited in many towns and, depressingly, many women have taken to swapping their vibrant, shapely dresses for drab robes, for fear of punishment.
It makes me sad too, that West Africa's tranquil form of Islam is being tainted by extremists. That its mud mosques are being pointlessly destroyed and that a people who are, by nature, the very furthest from over-bearing in their beliefs should find themselves bullied by a group of people who commit crimes, rapes and atrocities in the name of religion. Poignantly, the Malians have been taking the Islamists into their homes. It would be against their nature to refuse shelter to a stranger.
Sidou and his plucky band of friends often come to mind; I wonder whether they are still managing to make a living now that Bamako is in a state of emergency and construction is dwindling; how they feel about the Islamists who are using their cherished religion as an excuse to destroy their country, their freedom and their hopes. I pray that their charms will be enough to ward off these new, all too real demons.