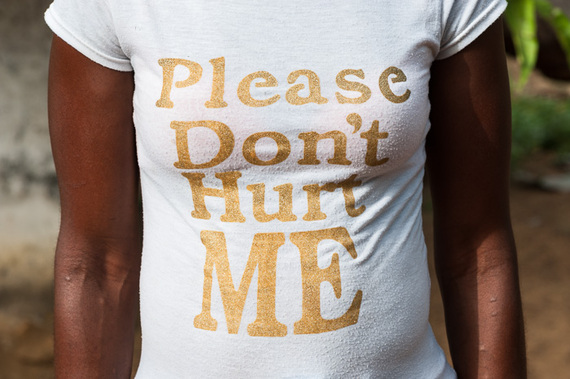 Silver, 30, was gang-raped in the war by four men who tied her up and left her pregnant. Now she is a sex worker to survive. Photo: ©PlanInternational/MarcSchlossman
IT'S a still hot afternoon as Blessing and I walk up the hill in Bomi County, Liberia.
'During the war I saw a man use a machete to slice a pregnant woman's belly open, see whether it was a boy or a girl.' Blessing stares ahead, chin lifted, a nerve in her cheek working. When she turns to look at me, her eyes are aflame. 'So yeah, I blame the war. No wonder things are like they are.'
Blessing* is 27, one of hundreds of young women and teenage girls from Bomi County who work as hopojos, or sex workers, to make a living. I'm here to make a film about them, but the minute we meet I know it's going to be one of those; the stories that get to you; the ones that leave you changed in a way that's inexplicable to anyone who wasn't there.
Blessing and the other women were children or teenagers during the war. Most were orphaned; most were raped or gang-raped; all of them missed out on school and have no education or skills to speak of. The generation of men who should be their husbands are so traumatised by what happened during those terrible years between 1999 and 2003, and so disempowered by the subsequent unemployment afflicting Liberia, that they no longer want responsibility, marriage or relationships. Instead they search for no-strings sex and leave the women to struggle along as single mothers. Rape is so common that billboards line the highway out to Bomi, Rape is Not a Family Matter, and people have taken to wearing wristbands with the same slogan. The word that constantly comes to mind is broken, society, at least for these women, is broken.
In post-war Liberia, suffering is of a less tangible kind than the atrocities that happened during the conflict. Having to sleep with strangers for money every night after being raped or gang-raped when you were a girl is a singularly horrific form of torture. Yet the older women are strong and articulate about their predicament and understand not only the reasons for where they are today, but how this could be resolved for their daughters - education, they say, and trade. Teach them skills and they could leave the street and start businesses. Their biggest fear is that their daughters will be like them.
On the first day of filming we gather in a zinc roofed hut, all 23 of us in a circle around the room. It's hot and close and beads of sweat break out on our foreheads. The women sit in silence, watching me anxiously as Marc (my colleague and co-director) sets up the camera. They range from teenagers of 14 to young women of 30, and for a split second I'm not sure where to start. I'm surprised at how many of them have come. But when I ask a question, the silence breaks. Their names are Kassa and Blessing, Carmen and Silver, Mary, Anna, Temba and Mamawa. They tell me about the rapists, street customers or absent boyfriends who got them pregnant and the reasons why they work as sex workers to feed and try to send their children to school. The room becomes hotter and their answers more terrible. 'My life is so miserable,' says Mamawa, 'but what's the point in crying, because who will come to help me?'.
They say that during the night, while they're with the men, they think of their children at home and the fact that if they don't get money, they won't eat. There's a palpable sense of emotion as the stories spill out and I get the impression that the women are desperate to confide what is happening. They are desperate for help. 'We are broken,' says Kassa, 'and we have no pride as women.' When I ask them whether love exists between men and women they murmur collectively and shake their heads. 'Love?' says Blessing. 'What is love now? You try to get into it and then it hurts you. Just leave it alone.'
The women make around 75 Liberian dollars (one US dollar) per customer, meaning they have to sleep with several men to pay for food and rent the next day. Kassa began sex work when she was ten. After the war, when she used to hide in derelict buildings to avoid being raped, she would go to school in the day and on the street at night. Now Mary, 15, does the same thing because her mother, another of this war generation, can't afford to provide for her. 'When I go into a room to sleep with a man, it makes me scared,' she trembles. 'I see myself as a child.' Only Blessing seems to throw a positive spin on what is happening. 'One thing I like about myself, yes, I'm doing it, but then my children are in school,' she shrugs.
When I get back to the hotel that night, I can't stop thinking about the women. Marc and I sit at the bar in silence for a while, our heads full as we watch the other guests drift in and out, diamond prospectors and missionaries from Kansas. The following day, I interview all the women one by one, not because we need all their stories, but because they are stories that need telling. Silver, 30, wears a t-shirt that says 'Don't Hurt Me' in gold letters. She was gang-raped in the war by four men who tied her up and left her pregnant. Her face is impassive when I ask how it makes her feel to go on the street and sleep with strangers. 'It doesn't make me feel fine, but what to do?'
Carmen is younger, just 20, and when she sits down she bursts into tears. Sobbing, she tells us that she was raped and left pregnant with a son. I put my arms around her, say that she doesn't have to finish the interview. 'No, please,' she pleads, shaking her head. 'I want to tell you.'
We speak to men too and one morning we bring them together, the men and the women, and mediate a discussion. They say they have never discussed these things together before, and it makes them feel better. ''Yes we are desensitised,' John, 31, who was a teenager when he watched his mother raped and killed, tells Blessing. 'I want to be able to support someone else, but I can't support myself. We have no way of making a living. At times I wish I could be a girl child too, just to go in the street and have sex for money.'
The worst thing is that at the end of the week we have to leave the women behind and go back to our lives. A kindly man called Alexander at Plan International has since brought the women together, with a view to forming a programme that combines skills training with a small business loan and group savings scheme. It will be part of Plan's overall Girl Power Project, which helps teenage girls and young women gain vocational skills so they can leave the streets and start businesses.
There have been many moments in the last couple of months when I've had to stop myself from ringing Blessing and the others. I've thought about texting them to check how they and how their kids are doing, although I know their phones probably won't receive an international call. I've thought about trying to get everyone I know to send them money. I've thought about going back and helping them. But I've stopped myself from doing any of these things, because none of them are long-term solutions.
All I can really do for them is to bring their stories to the world and try to make people care. Showing their film, and it is their film, at the Global Summit to End Sexual Violence in Conflict in London, chaired by William Hague and Angelina Jolie, is an important way to give them a voice, and show the world that just because a war ends, suffering doesn't. The echoes of conflict resound through generations, breaking people's futures, changing attitudes forever unless efforts are made to repair the deep pyschological and economic scars of violence and sexual violence. I hope with all my heart that Ms Jolie and Mr Hague will listen hard to the women's stories, and that they will act upon what they hear. As for me, I'm saving up that phone call for when the women's programme is set up and for when the film is shown. Then I'll have some good news to tell Blessing and the others.
The short film Daughters of War is being shown at the Public Summit Fringe for the Global Summit To End Sexual Violence In Conflict at Excel, London, between June 10 and June 13 in London. #TimeToAct #DaughtersOfWar
*All the women's names have been changed for their protection