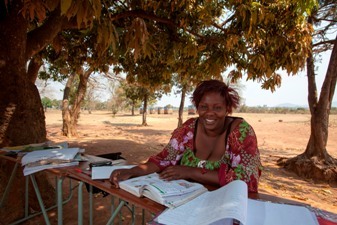 ZAMBIA, 8 January 2013: IT was in the middle of an east African afternoon, beneath a mango tree shaded from the hazy sun, that I met Gladys Phiri, 32, history teacher, single mother and, it soon became apparent, cheerfully outspoken feminist here in a country where, as elsewhere in Africa, the rules are dictated by men, for men.
Gladys (pictured) was marking Grade 6 books when I slid onto the bench beside her that lunchtime. The index of the text book offered different units: "Aids: The Destroyer" and "A Responsible Person", the pages showing pencil-drawn teenagers discussing early marriage and safe sex. There was something about her that twinkled intelligently; her glamorous resemblance to a young Aretha Franklin, another outspoken feminist if ever there was one, brought a dash of charisma to the playground that day, as a few boys kicked a football around and a clutch of curious girls peered out of the classroom windows at us.
Gladys patted the bench and began talking in rich, accented English, the kind of voice that hid a dormant laugh that might break free at any moment. Often it did, and she threw her head back with a rolling guffaw that caused her ample bosoms to rock gently, a woman, truly, of substance.
Gladys is that most unconventional of types in this small nation mostly known for its big five wildlife and blazing red landscapes shot through with violet bursts of Jacaranda trees. Divorced (uncommon in Zambia) and happily single (confounding her despairing mother), she successfully supports her small son with her full-time teaching job and is determined to inspire her girl students to concentrate on school and not boys. But her mission - to change deep-rooted village attitudes that dictate that girls should find a husband as quickly as possible - is not an easy one.
"You can become a doctor, a lawyer and have as many university degrees as you want, but if you're not married, you're nothing here," said Gladys, shaking her head ruefully at the absurdity of it all. "Unless you're married, you're still a nobody if you're a woman in Zambia."
For Zambian girls, as for many girls in the West, getting married is everything. Far from being a question of forced early marriage alone, in Zambia it's more complex, encompassing ingrained tradition, a sense of belonging and peer pressure that means girls themselves see marriage as the only successful future. Even career women are widely frowned upon unless they find a suitable match. The dating scene is, it seems, as difficult in Zambia as it is in thirty-something London, and Gladys quotes her formidable-sounding mother, who insists even now that Gladys' house is not a home until she finds a man.
"Even my mother's not proud of me because I'm not married!" she laughs. "A home here is only a home, and not a house, when you put a husband and children in it. Even men who aren't married are stigmatised."
As Gladys points out, teenage girls in rural communities, unless they hang out with a more enlightened bunch of mates, are considered peculiar if they want to go to school rather than marry. It's no far cry, after all, from girls in developed countries who want a white wedding and a handsome prince to put a ring on their finger. There's nothing wrong with such an aspiration - but most girls in developed countries make sure they get an education first.
Zambian teenagers are no different to rural teenagers across the world; curiosity, boredom and ignorance about sex means girls and boys start playing around early. The marriage dream is further exacerbated by age-old initiation ceremonies, important rites of passage which can encourage children to become sexually active members of their community and lead to them dropping out of school prematurely, considering it child's play. Confident with their newfound status, they no longer care for school, considering it child's play.
Mrs Spiwe Chulie, kindly, elderly, softly-spoken, placed her large black handbag on the table in front of her, revealing that she is a para-legal who volunteers for the international children's rights charity Plan International.
Mrs Chulie runs workshops to teach girls their rights as part of the Young Health Programme; a partnership between AstraZeneca, Johns Hopkins Bloomberg School of Public Health and Plan International. The global programme runs in 14 countries around the world, helping young people deal with health issues so they can improve their chances of living a better life.
Activities include rights workshops, drama group awareness sessions conveying sexual and reproductive health messages and education work with traditional initiators - educating communities about taking the sex education out of the initiation and encouraging families to delay the ceremony until girls are older.
Mrs Spiwe reminded me of Miss Marple, deceptively unobtrusive, her benign smile hiding a fierce intelligence. When she spoke it was straight to the point.
"The girls need to be educated - that's why we have these workshops to teach them their rights, which they don't know. When a boy wants them, they can't say no. They just become shy and go quiet. Then they're forced to do stuff with the boys, and then they become pregnant at the wrong age. They need to be taught about contraception and preventing pregnancy. The girls need to have a voice."
Later that day, beneath another mango tree in a nearby village where a drama group was acting out a cacophonous depiction of the dangers of HIV Aids, I met Catherine Banda, 48, a remarkable woman who has, by her own admission, undergone quite a transformation.
An initiator all her life, Catherine joined up last year to the Youth Health Programme. She now no longer includes sexual content in the initiation ceremonies she performs - and she is trying to get parents to keep their girls in school.
As she spoke about her new mission in life, Catherine's eyes lit up with passion and she nodded enthusiastically at my suggestion that she is a new feminist.
"I'm a completely changed person!" she exclaimed. "Now I'm spreading the message on how good it is to send girls to school. I've one daughter called Blessing who's 17 and in Grade 7, and I'm not going to allow her to have the initiation too early. Eventually, she'll have an initiation where she will be taught everything to do with marriage, when it's the right time - when she's ready. But for now, education is the absolute priority. I'd like her to be a nurse."
Convincing girls themselves that education and a career is a worthwhile prelude and accompaniment to marriage is the challenge in Zambia, rooted in education and a recognition of their rights. The extraordinary women I met are moving against the tide and girls are gradually getting the message.
At Gladys' school I met fou
r teenage mothers, all of whom became pregnant without realising the consequences of what they were doing. Now all four are back in school, their boyfriends and their families largely supportive of their quest for an education.
"There's a lot of teasing," admits one, Elizabeth, now 19 with a three year-old daughter. "Lots of people laugh at me that I have a child and I still go to school. But I don't care - I just get on with it!"
But, like any attitude change, it will take time.
Says Gladys: "Us women who are working, we talk to girls about the importance of school and I try to give them my own experience as an example. I'm a single mother and I'm working to support myself. I tell them that it's better to have an education and then in the future, if you find yourself as a single mother, you can take care of your future and your family, children and parents. Imagine if I wasn't married and I didn't have an education. I'd just be having a reckless life to feed my children. But look at me! I'm so happy the way I am."
As Aretha would say: Respect...