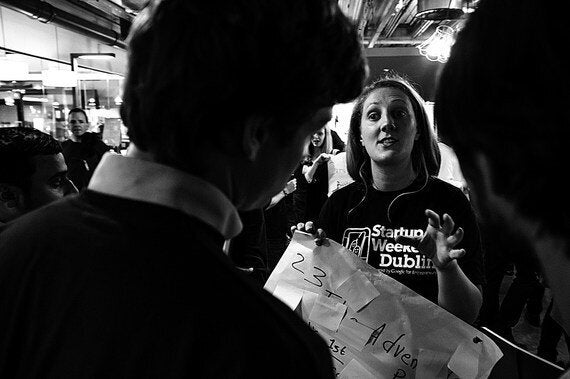 Last weekend I attended a Startup Weekend in Dublin, which is an opportunity for passionate leaders and entrepreneurs to come together to share ideas, form teams, and launch startups in just 54 hours. Here are 10 crucial things I learned over the weekend.
1. You must fight for your idea from the second you arrive.
From the minute you arrive at Startup weekend you should start telling people about your idea. At Startup weekend in Dublin over 100 people attended, 45 individuals pitched their idea and only 12 startups were chosen to work on over the weekend. You must fight for your idea from the get go!
2. A good team will make or break you.
Once my idea had been chosen, I had the daunting task to recruit the perfect team. I needed a designer, an app developer and some great business minds. It was seriously tough competing with all the other founders, trying to persuade the best minds to back your idea. Without a great team you will be unable to execute your idea so it really is a crucial part of the weekend.
3. Never be afraid to pivot your idea.
Just because you think you are on to a winner from the start doesn't mean you are going down the right path. Challenge the idea, break it down to its core and work out the problem you are solving. Be prepared to pivot your idea until you find the right solution. Then pivot it again. And again.
4. You will challenge your skill set.
It's equally daunting and exciting when you think about how much we all learned in such a short period of time. For the first time I got insights into app and website development, how to develop a minimum viable product and how to write an excellent business plan in two short days.
5. Everyone needs to think BIG. No, BIGGER than that.
Whatever your idea is, you're not thinking big enough. We had a great idea, and one that could certainly be profitable, but our challenge was working out how to scale this idea to a global level. Investors want big ideas that can change the world, not small ideas that will do relatively well in a small market.
6. Too many mentors is like too many cooks.
If you listened to the advice given to you by every mentor at startup weekend you would without doubt pull your hair out. Mentors are experienced entrepreneurs with valuable advice; however they all have different viewpoints and a vastly contrasting vision of the direction they would like to see you go. Listen to them and consider making small changes, but at the end of the day stick with your gut feeling.
7. You WILL get frustrated.
It's inevitable that will at some stage become extremely frustrated and stressed over the weekend. When you bring together a group of very opinionated, extremely confident and experience individuals, some of the brightest minds in the country, things are bound to go wrong. The key to startup success is how you and your team deal with this stress and overcome the problems your encounter.
8. The weekend is essentially one long networking event.
I found startup weekend to be one of the best networking events I have ever attended. Beyond your own team, you interact with so many other creative individuals from all walks of life. You meet investors, entrepreneurs, innovators, facilitators and editors. From the Friday to the Sunday, you should try and talk to every single attendee, mentor and judge; you never know who the next Bill Gates will be.
9. Your final pitch is everything.
No matter how much fun you have working on your product; your final pitch is the most important element of startup weekend. You need to convey your idea to a room full of 200 strangers and convince them to join your community or buy your product.
10. You can build a business in 54 hours.
As crazy as it sounds, Startup Weekend in Dublin taught me that it is indeed possible to build a business in 54 hours. You can think of an idea, initially validate that idea through pitching it to other potential entrepreneurs, build a great team, develop a business plan, further validate the idea through customer surveys, polls and interviews, create an app or a website and start signing up customers and accepting payments...all in one weekend.
So the next time someone says they wish they could start their own business but 'don't have enough time', I know where I'll be sending them!
Thanks to Tomasz from Day In Life for taking this great action shot of me pitching. Really captures the moment!