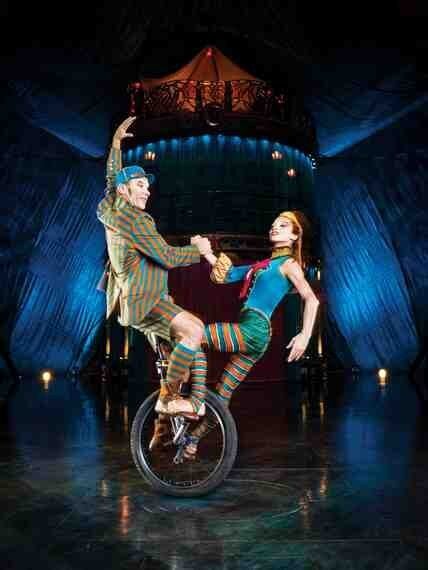 ALL PICS COURTESY- AKH COMMUNICATIONS.
The Cirque Du Soleil troupe do an annual residency each January in London, and this month its all about their KOOZA show - which is a return to the origins of Cirque du Soleil, combining the two circus traditions of acrobatics and clowning in spectacular style.
It tells the story of The Innocent; a melancholy loner in search of his place in the world, through contortionists, trapeze artists, the high wire and the breath-taking Romanesque gladiator soldiers on the 'Wheel of Death'. Accompanied by a live band and singers these are the facts you need to know.
1.IT'S A REAL CIRCUS, BUT MODERN.
A traditional circus is a company of performers that usually includes clowns, acrobats, trained animals, trapeze acts, musicians, hoops, tightrope walkers, jugglers, unicyclists and big stunts.
Cirque has all these but the vamped up, new world contemporary versions that are based solely on human skills. That means no animals. (Unless you count the giant man dressed as a dog). The jokes are a bit old and predictable but the talent makes up for those flat moments. I'd love them to tech it up a bit and have the flying trapeze artist wear a go-pro for the giant screen so that we could all experience her flight around the venue and feel nauseous.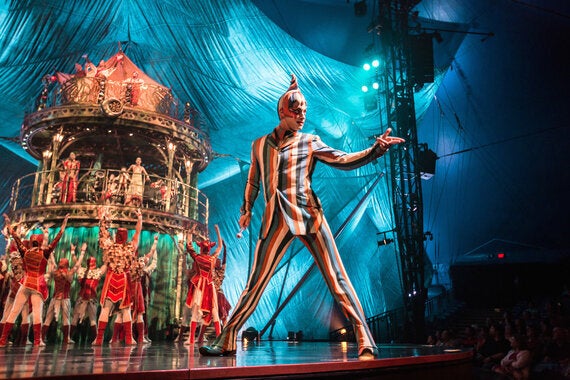 2.THE ROYAL ALBERT HALL IS A GREAT VENUE FOR A CIRCUS, BUT CIRQUE IS NOT A GREAT PERFORMANCE FOR THE ROYAL ALBERT HALL.
Even though the circus genre has always been in the round, this performance at RAH seems to have catered for only seats front and centre. When the clowns attempt to mime their storylines, its tough to follow when sat behind them whilst unable to see their facial expressions. Also, all the formation dancers, audience interaction and dance patterns are choreographed for a proscenium arch stage, not in the round. So yes, even though I was in a fancy grand tier box with all the trimmings of a waiter, food and champagne I still had a bad seat. #FirstWorldProblems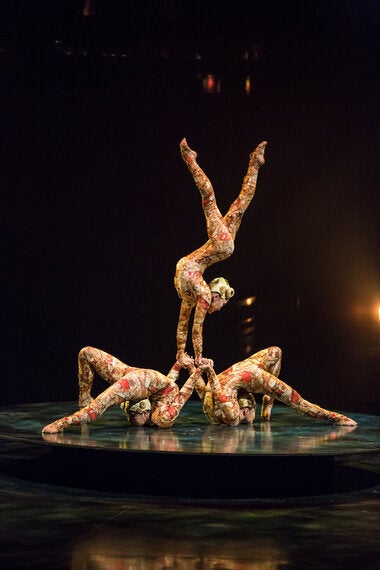 3. IF YOU'RE GOING TO SEE A CIRCUS SHOW, THIS IS THE ONE TO SEE.
Over 30 years old, Cirque Du Soleil s the largest theatrical producer in the world, with performers that hail from all across the globe. The shows employ approximately 4,000 people from over 40 countries and generates an estimated annual revenue exceeding £600million.
The Cirque Du Soleil site takes around eight days to construct and three days to pack up. Anywhere from 50-75 large tractor-trailer containers are necessary to transport the vast amount of equipment. Five generators are used to provide electricity to the site. So it's a very big pimping, bling bling standard of burlesque, cabaret, clowning and acrobatics, hence it has a big reputation as an International brand.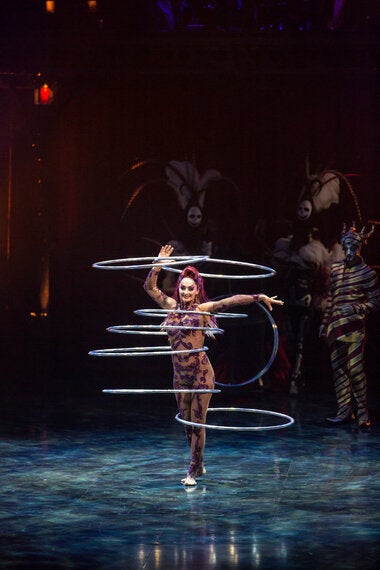 4.THE TEARS OF A CLOWN IS REAL THING, EVERYONE HATES ON THE CLOWNS.
You can't have a circus without a clown, but ever since I can remember, clowns have had a rough ride. From having to load their faces up with tonnes of white paint and screw their hair up, to wearing shoes that don't fit, and their job title being a phrase that we now use as an insult. A clown is meant to be a comic performer who uses slapstick and mime to generate laughter but alas at KOOZA the audience used their clowns entrance cue to visit the bathrooms.
In my lifetime clowns have mostly made toddlers cry, generated fear in adults, and in this show are reduced to keeping us distracted whilst the rest of the cast prepare the stage for the next set, for the performers that will make us gasp, point and clutch our hands to our faces. Whilst the opening act of trampolining clowns being flipped into the air sets the scene well, the continuous slapstick and gurning can get a bit tiresome. Clownphobia sucks.
Everyone used to love clowns; they made people laugh smile and mesmerised us, now they are the scourges of the circus word. In this ever fast paced society we want the big stunts and need to gasp with our hearts racing before we will confess to being entertained. Are you not entertained asked Maximus Decimus Meridius and Jay Z.. No, not when the clowns are on we're not.
5.THE SHOW IS BURSTING WITH FIT, LITHE BODIES THAT WILL MAKE YOU LUST AND FEEL BUSTED.
Turning up in London in January straight after Christmas whilst the rest of us have stuffed our faces and turned into Sherman Klump and Big Mama is just cruel and frankly, offensive.
The perfectly shaped, gymnastic bodies of the contortionist trio, in skin clutching lycra catsuits, have to be seen to be believed, as they bent and twisted themselves into all kinds of knots and human balancing pyramids. It made my ashtanga and bikram class poses look lame.
The strength of the elegant unicyclist, unperturbed by a young woman standing unaided on his head is not something I see daily in my 9-5 so pretty damn impressive.
If you like parkour free running and BMX stunt ariel displays, then you'll love the originators. A quartet of high-wire performers skips, and then cycles, along wires of different heights with no safety net. We squinted our eyes to try and make out any fake trickery but it was all for real. For real.
The Wheel of Death was without question the most impressive act of the show, and something I can guarantee most people will have never seen before. Two giant hamster wheels are held at the end of a turning bar. Two men walk, run, flip and more inside the separate wheels, and they make the whole device circle. Like human hamsters in giant wheels. Then they run on the outside, keeping their balance on a spinning wheel that is itself swung through space at break-neck speed. At one point they began SKIPPING on the top of the revolving wheel that's spinning at and one guy stumbled and caught himself. I'm still cynical as to whether this was intentional to make the whole venue gasp simultaneously at the death defying risk. This set was like the James Bond opening sequence of free running from Casino Royale.
The running order should have been spread better. Part one feels a lil bland and flat, but persevere as part two is worth it! In fact, part one is so different that part two could've been a totally different company onstage.
Only go if you have center seats, as much of the show depends on you being able to see the action from the front ,and the side angle view misses crucial moments.
A month and a half is a long time for the same intensely physical how to be at the same venue. I went half way through the run and the cast and audience felt lethargic. Go with loads of family and friends and make a lot of noise, get involved. The cast can only give back energy that they feel from their audience and vica-versa.
7. TALENT LIKE THIS IS TRULY UNIQUE AND SHOULD BE VALUED AND RESPECTED MORE THAN YOUR AVERAGE.
Its well known in the arts and creative industries that it takes either 10 years of heavy graft or 10,000 hours of intense training to 'make it' in any field. Clearly once you've made it as a music star or film star, you need to keep your ''instrument'' tuned but you can probably fall into old die-hard habits that come naturally. These performers cannot take their eye off the ball for a nano-second, or they are literally, dead.
If a singer has a lapse onstage and forgets their song lyrics, they pull out the age-old tried and tested hold mic out to audience to sing-along. Lose concentration as a part of Cirque Du Soleil or miss a timing cue, and it's a broken neck or cracked skull before bedtime.
The cast's A GAME and focus has to be respected. Congratulations to all the magnificent performers, they all deserve awards. But as you and I know, they are just faceless talent. The star is Cirque.
Cirque du Soleil is performing KOOZA at Royal Albert Hall until February 19th.
Related