I've known Clifford Joseph Price, aka Goldie, since the eighties, when one of my best friends used to date him. It was around the time that he was selling gold teeth in the UK and USA, and generally hustling hard.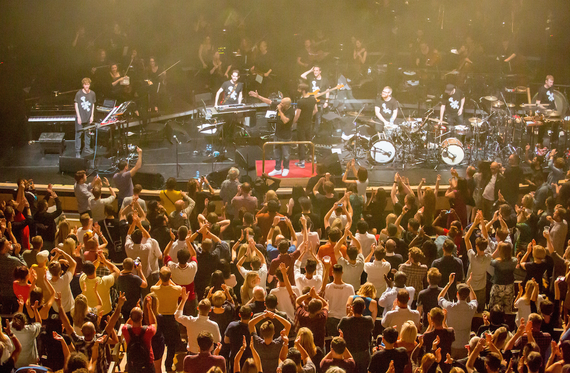 ALL PHOTOS COPYRIGHT : Chelone Wolf.
He was always the lovable scallywag. Flitting from the UK to the USA, dabbling in a plethora of pop culture arts like breakdancing (when he had a head full of ''goldielocks'') and graffiti, dj'ing, making music and more questionable tomfoolery.
He's always had a healthy interest and submersed himself into it all, from holding an exhibition of his own painted artwork a few years ago to dating bad ass women with attitude like Bjork, acting in Guy Ritchie's Snatch, Eastenders and even playing a baddie in a James Bond movie! The change I've witnessed in him across three decades has been panoramic and inspiring.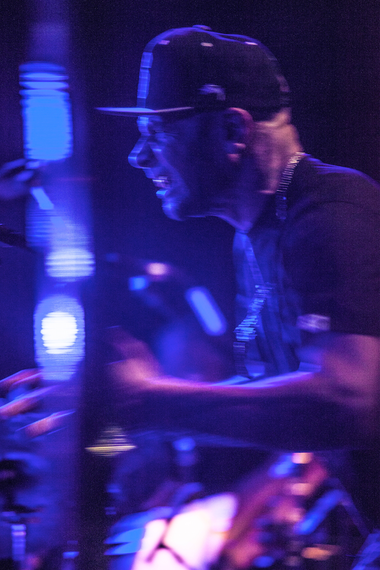 ALL PHOTOS COPYRIGHT : Chelone Wolf.
This week at London's Royal Festival Hall, the drum and bass icon's seminal album Timeless, was performed live by the Heritage Orchestra. On arrival outside the RFH all you could see was a sea of middle aged, trainer-clad, old-skool jungle ravers, all excited about the night. The original eighties children that were a part of the generation that grew up to pop, rock, indie, dance, hip-hop, R&B, dub step, jungle and more.
Years ago it was the Blue Note Club that jungle music fans packed, tonight it was the revered Royal Festival Hall, usually a place for more sedate, demur audiences. I am certain this building had never seen thousands of middle aged ravers, jumping around for two solid hours in the stalls, circle, aisles and Royal Boxes in this crazed manner.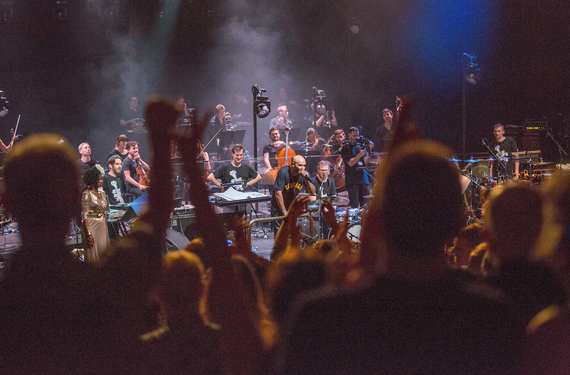 ALL PHOTOS COPYRIGHT : Chelone Wolf.
The hall was packed with an audience who were cheering and screaming from the start of the first notes of the album, played by the orchestra. There were line-ups of singers, strings, horns and percussion onstage and the atmosphere was electric with anticipation.
There was a nice slow build up with smooth strings for Sea Of Tears, before the drummer (Adam Betts), manically burst into drum and bass beats, which he continued to beat like a man possessed for the next two hours!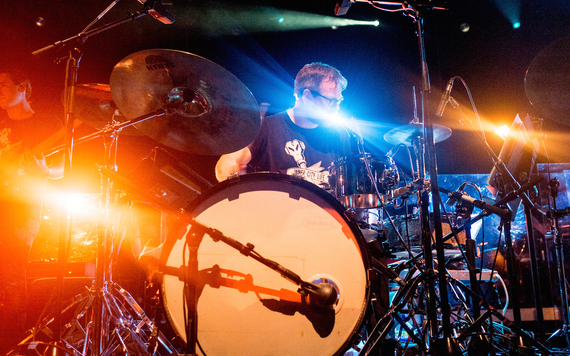 ALL PHOTOS COPYRIGHT : Chelone Wolf.
Actually, the drummer astounded us. If you imagine a whole album made up of drumming, even with this 50-piece orchestra it was this lone, sweat-soaked drummer that was punching well above his weight.
Goldie spoke to us a couple of tracks into the set ''two decades ago I wanted to create something timeless, All my experiences were put into this project. I had a misspent youth so with this new project I put all of that into something new... We are a family, UK culture, UK jungle music (mass screams and cheers), We were on the cusp of the analogue and digital change which is all being celebrated now.... Now it's the rebirth for me from flat sheet music to 3D music orchestra! ...An old man in New York once said to me ''don't wish too hard kid, it might come true' and it has!''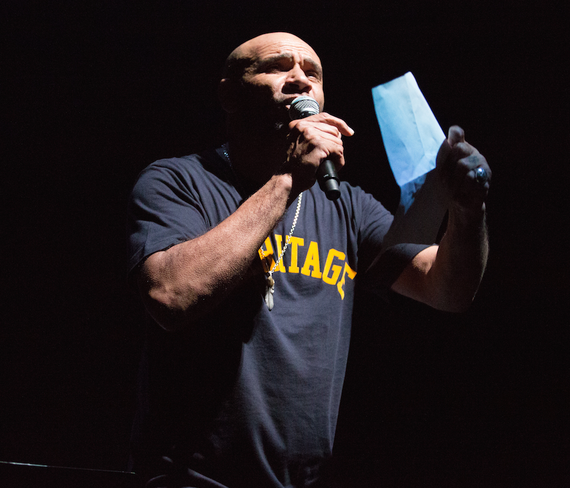 It was all fascinating art in motion. The laser lights were choreographed to dance with the music, and the audience was bouncing as the lasers swam across them.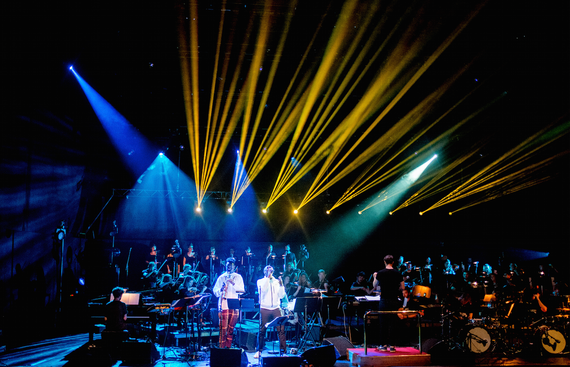 ALL PHOTOS COPYRIGHT : Chelone Wolf.
As Pied Piper Goldie led the dance like a mad music scientist passing by audience members and musicians, they'd all whip into an even more intense frenzy! What an incredible feeling to see and hear the work that you made two decades ago, resurrected like a great phoenix from the flames, in front of its original fan base!
Afterwards I caught up with Goldie backstage, where he told me the concept of these 20-year anniversary shows and how it all came about logistically.
Goldie; Knowing how far ahead the concept of the music and album was, I always wanted this project to be seen in this light, so the concept was always there- I want to stretch the boundaries of what you can do with drum n bass, so we move the music forward, creatively not commercially. The logistics are really a lot of back n forth with the Heritage orchestra in coming up with the tracks in notated and playable form.
Jasmine - What sparked your passion for orchestras in recent years?
Goldie; I've always been a fan of classical music and I really like a challenge so when I see a new area to expand into I go head first into it
Jasmine - Jules Buckley's a bit of a classics star himself. Tell me about working with him.
Goldie; He is a genius to work with, as is Chris Wheeler, the fact that they can interpret the music which is so dense takes a lot- the project would not have happened without them.
Jasmine - How much more can you milk your art from two decades ago?
Goldie; Well, the live project is a completely new interpretation of the album. So we're showing it in a new light, we're expanding it. In the back of my mind I always knew it could be played in this way but technology and belief needed to catch up with the concept.
Jasmine - Talk about that fan base that was dancing in frenzy. What kind of feedback have you had from them?
Goldie; It's been overwhelming, the replies via social media and everyone coming up to me at the shows has been amazing. I don't think the Southbank has seen reaction within its walls like that before. The emotion and the power of the sound really caught people. It was great to see.
Jasmine - How has the character Goldie changed from his place in the world from 20 years ago?
Goldie; I'm a lot more focused and I have a better understanding of myself. I'm still fighting for what I believe in but I'm also much more intelligent about how I go about this fight to achieve the best results. The love of my family coupled with Bikram yoga has lead to an inner calm that has created this focus, the life of an artist will always be a troubled one but there are things you can do to make your passage slightly smoother.
Being put up for adoption and being raised in a variety of childcare homes and foster parents hasn't held this over achiever back.
He cites his own biggest achievement in life so far as
'' Being voted by the public into the Top 60 of the 'New Elizabethans'; the most influential leading figures in HM Queen Elizabeth II's reign, with people including David Attenborough, Margaret Thatcher and Sir Edmund Hillary. Also, my degrees and honours; an honorary degree with Brunel University; a Doctor of Social Sciences at Brunel, West London / a Doctor of Design Degree from the University of Wolverhampton as well as being a professor at Thames Valley University!''.
By all accounts, tonight's iconic performance of urban meets classical music is just another string to Goldie's very overflowing bow.
Popular in the Community