December 11th see's the release of the latest film by director Mo Ali titled Montana. I was lucky enough to attend the gala screening this past week.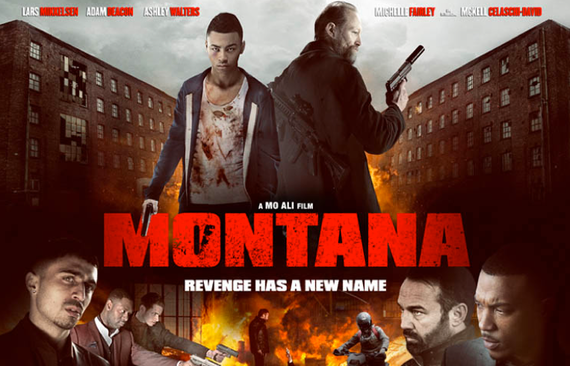 The movie is based 'In the mean streets of London's East End', where a former Serbian commando and a fourteen-year old boy plot revenge against a powerful crime lord and his ruthless lieutenants. As our heroes prepare to take on their enemies, the boy is mentored in the dark arts of assassination and learns the true meaning of friendship, honour and respect.
Shooting on Montana lasted for six weeks taking in locations all over London. Director Mo Ali confided in me '' we worked in the noisiest, coldest, sootiest places in London, Hackney, Poplar, Brick Lane, White Chapel and a sugar mill in Greenwich. But we had to shoot them at night-time, so for two weeks we would shoot 24 hours a day with two different crews, with different actors. The weather was freezing for the entire shoot, being one of the worst winters in memory. The grit and the grime that colours the film is genuine''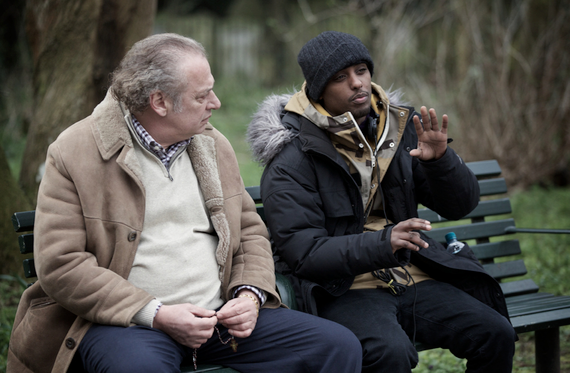 Director Mo Ali (Right) on the set of Montana.
(ALL MONTANA SET SHOTS - COURTESY GARETH ROBERTS)
The film reminds me of early Guy Ritchie movies Snatch and Lock Stock with its action, thriller and cockney attitude- but for today's generation, with todays pop culture influences and slanguage.
Due to the fact that its directed by a black man and features a few well known BAME actors, no doubt this will be tagged an ''urban'' film, but honestly, it sits in the genre of great grimy British movie too. Director Mo Ali isn't phased by the urban label though '' the Urban film brand, the word doesn't bother me, the older generation sees it as negative, young kids love it, so I embrace it whatever''.
Co-lead man McKell David is a very impressive young fourteen-year old, who plays the part of Montana.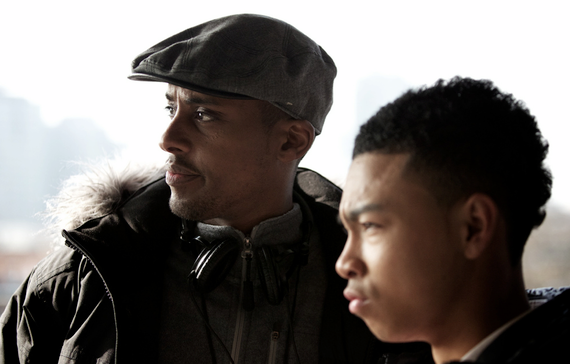 A 15 YEAR OLD MCKELL DAVID ON SET WITH DIRECTOR MO ALI.
I recall meeting director Mo Ali many years ago when he was a music video director for urban music acts.
He smiles with the relief of someone's that put in the graft and paid their dues '' I look at my progression from TV runner to music videos to feature films, I'm happy and hungry, nothing holds me back, I'm not afraid to try anything new''.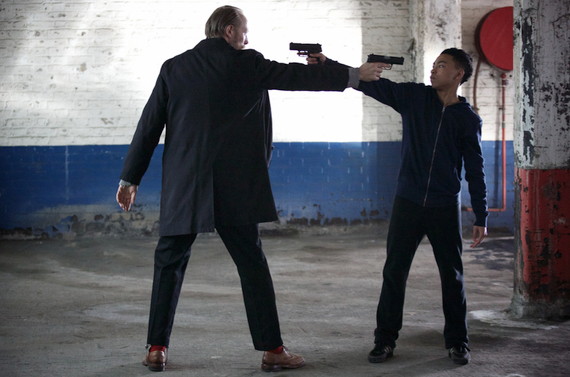 LEAD MEN, LARS AND MCKELL SQUARE UP.
And this is new. Yes, the film does reference back to age themes of old crime lords, drug dealers, youth and hints of romance, but what makes it really topical and relevant to today is its acknowledgment of the eastern European influence the country now has, as well as British black stars that all hail from the capital.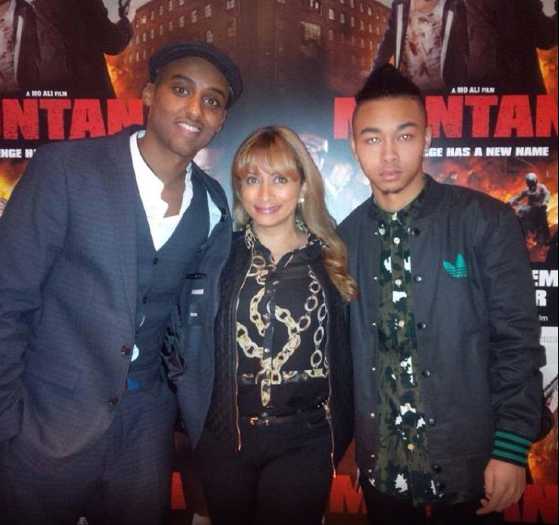 JASMINE WITH DIRECTOR MO ALI AND ACTOR MCKELL DAVID AT THE GALA SCREENING OF MONTANA.
As a youngster growing up in poplar, east London, Mo was a huge film fan that daydreamed about being an action superhero, and describes Montana as homage to Luc Besson's iconic LEON as well as giving a nod to films such as Karate Kid.
This nod to his favourite movies is apparent as Montana has moments of Karate Kid, Gladiator and Kidulthood - all made by directors that he himself greatly admires.
Not only was Mo brought up in East London, but also passion for his roots run deeper than simply immortalising it on the big screen in his movie ''I grew up in Poplar; the opening scene is exactly where I grew up. That opening walk that Montana does is me as a kid. I used to hang out on that balcony and daydream about my future life'.
Mo tells me ''as the film is so stunt heavy, we set up a four-week boot camp for McKell and Lars. When we came to shoot, the majority of the stunts were performed by McKell and Lars''.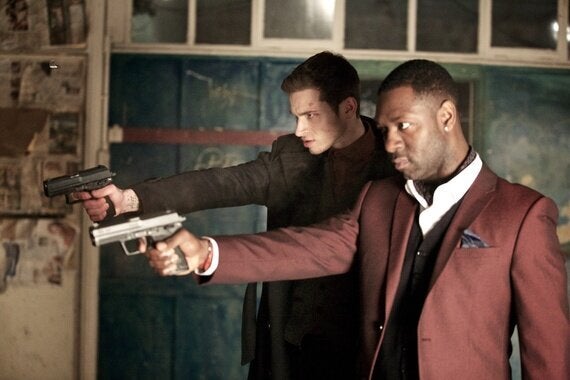 Mo explained to me, that in order to show the learning and support between the trained assassin and the trainee, all the moves were first taught to Lars, who then taught his young charge McKell AKA Montana.
A thrilling and gritty revenge tale, MONTANA also stars multi-faceted Ashley Walters, Michelle Fairly and Adam Deacon.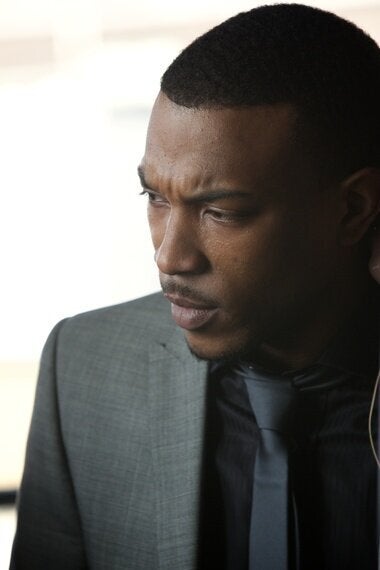 ASHLEY WALTERS IN MONTANA.
Seeing young McKell in action is quite something. Mo reveals ''I auditioned hundreds of young actors, but from the first time I met McKell David, I knew I'd found my Montana. ''Our casting director was incredible and scoured London's streets for hundreds of young boys. This kid with a Mohican walked in, very calm and controlled, I thought this kid looks great, I hope he can talk well too, he could! 'Certain people told me a kid with a Mohican wouldn't work. But I was determined that I wanted a black or mixed race kid to prove anyone can be a hero''.
Mckell David is indeed a powerful co lead and delivers a powerful and explosive performance well beyond his years. Mckell's clearly a born go-getter. Hard working and determined, at the age of just twelve he began broadcasting a hidden camera comedy show via his own You Tube channel, where he pranked members of the public.
With Montana, McKell tells me..' it was really exciting for me to get this so early in my career. I was 15 when I did this, I had been on film sets before but nothing this big, this also gave me an opportunity to showcase what I could do as It was a really physical project. I wanted this role really badly. ''.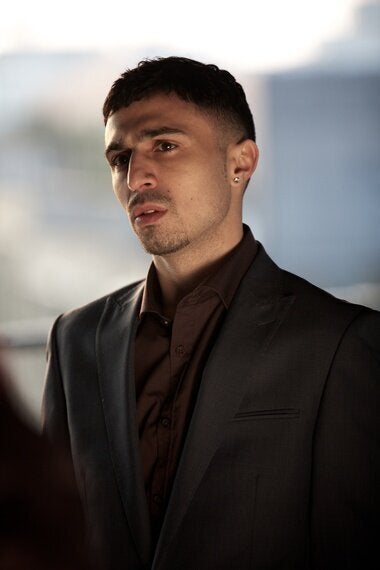 Mo reached out personally to Adam Deacon and Ashley Walters, both of whom he'd worked with before, and they both loved the script. Mo acknowledges ''both deliver what I want on set. To get them is a privilege. Its good to have a part in keeping our cultural icons out there on screen. To get Adam in the zone, I would whisper ''Joe Pesci'' in Adams ear. As long as he had a stack of red bull and Joe Pesci whispered in his ear he was good. He was buzzing from doing the fight sequence!''. And Ashley is a laugh a minute, we had a scene where we were shooting a chasing sequence in a East London cemetery at 4am and Ashley's got them all singing R&B songs to stay warm!''.
I bring Mo and McKell back to the subject of being pigeon-holed by labels like urban and diversity in the film industry. Mo explains it thus ''they'' only want us to do estate films, ''they'' know who they are. Even British director Ridley Scott recently said that his biblical film Exodus wouldn't be financed if the lead actor were called 'Mohammad so-and-so'. This film is a testament of not giving up. This will make kids from estates think if Mo Ali can do an action film so can I. To me it's a father and son story with action, we don't have father and mentor relationships anymore in the western world, we're missing that, so that's what Montana's about''
New about-to-blow star in the making McKell has the last word;
'There's so much competition out there; if you want it really badly the law of attraction will make it happen. In life you've got to breakdown barriers, the barriers like defining words like urban are here to stay. One of the new leads of Star Wars is a young black man from the UK. We're all doing things!''
Montana is in selected cinemas across the UK from December 11.
Related