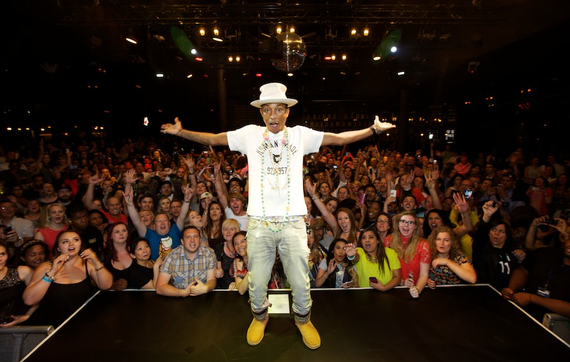 Pharrell Williams at his London gig at Brooklyn Bowl this week.
ALL PHARRELL SHOW PICS Copyright Paul Hampartsoumian 2014.
Pharrell Williams's continued his global takeover expresses this week hitting London for his VIP exclusive access only music show.
I was lucky enough to watch the sound check before the show where Pharrell joked and bantered with his crew and band that clearly have a lot of love and respect for the paymaster.
He was joined by an all male band and all female set of dancers (one representing every flavour). He performed a long set of his best-known hits. The medley just went on and on and on proving just how much of a Midas touch this man has had for the past two decades.
At one point he and his NERD/ Star Trak production outfit were responsible for over 90% of hits in the UK and American charts and now he goes from the man behind the scenes to the main star frontman.
His Oprah appearance recently proved he's a sensitive soul that just can't believe how his hit song ''Happy'' has had humanity globally dancing and making their own versions of his video dancing down a street.
Its now the most played track at any celebration from weddings, birthdays, christenings and any life flagship date and will no doubt be Pharrell's version of Mariah Carey's'' All I want for Christmas''. It's the song that will keep giving both us )in happiness) and him (financially) for decades to come.
Halfway through his show he stopped just once to speak to the crowd, telling us how much he champions equality for females, and he acknowledges that often he has made ropey choices about songs he's involved in, but should there be any doubt, he is for female empowerment and will continue to do all that he can to push it!.
At his Brooklyn Bowl gig the fans were treated to a totally free evening of fancy nibbles like mini burgers, chicken skewers and pizza bites as well as all drinks on tap. A priceless night!
Brooklyn bowl must get a special shout out. London's newest bowling, partying and music venue is sexy and plush as hell with an incredible visual, laser tech line up of equipment as well as unbelievable sound acoustics for live performers.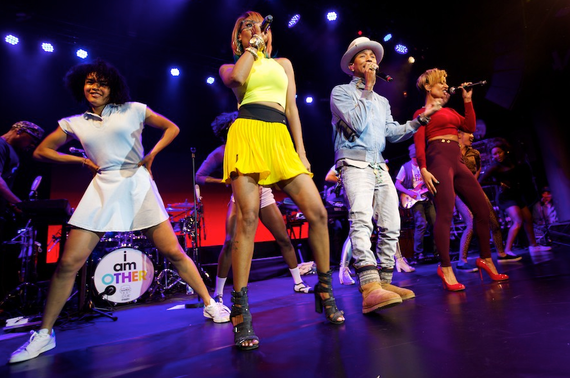 Pharrel's set list looked something like this, as I recall when I wasn't dancing and screaming manically.
Skateboard P was looking as fly as ever with another hat, beaded jewellery accessorised, Adidas jeans look but I was most mortified that he was rocking Uggs! Yes, yes, I know Uggs were originally made for men in Australia but we're not in Australia and this is the coolest man on earth!
My other half has been rocking them for years and now Pharrells co-signed it I cant force him to take them off at the door before we leave home anymore. Sheesh. The girls will continue to laugh at me.
--------------------------------------------------------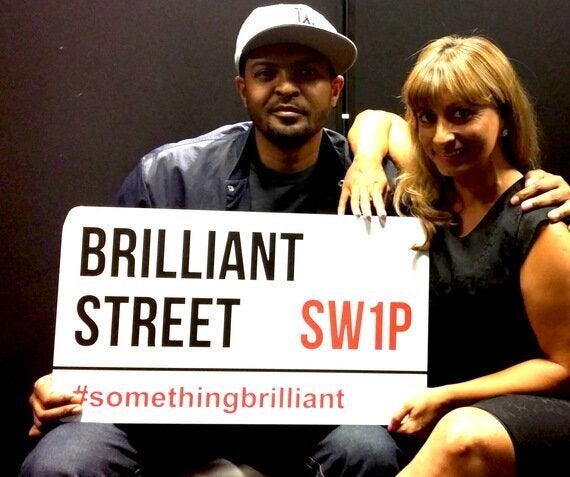 Jasmine with actor, director,writer Noel Clarke.
NOEL CLARKE popped into the LONDON360 studios to meet the latest team of young reporters and share his personal life stories thoughts and anecdotes with them. Noel is one of London360's ambassadors alongside Alesha Dixon (Britain's Got Talent), Jon Snow (Channel 4 News) and Eddie Nestor (BBC Radio London). The reporters grilled him both on and off camera and Noel left them with various standout thoughts such as;
"Cos of the moves people like me & Idris are making, some young black man may b James Bond in the future! We're laying important foundations"
"The more it scares you, the better it is. Don't ever pass up an opportunity that comes your way. You'll always regret it"
"If u don't like a film I've made its water off a ducks back. We don't all like everything. If your not listening u missed the message"
"I was once offered £1200 a week to join Family affairs. I was a broke gym instructor but refused it cos I had self belief that it wasn't me"
"Hard work and dedication will always beat talent in the long run. Get somewhere early, over prepare, don't burn bridges"
"The single most important thing I've learnt in life is to adapt. Conversate in an office yet be real w/your friends- Adapt 4 the situation"
"My Brilliant moment would be having both my son's. U can't imagine how it changes your life. Cutting the cord. It changes your mentality"
"My Brilliant Moments are diverse. I mentor young people & I want to see them grow in the industry. I appreciate those that came before me"
"As a kid I worked very hard and learnt skills on the job, I never set out to make inspirational content, its just stories I have in me"
"I'm not trying to be a role model for others. Getting the BAFTA and OLIVER AWARD may inspire others and if so good"
"If my career stopped tmrw I dunno what I would do, acting, directing, screen writing is what I DO-i am always the change I wanna see!"
"I get tweets daily from people asking for advice-my advice to all is go and make it happen. Whilst you're tweeting others are doing it"
"U drive yourself mad if u worry about who likes u. U have to jump through hoops in the UK whereas in the USA they just see my credentials"
"winning the Lawrence Olivier award was nice and I respect the brand but I don't kiss it nightly -i just get on with my work"
"It was important for me to put 4 women and women of colour in my movie 4321"
------------------------------------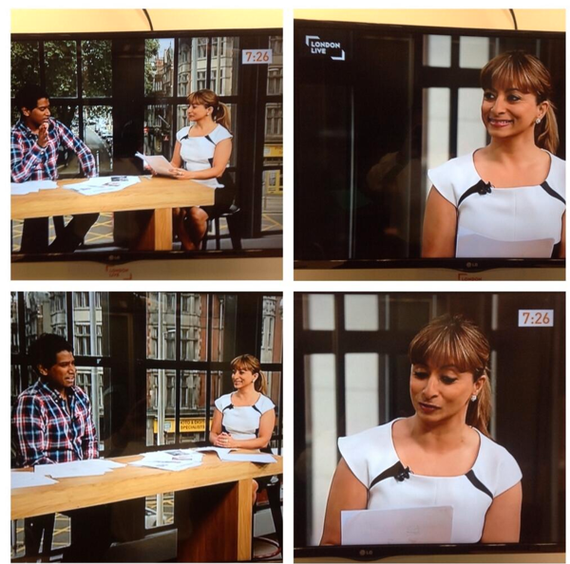 Jasmine on London Live's breakfast show each Friday.
I finished the week as usual with my Friday breakfast slot on London's best breakfast show -WAKE UP LONDON with my Daily Grind slot where we talked all things Jean Claude Junker-the al;eged 24-hour drinking, smoking president-in-waiting of Europe.
We also touched on benefits and public services affecting the middle classes detrimentally (get rid of the Waitrose shop, home coffee machine, organic yoga and bikram classes now!).
We voted on this weekends annual BET Awards out in L.A where 6 of our black London music stars are nominated!. (Style icon of UK music-Tinie Tempah, king of grime for over a decade Dizzee Rascal, the man who always keeps it realer than real- Ghetts, MOBO stars and last years most buzz worthy act- Krept & Konan, the most unique vocal style we've heard in years- Laura Mvula and Roc Nation princess Rita Ora!)
Finally....why TV hosts could all be unemployed soon due to robotic news presenters being piloted out in Japan on TV. Until they can ad lib like me there's no competition LOL!
Popular in the Community