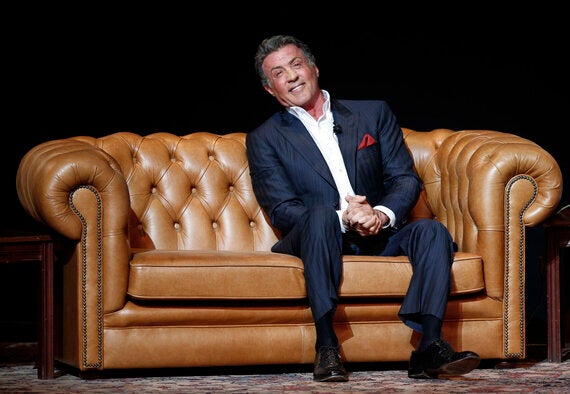 Photo - Jonathan Brady/PA
If you're an eighties child then action hero's like Sly Stallone, Arnie and Bruce Willis were who shaped your former big screen years. They epitomized the American dream, Hollywood alpha males and the dream buff body.
Like most stars of their generation they still hold a mystique. They're not publicly available and never have been. Can you imagine these A List Gods on twitter putting up selfies? They're untouchable, mysterious and iconic. So when I was invited to spend ''An evening with Sylvester Stallone'' live on stage at the London Palladium, I was transported back to the wild kid, excitedly shadow-boxing the family in uncontrollable delirium after watching Rocky on telly.
Our host and guide through Mr. Stallone's chat for the night, was our own Brit legend and encyclopedia on all things showbiz and movies, Mr. Jonathan Ross. He brought out a humble, adorable side of a living legend that no one was expecting. After all that's what Sylvester is. He's gone from being the meathead action hero, to one of the last truly A list actors that still invoke an intake of breath on sight.
Sylvester is more than just a Hollywood star. He's a writer, producer and director of almost 90 movies and the only actor in history to open a Number One film across five decades. He's had long career, from the breakthrough Rocky to his latest blockbuster movie franchise, The Expendables. His impending arrival had the whole street in central London buzzing.
The palladium was sold out, buzzing with excitement, full of movie buffs, boxing fans and a scatter of celebrities that included Boy George all spilling out into the street. A mix of suited black tie wearing VIPs and your regular Joe Smho in jeans and hoodie mingled with the ladies who as expected were all dressed to the nines.
When Jonathan Ross introduced Sylvester to the stage, they actually cut to a live camera that was following him from his dressing room to the stage, like his boxer character in Rocky making his way to the ring to the Rocky theme (or was that in my head?). This proceeded to make us ecstatically wild and I found myself caught up listening to a female shrieking and screaming along with the rest of the audience. The female was I.
He stepped onstage in a sharp crisp shirt, red hanky in his suit blazer pocket and an extremely sharp well cut perfectly fitted suit. He was yacht tanned and looked strong and well for his 67 years. Jonathan on the other hand, over a decade younger, rocked a midnight blue velvet blazer and bright blue socks and as much as I love him did look unfit, pasty and paunchy alongside Sly.
Jonathan guided him gently, treading carefully through the story of his acting life and Sylvester spoke humbly and movingly about his meager start. It was unbelievable that this guy once lived in a hellhole of poverty before making the big time and his recounting of his experience with fame was inspirational. From the now legendary story of how he was so poor he had to sell his dog (which he then bought back for thousands after getting work), and his inner conflict of taking more serious roles as an actor as opposed to the ones that made him famous, he was mesmerizing to watch and listen to.
Sylvester reminisced about his early acting days and how much he sucked
"I tried for a school play called (Sweeney) Todd goes West. I was horrible. My mouth was crooked I had slurred speech. (He suffered nerve damage when he was born, hence the speech problems you hear), I was told not to bother with acting"
Sylvester had the audience roaring with laughter as he reminisced on how badly he reacted to his early fame
''the success affected me. I was horrible. I was an authority on everything. If I could go back I would have punched myself in the face. I was bad!''
His confidence made him write the sequel. ''I wrote Rocky 2. Everyone on the crew hated my script so bad they all quit. They wanted him to party in the Playboy Mansion and finally die. I saw him as going on and on. It was a very different early beginning to the film brand that made my name. The original Adrian was a totally different woman, Mickey was a racist and a lot of other differences''.
Sylvester blames filming Rambo for his perma-tan.
''Rambo 3 is the reason; I was so burnt out in the hot sun shooting all day. That's why I'm permanently red. I'm burnt for life. I loved that movie. It wasn't just violence- I showed real atrocities from wars around the world too''.
We were all roaring with laughter again as he recalled meeting John Travolta shooting the dance classic 'Staying alive'. ''John was trying to eat well. I'd place a plate of fudge on the table. Very soon the fudge was gone. John was dancing and at one point complaining about chaffing. I laughed at him incredulous "You're chaffing?! In Rocky we were stitching ourselves up in between shoots!"
Jonathon asked Sly to talk about his movie adversaries ''with my enemies I have to make them twice as creative and as aggressive as Rocky''. (Jonathon pushed on real life adversaries) "I'm not gonna mention Steven Seagal....the guys that do the same movie where they knock everyone out". LOL great to know even at his great stage in his career he recalls the competitive beef and throws shade when needed!
He continued ''with me Bruce and Arnold. We all had our own different way of doing it. Arnold and me hated each other in a good way. He's a worthy adversary. We've spoken and we both agree that its sensational to have a worthy opponent''.
His latest most ambitious project, the action thriller The Expendables, which he wrote, directed and starred in, see's him hire an all star action cast including Jason Statham, Mickey Rourke, Jet Li, Eric Roberts, Dolph Lungren and Steve Austin - as well as Bruce Willis and Arnold Schwarzenegger. Sly revealed that of all the actors he's brought together it's our very own Brit Jason Statham that's his fave. ''When he smiles and jokes around he's great. He might really make it in this business lol!''.
In the audience Q&A session Teresa from Cheshire asked an average question. If there were "any actors you still want to work with?" Answer; Sean Penn.
Typically eye-rolling question came from Louise from Swansea. "I'm a lady of a certain age and weight. I can't lose weight. Would you do a fitness DVD? That would inspire me? Sly looked speechless and confused before stuttering ''I tried it once, I did a book called "sly moves", it bombed!''
An evening with Stallone was less than two hours long bit the audience could have listened to him for hours. We were captivated, enlightened and entertained.
The mans legend rolls along strongly. On January 24, he will be seen starring in Grudge Match co-starring with his new best pal Robert DeNiro. "It was great working with Bobby" we laugh a lot together". I told him 'I thought you were crap at that scene. I didn't really believe you". He replied, "I thought you sucked too"
In March, 2014, Rocky the Musical will open at The Winter Garden on Broadway. The musical is based on the original film written by Stallone with music by Stephen Flaherty and Lyrics by Lynn Ahrens (Ragtime).
To end the evening, the London Palladium inducted him live on stage into their newly created Palladium Hall of Fame - a room with panel of photos celebrating the greatest artists to appear on the stage.
As Stallone left the Palladium for a private jet from Luton airport to Los Angeles, his people carrier was chased down the street by over 100 screaming fans. As it reached a red light by Liberty's, the vehicle was surrounded by a mob that started chanting "Rocky!" "Rocky!" "Rocky!" for several minutes before the light turned green and he could make his getaway.
This was one night Stallone finished smiling, slick suited, smoothly, without breaking a sweat.
Popular in the Community