John McLaughlin plays the guitar with a fluency of expression rarely seen. Others, like Coltrane and Miles, have possessed this fluency, and like McLaughlin, used it as a way to tap into a spirituality which today eludes most musicians. But what links these musical geniuses is an intensity of self-enquiry borne of a golden era of music.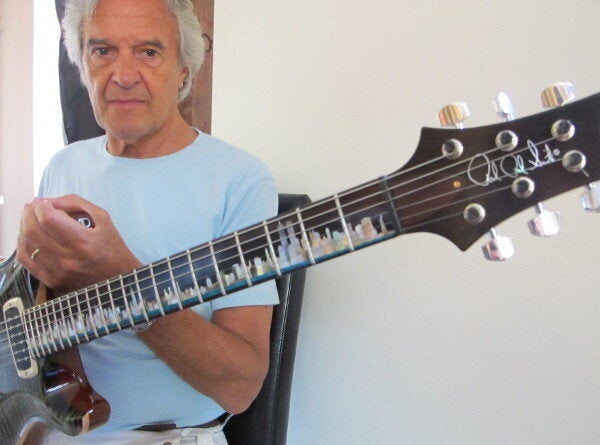 'In the Sixties, the marvellous players were numerous,' says McLaughlin. 'It was then that I embarked on my own path of self discovery. We all felt we could make a better world. We had hope, but today I don't see this. It's clear the world has changed.'
And for the worse. Today's threat is that of a new global primitivism, a dying of the light that burned brightly just a handful of decades ago, fed by men of genius and humility like McLaughlin.
Born in 1942 in West Riding in England, McLaughlin trod the well-worn path to London in the early Sixties to begin his career in music. 'In London in the Sixties there were three main clubs,' he says. 'Ronnie Scott's, The Flamingo and the 100 Club. I was in the Ronnie Scott's house band for a while and got to know Ronnie very well. And what a lovely man he was.
'I became a session musician, but it was murderous, musically. I did that for 18 months, then went from being a paid session musician to an aspiring jazz musician. But I was a happy fella,' he says in his gentle, mid-Atlantic accent.
'There were some great musicians at the time in Britain like Tubby Hayes and Victor Feldman, but when I left the session world, I moved to Europe. The market was much bigger. Then, six months later, I got the call from Tony Williams to join him in New York.'
That was in November 1968. Did he move because he was stifled by the London scene? 'A lack of opportunity would be a better explanation. I arrived in New York in the middle of a snow storm on a propeller-driven Icelandic Airways plane,' he laughs.
New York in the late Sixties was a place of social fulmination, its artistic community busy creating masterpieces in the worlds of music, literature, art and cinema. It was the place to be if you were an artist seeking the truth, as the world roused itself from its post-war torpor.
'America was a very special place, and New York was in particular,' he says. 'The people were, and are, marvellous. I played with Tony Williams one day, then with Miles [Davis] the next. New York crystallised a lot for me. New York is the city of cities.'
McLaughlin's guitar playing has been described as 'a pan-idiomatic style that reflects a rare sense of spirituality' [Leonard Feather & Ira Gitler, The Encyclopedia of Jazz in the 70s], and it was this sense of spirituality that furthered McLaughlin's musical studies, his quest, if you like.
'Two events triggered my move in the direction of Indian classical music. The first one was when I was 14; there was a programme on BBC Radio 2 hosted by Alan Lomax, who was an itinerant archiver of ethnic music. In one of his programmes he played a recording of a nadaswaram [a classical Indian non-brass wind instrument] which brought me out in goosebumps, and I didn't quite understand why.
'It was later in the Sixties, coming out of the psychedelic period, when we were all asking these big existential questions, that I started reading books from India. George Harrison and The Beatles introduced the music to a wider audience, but after that I listened to Ravi Shankar, with whom I had the great fortune to study in the 1970s.'
McLaughlin discovered there was common ground between jazz music and Indian music 'rhythmically, and particularly since Miles had already created a new type of jazz called "modal jazz" by the end of the 1950s'.
John Coltrane further took up that banner with his long, modal explorations, while bringing jazz up to date with Indian music by integrating the spiritual dimension. 'I was eternally grateful to Coltrane because, as young musicians, we were all searching for spiritual answers without the use of chemicals! Indian music coincided so closely with Indian philosophy that it fascinated me.'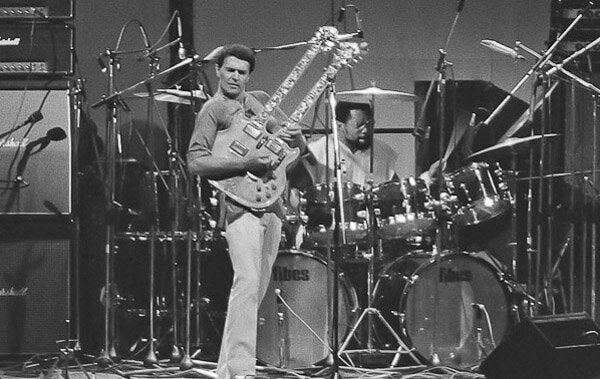 But his record company wasn't so enthused with his new interests. 'By 1975, it was all I wanted to do...to the enormous chagrin of my record company,' he laughs. '"What are you doing, you idiot, sitting on the carpet with all these Indians?" they were thinking. But you have to follow your heart, as long as you assume the consequences...such as loss of sales and income.
'It was, of course, a wonderful thing to do. From a musical and philosophical point of view, Indian culture was irresistible. I was also involved with sufism - the mystical side of Islam - which is very beautiful and misunderstood.'
Having formed the Mahavishnu Orchestra in 1971 and then Shakti in 1975, McLaughlin's playing had taken on a new dimension. From playing with Miles Davis [In A Silent Way, 1969; Bitches' Brew, 1970] and Elvin Jones, Billy Cobham, Brian Auger, John Surman, Jean-Luc Ponty, Chick Corea, Herbie Hancock and Carlos Santana, to arranging with Gil Evans and jamming with Jimi Hendrix, McLaughlin belonged to a group of musical seers who transformed the landscape of popular music forever.
But how better to understand a musician like Miles? Can you rationalise him? 'I don't bother, because to rationalise his music is to reduce what he created to an intellectual concept. A man like Miles was a great artist. I put him up there with Picasso and Mozart. What Miles and Coltrane were doing was completely irrational in a way, but that's art.
'They were delightful human beings and I hope we see their like again,' he says. 'You can't rule out the return of such genius. The character of society forms the personalities of each generation, so people just like Miles or Coltrane are not here now, but I believe supreme artists and musicians will make themselves be heard in the future. It's the nature of humanity. It's cyclical.'
Recently returned from a two-week concert tour of the US East Coast and from Manchester, Tennessee (where he played the Bonnaroo Festival with his band the 4th Dimension), McLaughlin - forever seeking - has divined a truth from a life in music. 'You have to discover your passion, that thing that puts petrol in your motor. Without the passion, you're going to run out of juice pretty quickly. You have to release that force, because it is a force.'
So it's a question of fighting the good fight?
'Nothing good comes easily in this world,' he says after a beat, 'so you have to fight for it. But the fight is with your own ignorance. We must throw caution to the wind in this modern, harsh, conservative world.'
© Jason Holmes 2013 / jantholmes@yahoo.co.uk / @JasonAHolmes
Top portrait, with his bespoke guitar made by Paul Reed Smith of PRS Guitars, courtesy of Luke McLaughlin
Bottom photograph of John playing in the Mahavishnu Orchestra courtesy of Jonathan David Sabin (www.jsabin.com)
Related