The shop at 2 Marshall Street in Soho is something of an Aladdin's Cave, the headless mannequins in the window the sharpest-dressed sentries you'll find in London, standing guard as the guv'nor of the place presides behind his desk.
Renowned for his iconic suits, Mark Powell remains at the cutting edge of menswear owing to his uncompromising approach to clothes design.
A man of influence, he's making a move into footwear.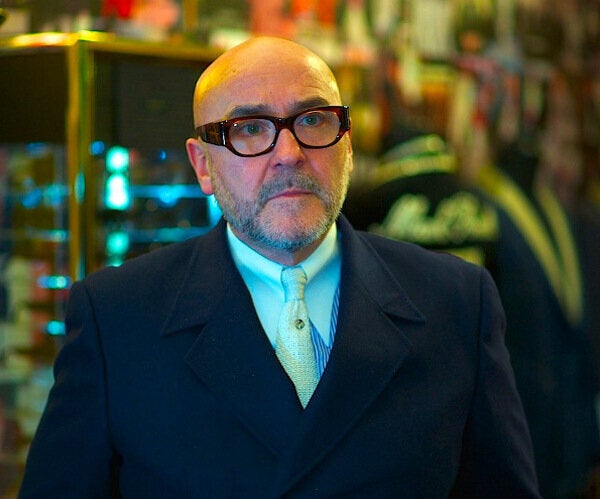 'I'm using "Cliff the shoemaker" who is a totally craft-based cordwainer and works from his home in Northampton,' says Powell. 'We're going to do a brand new made-to-measure service.'
The Mark Powell range will comprise solid staples such as the much-coveted classic English semi-chisel toe, alongside Oxfords, brogues, loafers and some summer shoes.
'A pair of shoes will start from around £700 and we can play around with contrasting tones with suede and leather, and there's also the option of colourising the shoes for a Berluti look. And to be honest, I was fed up of sending people to Berluti, with them getting the business,' he says, grinning.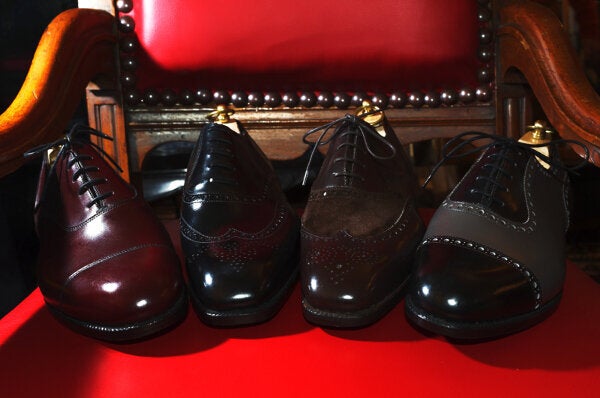 The delivery time for a pair of shoes will take six to eight weeks. 'When you order a bespoke suit, you can order a pair of shoes at the same time, so the suit and shoes are delivered together.'
With ties, scarves, waistcoats, hats and Albert Thurston braces adorning the Marshall Street HQ, a man with a plan can now attain a complete look. 'The look I'm providing is head-to-toe with bespoke suits and accessories. Foot measurements will be taken in the shop. We'll have a foot mould here, so you can step in it and leave an imprint. Most people know their shoe size, but the older you get the more spread your feet become so people probably require a half size bigger than they think.'
Powell has been hands on with the styling. 'I worked with Joseph Cheaney in the Nineties on a number of shoes. These Northamptonshire heritage brands have upped their game. English shoes are popular again.'
Fine-quality footwear has been hard to come by of late, with high street product often overpriced and flimsy. 'You can get a copy of a classic English shoe for a third of the price of the original on the high street, but you might as well buy the real thing. Fashion is currently influenced by English classicism. Shoemakers like John Rushton, Crockett & Jones and Alfred Sargent are just a few who make great shoes.'
But what is Powell's dress shoe of choice? 'In the past I quite liked a Cuban heel, or a higher heel. With a bespoke shoe the heel should be a little higher and narrower. If you're going to have a very defined swung last, heels have to be higher for support. It's also essential for a pair of trousers to hang properly.'
Powell, keen-eyed as ever, is unimpressed by style icons favoured by the masses. 'People like David Beckham and Daniel Craig aren't cutting it with that over-tailored Italian look, whether it be a single or double-breasted jacket with the very slim trouser. It's just not elegant or tailored.'
It's a good point: having entertainment-business stylists force the sartorial issue robs a man of identity, rendering him an airbrushed pastiche fit for billboards and not much else.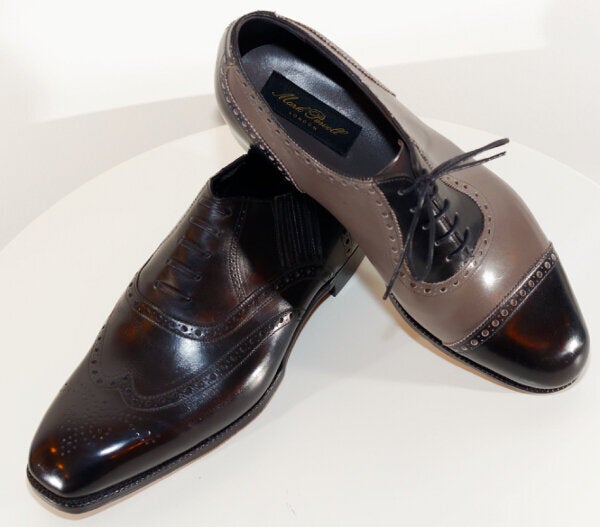 'The Modernist ethic uses tailoring as a form of personal expression. Paul Weller, for example, touches on a 1970 or '71 look with a big kick [flare] in the trousers I make for him,' says Powell.
And that's the nub: individuality expressed through the cut of one's cloth is the sign of a gentleman; there is, after all, no excuse for looking ill-dressed.
'The late Johnny Moke always made a beautiful square-toed shoe,' he says, 'and similarly I made a lovely square-toed Chelsea boot that I used to sell a few years back.'
Powell is sanguine in his outlook. 'High street shops, even like those of Gucci and Prada, are selling poor-quality shoes which are not worth the money being asked for them, so it's time for a resurgence in English heritage.
'If you go into Richard Jones' or Ozwald Boateng's shops, you're going to get a "suits you sir" salesman sorting you out,' he says provoking laughs all round, 'but here you get Mark Powell dealing with all aspects of your bespoke requirements.'
And as anyone knows who has spent time in the Marshall Street HQ, you'll always come away looking like the dog's proverbials.
© Jason Holmes 2013 / jantholmes@yahoo.co.uk / @JasonAHolmes
Photographs by George Stavrou (@GStavrouFoto)